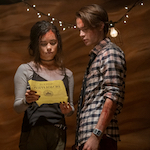 I had heard some not very good things about THE BABYSITTER, so I was surprised when I, a person who's generally pretty picky about horror comedies, liked it more than my friends. And then as soon as I said that everybody told me "I liked the first one, but the sequel is terrible."
And it's true – the tight construction and sincere sweetness that I found so appealing in THE BABYSITTER are not as present in the sequel. It's more scattershot, maybe in part because rather than the one original writer Brian Duffield they have a team of Dan Lagana (Zach Stone Is Gonna Be Famous) and Brad Morris & Jimmy Warden (co-producer of the first one) and McG. But it doesn't feel crazy enough to say it's McG going Full Throttle again. For the most part it stays true to the spirit of the first one, but the circumstances of sequelization corner it into being more far-fetched and having to stretch it more to keep the story going and bring back certain characters and stuff.
Luckily it's also funny and gory enough to be a pretty good time. The returns are diminishing, but I'll take 'em. (read the rest of this shit…)
VERN has a new action-horror novel out called WORM ON A HOOK! He has been reviewing movies since 1999 and is the author of the film criticism books Seagalogy: A Study of the Ass-Kicking Films of Steven Seagal and Yippee Ki-Yay Moviegoer!: Writings on Bruce Willis, Badass Cinema and Other Important Topics as well as the crime novel Niketown.