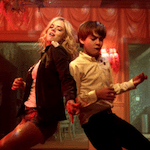 It's common during These Uncertain Times to say that time is moving slowly. I generally agree. But as a counterpoint, I sincerely thought McG's straight-to-Netflix horror comedy THE BABYSITTER came out recently, and that I would get to it eventually. Turns out it's been three years since it came out and there's already a sequel where the main characters have grown like a foot taller. So eventually has arrived.
Despite McG's checkered past directing Korn and Smash Mouth videos, I've always had a soft spot for him. I enjoyed his silly, joyful, aggressively style-over-substance CHARLIE'S ANGELS movies. In the Ain't It Cool Days I didn't understand why people hated him so much, bizarrely taking offense to his name. What the fuck does it matter to you? You think it's unprofessional? What are you, a dad telling his kid to tuck his shirt in for a job interview? Get over yourself.
I was really rooting for him to pull off TERMINATOR SALVATION, but I concede that he didn't (even if I like more things about it than most people). I kind of stopped paying attention to him after that, although about five years later he did 3 DAYS TO KILL with Kevin Costner, which I seem to be about the only fan of.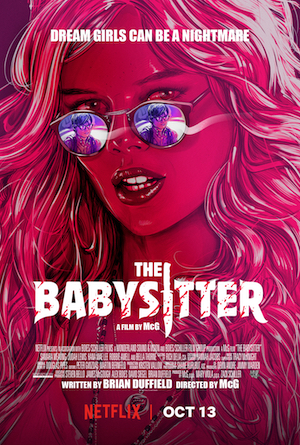 With the THE BABYSITTER, I think McG has found the most perfect application of his style and humor since the C's As days. It's kind of like that universe's version of a horror movie. He put a bunch of genres into his blender, poured in his excitement for the celebration of pop culture, and whipped those ingredients into a frenetic but sweet pre-teen comedy/violent satanic cult movie smoothie. He's got the slick cinematography of Shane "Professional" Hurlbut (ACT OF VALOR) showcasing bright colors and beautiful people. He has a main character, 12-year-old Cole (Judah Lewis, uncredited young Johnny Utah, POINT BREAK remake), who's funny in a very grounded and relatable way, but he's surrounded by bigger performers and comedic actors, plus McG's cutaway jokes, cheeky needle drops, onscreen text and visual gimmicks. It feels like he started this style and then got imitated for years and now he's back to show the proper way to do it.
Cole seems exhausted but somewhat resigned to his life as a kid who jocks throw balls at and yell "PUSS-EY!" He looks like a kid who could pass for "cool" just by not wearing button up shirts and tucking them into a belt (he reminded me of a young River Phoenix), but he either wants to stay true to himself or can't relate enough to the bully mindset to know how to handle them. When his primary harasser Jeremy (Miles J. Harvey, ROXANNE ROXANNE) sees him in his pajamas and says, "I like your pajamas," Cole says, sincerely, "Thanks. My mom made them."
His mom (Leslie Bibb, TRICK 'R TREAT, BRADLEY COOPER'S THE MIDNIGHT MEAT TRAIN)
and dad (Ken Marino, "Sequencing Technician," GATTACA) are very loving, a little overprotective, and concerned that he's too afraid of things. For example Dad brings him to a parking lot to practice driving, gives him a good pep talk, but is very understanding and supportive when he's too panicked to do more than start the engine. (In his defense, they say he's 12 years old, he's got four years for this!)
There's another grown up in his corner: Bee (Samara Weaving, Ash vs Evil Dead, MONSTER TRUCKS, THREE BILLBOARDS OUTSIDE EBBING MISSOURI, READY OR NOT, BILL & TED FACE THE MUSIC), his long time babysitter and the coolest person he'll ever meet. She seems sincerely excited to hang out with her young friend when she babysits him while mom and dad are out of town.
There's obviously a little boy crush involved – Bee is otherworldly hot, and acts oblivious to the powers of her attention to a boy that age, much less being around him in Daisy Dukes or a bikini. But the emphasis is on their genuine friendship and the many fun things they do together, my favorite obviously being when they project BILLY JACK onto the side of the house and act out the famous kicking scene. Of course I'm a sucker for two generations younger than mine sharing a love for that particular artifact of a generation predating my own.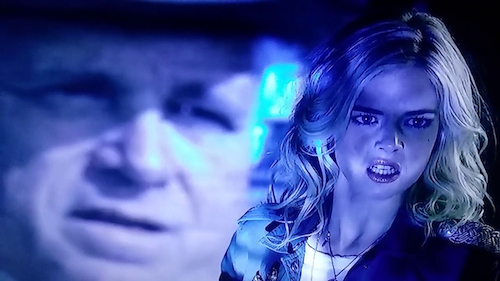 The horror twist comes when Cole is supposed to be asleep and Bee's friends come over. Cole hides on the stairs and spies as Max (Robbie Amell, CHEAPER BY THE DOZEN 2), Sonya (Hana Mae Lee, the PITCH PERFECT saga), Allison (Bella Thorne, 109 credits on IMDb and I'm too old to be able to tell which one is the reason I hear her name all the time), John (Andrew Bachelor, Black Jesus) and out of place Melvin-Junko-esque nerd Samuel (Doug Haley, "Teenager #2" on a second season episode of Justified) play spin the bottle. Seems like innocent young people exploits until SPOILER Bee slams two daggers through Samuel's skull because they're actually a cult sacrificing innocent blood as part of a Faustian bargain to make their dreams come true.
Because of society's enduring love for E.T. and THE GOONIES, it has become a cliche for filmmakers around my age and those influenced by them to say they're trying to make Amblin movies, usually meaning a fun, high quality genre movie starring kids that's very slightly scary but fun for the whole family. THE BABYSITTER is similar in that its young hero is layered and well acted, a smart, awkward, relatable kid who's struggling to fit in. But also it revels in chopping off heads and spraying blood in people's faces, so in that sense it's more Troma than Amblin. Also the super horny lesbian makeout scene might've been a ratings problem if they tried to put it in BACK TO THE FUTURE or whatever.
There's some well executed tension – Cole listening to the cult talk about him while they think he's drugged, cat and mouse scenes getting chased with his neighbor friend Melanie (Emily Alyn Lind, who I didn't recognize as Snake Bite Andi from DOCTOR SLEEP) – but it's certainly more funny than scary. There are a ton of little throwaway lines that made me laugh out loud – John noting that Cole has a copy of The Secret, Sonya threatening him with "human self-centipede," Cole expressing genuine confusion about Max's constant shirtlessness. And there are great comedic twists like when Max pauses his attempts murder Cole because Jeremy is egging the house and he thinks he should stand up to him. And many of McG's visuals just gave me a big smile – like when Cole gets in the car and a superimposed digital clock shows us his hands are at 10 and 2, as his dad taught him earlier.
Sometimes I like to make fun of the reverence with which entertainment journalists talk about "the Black List" – the yearly survey of what Hollywood people consider the best unproduced screenplays. They mention a screenplay's Black List status as evidence of quality, even though movies like ABDUCTION and SNOW WHITE AND THE HUNTSMAN get on there too. But in fairness THE BABYSITTER was on the 2014 list, and that seems to have panned out. Written by Brian Duffield (THE DIVERGENT SERIES: INSURGENT, JANE GOT A GUN, UNDERWATER), it has a quality I really love: a feeling of loose shagginess that turns out to be a carefully orchestrated machine. It organically sets up details and jokes and the geography of the house and stuff, makes them seem like fun instead of exposition, then brings them back at the exact right moments. For the best example I have to SPOILER the climax, so skip the next paragraph if need be.
In Cole's first scene with Bee she's giving him a ride home, and she asks about a pile of wood from his treehouse in the front yard. He explains that it's getting old and falling apart, so he and his dad are working on taking it down. It's thematic – he's almost a teenager, he's growing up a little slower than the other kids, afraid of things, getting made fun of, but trying to catch up, which includes things like giving up his treehouse. Later there's a scene where Max chases Cole into the treehouse and sure enough it is falling apart, causing him to step through the floorboards. So it was characterization that also paid off in an action moment! And you'd think that would be all we'd need it for, but at the climax it comes together with some other previously established threads (Melanie's dad's mid-life crisis car, Cole's fear of driving) with Cole purposely crashing a car into the house. He drives up that pile of treehouse lumber and it makes a perfect ramp to launch the car into an awesome corkscrew – fucking beautiful.
After READY OR NOT, if not earlier, I think most of the people in the world who watch these types of movies fell in love with Weaving, whose outsized hotness only enhances how funny and charming her characters can be. They really take advantage of that here, breaking Cole's heart by showing him that yep, sure enough, she was too good to be true, as she switches from impossible dream girl/cool big sister figure to joyfully wicked demoness. But I think the much more difficult feat that they manage to pull off is making it a little more complicated than that. He's not just trying to kill the bad guy, he's genuinely mourning the loss of a friendship, and she seems to be too. It's an unusually sincere and bittersweet conclusion for a horror comedy, and McG (being McG) somehow brings it home with a sci-fi reference and retro video game graphics. This is a good one.
P.S. McG tends to put some good soul songs in his movies – how perfect is it that he uses "The Babysitter" by Betty Wright?
This entry was posted on Monday, October 19th, 2020 at 9:37 am and is filed under
Comedy/Laffs
,
Horror
,
Reviews
. You can follow any responses to this entry through the
RSS 2.0
feed. You can skip to the end and leave a response. Pinging is currently not allowed.