Here's my TERMINATOR SALVATION review. Sorry it took me a few days – everybody else on the internet has already reviewed it two or three times each and moved on with their lives. I figured I ought to go the extra mile so my  review includes an optional soundtrack:
(note: I'm not really gonna pussyfoot around the spoilers in this one, so beware)
I got so much trouble on my mind. I refuse to lose my hope for McG. I had this fantasy – what if McG made an undeniably great TERMINATOR movie, and everybody who ever talked shit about him had to eat crow? They'd be so unprepared to admit they liked a McG movie that their minds would pop like balloons. It would be like reading in the newspaper that a squirrel had built a working rocket ship – just completely out of left field. They wouldn't know what to do. "Well, his name makes me uncomfortable, but TERMINATOR SALVATION changed my life." "You know, I went back and gave CHARLIE'S ANGELS FULL THROTTLE another look, it turns out it was ahead of its time. There was no way to really know back then that it was good, only Vern ever understood it, but now it works."
Well, that ain't happening. SALVATION doesn't seem to be winning anybody over and even to the McG/McG-curious it's somewhat of a disappointment. The sad part is that it really has some slices of that great sci-fi action movie I was holding out hope for. I absolutely love many aspects of it. It quickly draws you into this post-apocalyptic California and the war being waged there. Christian Bale as John Connor has a badass introduction landing his helicopter on a Terminator and shooting into its skull – the camera gives him a classic pan-up-from-the-feet hero shot as someone on a radio somewhere buzzes "Connor is on the ground!" There he is, this guy we've been hearing about since 1984, not yet the leader but he's going into battle followed by 52 brothers, bruised, battered and scarred but hard.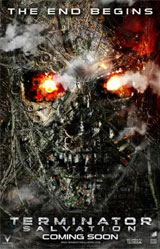 McG obviously studied the battle scenes in CHILDREN OF MEN and went for a similar approach with lots of long shots, none of that bullshit quick-editing. The camera shakes you around but it feels like it's dragging you along with it. It's more like a theme park movie ride than some BOURNE shakycam shit – a real good balance of realistic-disorientation to visually-communicating-what-the-fuck-is-going-on. The movement is part of the action instead of the confusing-you-into-implying-action approach that I don't like too much. Not sure if I mentioned that before.
Whatever its other problems are, the action scenes in this movie are A+. And they wisely spread the fights out with different types of robots – the "hunter killers" we've seen before, some new underwater wormy deals, a big one that gathers humans, and the unmanned motorcycles that I forget which talkbacker dubbed "murdercycles." I like the murdercycles because they're a pain in the ass for humans but when they do take them out it seems believable, those are the lowest robots on the Skynet foodchain (they even come out of another robot). This is smart because there could've easily been a future war movie where humans are constantly fighting armies of Terminator skeletons, and after they killed enough of them easily enough it would be like what happened with Aliens after so many sequels. It used to take a whole movie to barely kill one, now they seem easier to hunt than ducks.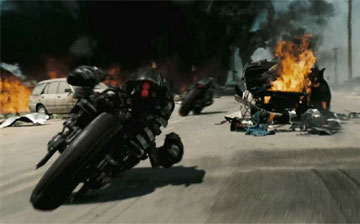 The visual effects are excellent and rarely look digital. If I'm not mistaken most of the Terminator stuff is life-sized puppets or costumes. And the photography is stunning. The lights were adjusted perfectly. I believe someone owes director of photography Shane Hurlbut an apology.
But there is a major problem with the script. It's not your typical dumb Michael Bay or Stephen Sommers type of deal, no lame jokes and nothing too embarrassing. It's just that the story feels incomplete and sometimes incoherent. There's not enough there, it feels unfinished and cobbled together. A really entertaining action movie like a T2 is a carefully calculated machine that tells you who to care about, what to be afraid will happen to them, what they need to do, and meanwhile it builds a ferocious momentum, veers off in unexpected directions, but plows on through to a big conclusion. This ain't that.
I'm just guessing but I think maybe it would be a good idea to send Michael Biehn back in time to protect the earlier draft of the script before Paul Haggis and Jonathan Nolan rewrote it. Back when Bale first signed on it was being reported that this new character "Marcus Wright" was the lead, and John Connor wasn't in it very much. They rewrote it to make Connor more important, which sounded like a good idea at the time.
But Marcus (played by Sam Worthington from ROGUE, who I think is a really good screen presence and will be a huge star) turns out to have the more interesting story. He's a death row inmate who donates his body to science (Cyberyne) and wakes up confused after Judgment Day. He runs into Kyle Reese (Anton Yelchin from STAR TREK as the young version of Michael Biehn's character) living an I AM LEGEND-like existence fighting Terminators in bombed out L.A. This is some seriously good shit and the early model Terminators look incredible. They wear clothes, too. Not nice ones, don't worry. I like these guys. (actually upon further research it looks like this guy used to have skin and got blown up, he's a battle damaged Terminator like Arnold at the end of the various movies. But he looks like a robot wearing a scarf.)
Marcus reluctantly travels with Kyle's two-person chapter of the resistance, but Kyle ends up captured by machines. He's gotta get out but that thought was thought before. Marcus tries to find a way to save him, which ends up meaning he has to find John Connor and get him on his side. That's the story of the movie. The problem is they keep showing what Connor is up to before Marcus meets up with him – it's like they had some kind of equal coverage laws to contend with. Bale has the gravitas to play the future leader of the resistance, but he mostly just yells and gets upset about things. He doesn't have much of his mischievous sense of humor from youth (nuclear war'll do that to you I guess) and it's not like we see anything all that interesting or detailed about how their operation works, let alone an emotional story like he had in T2 with his relationship with his mom and robot stepdad. So it feels like he doesn't have enough to do and he's taking away from the main story.
If McG had stayed the course maybe it would've been great, because when he finally did show up you would think "Holy shit, that's John Connor!" And Bale would be perfect for that.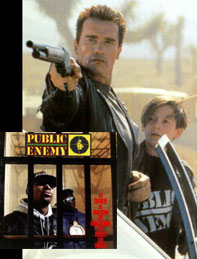 My favorite John Connor moment is a quick little scene where he bags himself a murdercycle in a clever way. It shows how smart and fearless Connor is, it fits with his ATM-hacking youth and to my surprise it even answers a question I wondered about Connor: yes, he does still listen to Guns 'n Roses. We never do learn if he's still into Public Enemy. I might be the only one but I think it would've been great if they put some Public Enemy on the soundtrack, buzzing all distorted out of some broken radio. It just now occurred to me that shirt might've been some in-joke because their DJ was called Terminator X, but I always thought it made sense that the future leader of the resistance would grow up listening to that kind of music, questioning authority, fighting the power. And in fact being a white kid in California hearing ideas from black militants in New York. That's the story of the John Connor generation. In TERMINATOR SALVATION we see how he has been influenced by Chuck D's lyrics. His posse comes quick, because his posse's got velocity. He's even lethal when he's unarmed 'cause he's louder than a bomb. He's got gusto, but only some he can trust, yo.
You also gotta wonder what happened to Danny Cooksey. I guess he probaly got blown up on Judgment Day. That would be weird if he was in this one. He'd still have to have the mullet for anybody to recognize him.
I like these characters, I love this world and the mayhem that takes place in it, but something feels missing because neither storyline really has enough meat to it. One is padded out and the other is short-shrifted. But other than just having a weak script I think McG's first real blunder is toward the end when he has Skynet talk in the form of Helena Bonham Carter and explain everything. Not only is it bad storytelling but it's just such an obvious mistake to take this terrifying inhuman entity and give it a human face like in RESIDENT EVIL. If you have to make it talk (and trust me McG, you don't have to) at least come up with some creepy weird computery shit like HAL 9000 or something. The movie is so full of cool robot noises and distorted talk over radios and shit, they could've come up with something better than this for sure.
The ending of the movie kind of fits when I think about it in retrospect, but when it happened in the movie I just kind of thought "huh." Doesn't have the kick you'd like it to, and in my layman's opinion does not seem medically accurate. So when Michael Biehn is protecting that first draft he should make sure the ending doesn't get leaked either. I know my internet pal Drew McWeeny feels bad about spoiling the original ending on Ain't It Cool while they were filming. He apologized to McG about it when he interviewed him. Drew's always said he didn't think it was the real ending, but it bummed me out when I read it because it sounded like it could've been kind of a cool surprise (it involved Connor dying and having his skin put on a robot body so he could still be an inspiration to the resistance). I guess they didn't earn an ending like that, but at least it would've been shocking.
Leaving the movie I heard a woman talking about "they had him naked and with muscles, how did they do that, was that really Arnold?" A theater employee said matter of factly, "They digitally put his face on a body double." She said, "Oh." And I thought shit. There's no magic anymore. We all got the press kit in our heads already, and if some lady is lucky enough not to know we have to tell her and ruin it.
I think that's part of the problem here. We don't have a self aware internet yet, but we have one that is too aware of the behind-the-scenes process of movies. This movie in particular I just knew too much going in, even though I purposely didn't read any reviews or anything. You wouldn't even have to have a computer to have it ruined – what would've been a mystery about the character of Marcus was given away very matter of factly in all the trailers. And that other cameo was covered thoroughly in all the entertainment news so I missed out on being thrilled by that. It looks really good but somehow isn't built to as much of an exciting moment. But maybe it would've been a thrill if I didn't read about it months ago.
And come to think of it, the trailers had more going on in them than the movie itself. The major theme of the first teaser and some of the others was that Connor starts realizing this future is not the one his mother warned him about, things are changing and he has to find out why. Not in the movie though.
At the same time I think McG may be too aware of and concerned about what we're gonna say on the internet. He was sure to mention in all the interviews that Jonathan Nolan was working on the script. I don't think it was just a P.R. move, but a genuine attempt to make a movie that would please nerds. A nice gesture, but just because the guy was one of the writers of DARK KNIGHT doesn't mean he should be rewriting the movie while you're fucking filming it. This is a lesson that should've been learned a thousand times in Hollywood by now, but still it keeps coming up. You write a good script first, then you start filming. Put that on a laminated card and keep it in your wallet.
(for some interesting somewhat-related points I recommend this piece by Drew McW where he uses the tenth anniversary of Star Wars Presents Phantom Menace as a jumping off point to talk about the current state of "geek" culture, movies aimed at "geeks" and the idea of prequels)
Because so much of TERMINATOR SALVATION is so appealing to me I'd like to think it's just a slight miscalculation, a swing and a miss, a good try but failed effort. But I also fear McG might only partially understand the mechanics of this kind of movie. He knows how to put together good shots and sequences but not an entire story. And so far there is no proof of an ability to have much beneath the shiny surface. I said the same thing of Zack Snyder though and he's started to show some signs of progress, so I won't write off ol' three-letters yet.
At least I feel like it was a sincere effort. Compared to TERMINATOR 3 this one is more admirable. It's not a variation on the T2 template of "new more advanced model of Terminator comes back from the future to kill John Connor, Arnold Terminator protects him," it's its own thing. It has a drastically different story, look and setting, and does fine without (real) Schwarzenegger. Visually and effects-wise it's much more impressive than T3.
On the other hand, T3 is more consistently entertaining. It never reaches the same heights, and it has more embarrassing moments (some lame attempts at comic relief), but it stays fun throughout and builds to a good ending instead of just stumbling clumsily to a conclusion. So I'm not gonna argue for either one being better. Maybe if T3 and TS had a baby and it got a good enough education it would be the worthy sequel of Ts 1-2.
a couple of postscripts:
1.  I don't think the PG-13 was a problem, it still seemed pretty intense. But the sad thing is I only saw one kid at the movie and he was with his parents who could've gotten him into it if it was R. So what the fuck were they thinkin man, shoulda made that fucker hard-R.
2. My sympathies to Terry Crewes. I know he was supposed to be in it, and after Bale's anger incident he was the go-to TERMINATOR SALVATION co-star to stick up for Bale in the press. In the movie I only noticed him in one scene leaning dead against a wall. Not one of his better roles, in my opinion. (Maybe he got the Michael Jai White in KILL BILL treatment.)
This entry was posted on Sunday, May 24th, 2009 at 3:22 pm and is filed under
Action
,
Reviews
,
Science Fiction and Space Shit
. You can follow any responses to this entry through the
RSS 2.0
feed. You can skip to the end and leave a response. Pinging is currently not allowed.