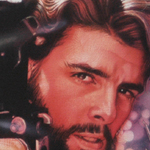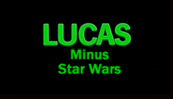 Thank you for indulging me these last few months as I went through all 44 years of George Lucas productions, from the one he made when he was 27 (THX 1138) to the one he made when he was 70 (STRANGE MAGIC). As you know, I'm interested in how Lucas created possibly the most beloved thing in pop culture history (the original Star Wars trilogy) and then became nerd culture's biggest pariah when he came back to the series later in his career. The Star Wars phenomenon (both its dark side and light side) is so blindingly powerful that it eclipses everything else he's ever been associated with. I thought it would be valuable to look at his filmography but with Star Wars removed from the equation.
Kind of. You may've noticed that I'm too fascinated by his idiosyncratic later work and much of the world's fanatic hatred of it to leave it out entirely. I couldn't help but find foreshadows and echoes of the prequels in most of his other movies. I tempted fate by bringing it up again and again, showing (as I was discovering it) that the prequels fit into a larger body of work and obsessions than just that one particular saga about the space conflicts. I want to thank all the commenters for not falling too much into another debate about prequels and special editions even though I kept leaving an opening for it. (read the rest of this shit…)
VERN has been reviewing movies since 1999 and is the author of the books SEAGALOGY: A STUDY OF THE ASS-KICKING FILMS OF STEVEN SEAGAL, YIPPEE KI-YAY MOVIEGOER!: WRITINGS ON BRUCE WILLIS, BADASS CINEMA AND OTHER IMPORTANT TOPICS and NIKETOWN: A NOVEL. His horror-action novel WORM ON A HOOK will arrive later this year.