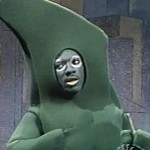 the complete 96 hour saga
48 HOURS is a well made and highly influential movie, but I think you sort of had to be there. Today about 30-42 hours of it holds up.
Coming 5 years before LETHAL WEAPON this is the father of the '80s interracial buddy movies. The premise is that edgy cop Jack Cates (Nick Nolte), in a desperate ploy to stop a killer, manages to get custody of convict Reggie Hammond (Eddie Murphy) for two days to help him with the case. Of course they hate each other until they slowly earn each other's respect. It's cop vs. criminal, white vs. black, etc. Part of the fun is watching them flip each other shit and get in fights, although it gets uncomfortable because Nolte uses most of the racial slurs he knows – yes, including the N-word. He later apologizes and says he was just doing his job of keeping Reggie down – I'm not sure what that's meant to say about cops but you can interpret it how you want.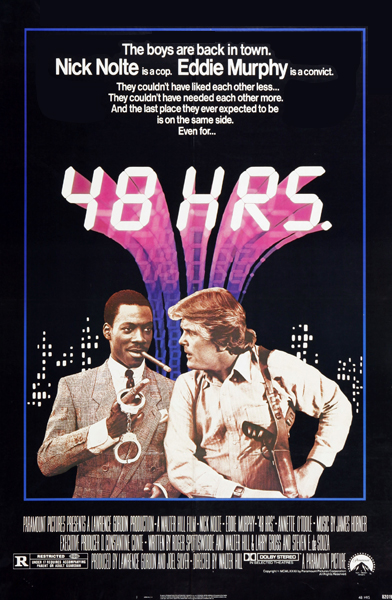 I really like the look and feel of this movie, very gritty, not at all a comedy. It's Eddie Murphy's first film role and he gives a good performance as a two bit con man. Even though he's the criminal he's kind of prissy compared to Nolte. They both wear suits but he looks more like a yuppie. So it's not entirely convincing when he beats up on Nolte a little. But when it's just them insulting each other he can clearly hold his own.
Nolte's character Jack is the text book burnt out cop. The boss is pissed at him, the other people on the force are fed up with him, he has to lie to get what he wants, he carries around a flask of booze, his girlfriend is about to dump his ass, and he's always making Wimpy-from-Popeye style promises – I'll fill out a report tomorrow. Obviously that's the perfect character for Nolte, because he's dragged himself through alot of dirt and has the face and the voice to show for it. He's definitely the highlight of the movie.
There's also a good team of bad guys here, with James Remar (working with Walter Hill again after THE WARRIORS) and Sonny Landham (PREDATOR) playing the two psychotic killers. David Patrick Kelly also returns from THE WARRIORS even playing a character with the same name, Luther. I'm not sure he's the same guy though, I can't really reconcile that.
So it seems like there's everything you need here for a great action thriller type of movie, but not quite. I think the main thing missing is the action. I mean it's there, but it's pretty generic. Not real big or intense, mostly just standard shootouts. At least you can tell what's going on, but I don't know. Hard to get too thrilled about.
And while Murphy does a good job in the role you can see in retrospect that he didn't get as much of a chance to be funny as in later movies. There really aren't many laughs. Worse, he spends most of the movie talking about pussy. The joke is he just got out of the joint, but it gets old fast. Plus I just do not buy the scene where a woman he walks up to in a bar agrees on the spot to go across to a hotel and have sex with him. I mean, the guy is not Usher.
ANOTHER 48 HOURS came 8 years later. Murphy was now a long since established movie star with many hits under his belt. Nolte in real life was trying to stop drinking. Hill was coming off the forgettable Mickey Rourke picture JOHNNY HANDSOME. Why the fuck not take the buddy movie to the next level?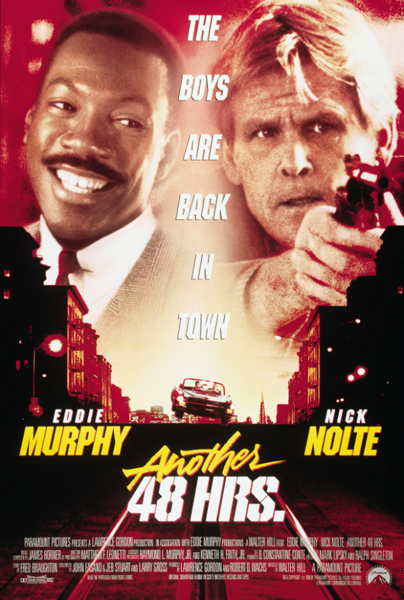 Well, this isn't a great one either but I would argue that it's a little more fun than the first one. Or at least a little less dated. The audience of 1990 expected a movie to kick one's ass more and harder than it did in 1982. So part 2 has a little more bang. Take for example the re-introduction of Nolte's Jack Cates. He follows a suspect onto the site of a dirt bike race. When he tries to make an arrest the suspect shoots at him, he shoots back and a gas pump catches fire, barbecuing the guy alive. The other suspect runs and he tries to follow, but ends up hopping back and forth dodging motorbikes. Now that's what we want to see! Guns, explosions, motorcycles – these are elements you do not get in a close quarters hotel hallway shootout. Pay attention, 1982. You could learn something.
The villain this time is supposed to be Remar's brother. He's played by Andrew Divoff in a role not nearly as asinine as the one he plays in those stupid WISHMASTER movies. He leads a trio of long-haired rock star-lookin bikers who seem more like cowboys in THE PROPOSITION than actual bikers. And in fact the whole opening of the movie is clearly played as a western, with a butch lady copy (the sherriff) driving (riding) into the desert, strolling into a diner (saloon) and getting shot by bikers (cowboys). You'd really think at least one of these biker's would be played by William Forsythe, if not all three of them, but unfortunately it's some other guys.
Reggie is just getting out of the joint now, even though the other movie said he had two years. They added on 5 years for another charge. Cates still has Reggie's Porsche and his share of the money but tells him he won't get it if he doesn't help him with his new case, finding a mysterious drug dealer called The Ice Man. The Ice Man has hired those bikers to kill Reggie because, it turns out, the money he stole was from The Ice Man and also because he knows what The Ice Man looks like.
The great sleazeball-character actor Kevin Tighe (rhymes with TODAY YOU DIE) plays an internal affairs officer riding Cates's balls in a not-so-subtle manner. Tighe played a nice paramedic on the old TV show EMERGENCY but in these types of movies he's always a grade-A prick with only one dimension to his personality. The prick dimension. When he tells Cates "I bet you think I enjoy this" he is smiling, to show that he enjoys this.
Murphy does get to be funny a few times. I think the best part is when his opponent runs out of bullets so he makes a big show of taking his time and gingerly taking aim for his next shot. There's kind of an ongoing joke about him having a bad day – when his car gets blown up Cates tells him "Ah hell, you're havin a bad day" and later in a bar he pulls a gun and gives everybody a lecture about everything that's happened to him on his bad day. If any young people see this it will blow their fuckin minds to see Eddie Murphy being kind of funny and dressed in male clothes of his own size.
Well I don't know man, I kind of like these movies. But not all that much. Maybe if they do WHAT THE HELL, ANOTHER 48 HOURS, WHY NOT? some day they'll finally knock it out of the park.
This entry was posted on Friday, April 11th, 2008 at 4:00 am and is filed under
Action
,
Comedy/Laffs
,
Reviews
. You can follow any responses to this entry through the
RSS 2.0
feed. You can skip to the end and leave a response. Pinging is currently not allowed.