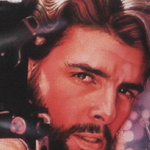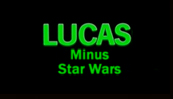 Thank you for indulging me these last few months as I went through all 44 years of George Lucas productions, from the one he made when he was 27 (THX 1138) to the one he made when he was 70 (STRANGE MAGIC). As you know, I'm interested in how Lucas created possibly the most beloved thing in pop culture history (the original Star Wars trilogy) and then became nerd culture's biggest pariah when he came back to the series later in his career. The Star Wars phenomenon (both its dark side and light side) is so blindingly powerful that it eclipses everything else he's ever been associated with. I thought it would be valuable to look at his filmography but with Star Wars removed from the equation.
Kind of. You may've noticed that I'm too fascinated by his idiosyncratic later work and much of the world's fanatic hatred of it to leave it out entirely. I couldn't help but find foreshadows and echoes of the prequels in most of his other movies. I tempted fate by bringing it up again and again, showing (as I was discovering it) that the prequels fit into a larger body of work and obsessions than just that one particular saga about the space conflicts. I want to thank all the commenters for not falling too much into another debate about prequels and special editions even though I kept leaving an opening for it.
I thought about leaving Indiana Jones out of it too. It's the other thing people might associate Lucas with, it's certainly been covered before, and my controversial pro-CRYSTAL SKULL stance is obviously a powder keg of potential backlash. I'm glad I did it though, especially because it meant watching some of the Young Indiana Jones TV series. That was an impressively ambitious experiment and a missing link in my understanding of the evolution from beloved analog Lucas to dangerous digital Lucas.
The most valuable part was everything else, though. I knew this would be a fun series when I looked at his filmography and realized what a broad range of material Lucas was involved with. Yes, the sci-fi and fantasy, but we're also looking at works by a foreign master, an experimental documentary, three different animation mediums, a 3D music video theme park attraction. I'm so happy to have found out how great MISHIMA is, to have gotten a better appreciation for WILLOW and LABYRINTH, to have learned that MORE AMERICAN GRAFFITI is actually good (I even successfully turned a couple friends onto it). These weren't all great movies, or even good, but all of them were interesting.
A couple things I respect about Lucas, based on having watched and read up on all these: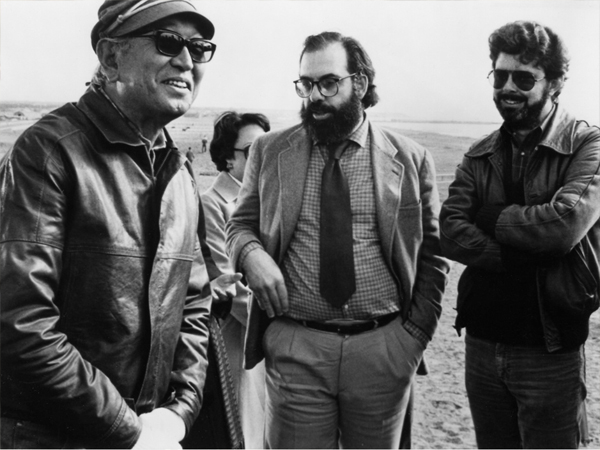 1. The many times he used his clout to get other people's movies made, whether it was his inspirations and mentors (Akira Kurosawa's KAGEMUSHA, John Korty's TWICE UPON A TIME, Haskell Wexler's LATINO, Godfrey Reggio's POWAQQATSI, Francis Ford Coppola's TUCKER: THE MAN AND HIS DREAM) or friends and collaborators whose talents he believed in (Lawrence Kasdan's BODY HEAT or Paul Schrader's MISHIMA: A LIFE IN FOUR CHAPTERS). Studios weren't giving money to these people, so he convinced them to, sometimes with full knowledge that they were not good financial investments. He loves movies.
2. His high number of passion projects. RAIDERS OF THE LOST ARK, WILLOW, RADIOLAND MURDERS, RED TAILS and STRANGE MAGIC were all ideas that he hung onto and contemplated for a long time before he actually made them. He was never one for churning things out. This also applies to the prequels. The prudent commercial thing would've been to make them sooner and faster, or to have never stopped making them in the first place. Whether you agree with the results or not, philosophically you gotta respect the guy for waiting until he had a new angle on them that excited him. Right? Anybody?
3. Related: Using his huge early success (and contract-signing foresight) to fund a career as a true independent. It's amazing that he was able to put millions of dollars of his own money into TUCKER and RED TAILS, big budget movies that studios didn't have faith in (apparently for good reason) but that he wanted to make. Even when others were funding the movies he had great control because of all the resources he provided in-house, including post-production facilities and the very best special effects available.
4. His wide range of interests. Themes include car racing, samurai code, WWI, WWII, Vietnam, Nicaragua, rock 'n roll, the radio age, industrialization, oppression. His name was synonymous with the most gigantic blockbuster crowdpleasers, but he also had a part in bringing us Japanese historical drama and bleeding heart non-narrative cinematic poetry. It wasn't a "one for me, one for them" situation. This is a guy who reinvented how movies were made and presented in multiple eras. He was always moving to something new. They were almost all "one for me"s.
Only time will tell if any of these traditions will carry into the Lucasfilm Minus George that is now owned by Disney Minus Walt. You all know I prefer the messy reinvention of the prequels to the careful greatest hits remixing of THE FORCE AWAKENS. It's easy to worry that Disney's Lucasfilm will be no more than a catalog of intellectual properties, a factory manufacturing nostalgic Star Wars and Indiana Jones continuations until the banthas come home. (banthas are a star wars animal, wouldn't that be exciting to see them again… but with a new twist? Stay tuned) But what if they follow Lucas's lead and come up with new stories and characters, develop them over time, nurture their talent, promote them, take chances on them, try to push envelopes instead of just extend franchises? What if they use the banner to back great artists from previous generations or other cultures? After they get the "it's great because it's practical effects" out of their system what if they get passionate about inventing new technologies to put things on screen that we didn't realize we'd never seen before, or to put movies together in different ways?
I kinda doubt they'll do any of that. But they should consider it. What's the point of getting all that toy money if you don't use it?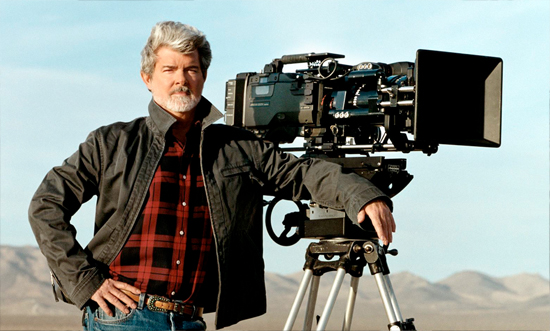 Now, for easy access, here's my almost complete set of George Lucas reviews, in order of release:
THX 1138
AMERICAN GRAFFITI
(STAR WARS)
MORE AMERICAN GRAFFITI
KAGEMUSHA
(THE EMPIRE STRIKES BACK)
BODY HEAT (uncredited guarantor)
RAIDERS OF THE LOST ARK
(RETURN OF THE JEDI)
TWICE UPON A TIME
INDIANA JONES AND THE TEMPLE OF DOOM
(THE EWOK ADVENTURE aka CARAVAN OF COURAGE)
MISHIMA: A LIFE IN FOUR CHAPTERS
LATINO
(EWOKS: BATTLE FOR ENDOR)
LABYRINTH
HOWARD THE DUCK
CAPTAIN EO
WILLOW
POWAQQATSI
TUCKER: THE MAN AND HIS DREAM
THE LAND BEFORE TIME
INDIANA JONES AND THE LAST CRUSADE
The Young Indiana Jones Chronicles
RADIOLAND MURDERS
(STAR WARS EPISODE I: THE PHANTOM MENACE)
(STAR WARS EPISODE II: ATTACK OF THE CLONES)
(STAR WARS EPISODE III: REVENGE OF THE SITH)
INDIANA JONES AND THE KINGDOM OF THE CRYSTAL SKULL
(STAR WARS: THE CLONE WARS)
RED TAILS
STRANGE MAGIC
(secret experimental films he'll only show to friends)
This entry was posted on Friday, February 19th, 2016 at 11:09 am and is filed under
Blog Post (short for weblog)
. You can follow any responses to this entry through the
RSS 2.0
feed. You can skip to the end and leave a response. Pinging is currently not allowed.