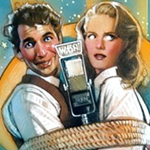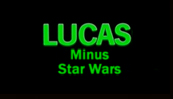 RADIOLAND MURDERS is a retro comedy, a madcap murder mystery taking place in 1939 as a Chicago radio station has a gala live broadcast performed in front of an audience and a room full of big shot affiliates waiting to be impressed. There's a big band and actors doing adventure shows and commercials while the writers, directors and sound engineers scramble to have something on the air after the boss just tossed out all of their scripts. Meanwhile, writer Roger (Brian Benben, I COME IN PEACE) is pathetically trying to woo back his wife Penny (Mary Stuart Masterson, GARDENS OF STONE), who thinks he cheated on her. It was a misunderstanding, but he's too much of a doofus to make her understand.
And then he becomes the #1 suspect when people in the station start turning up dead. So he has to avoid the police, solve the mystery, convince his wife and finish some scripts. Kind of a rough day for him.
The DVD cover brags about an "All star cast!," which is stretching it, but the huge ensemble cast does include an impressive lineup of character actors, some of them better known now than they were then. You also got Ned Beatty, Brion James (BLADE RUNNER, 48 HOURS), Michael Lerner (MANIAC COP 2), Michael McKean, Jeffrey Tambor, Stephen Tobolowsky, Christopher Lloyd, Larry Miller (FOODFIGHT!), Corbin Bernsen, Bobcat Goldthwait, Dylan Baker, Robert Klein and Harvey Korman (The Star Wars Holiday Special). Candy Clark and Bo Hopkins of the AMERICAN GRAFFITI saga show up together. Since there's sort of a variety show going on at the center of it there are appearances by Rosemary Clooney, George Burns, Joey Lawrence (as a dreamy crooner) and even Billy Barty (WILLOW). Also Gary Anthony Williams, the voice of Uncle Ruckus on The Boondocks, made his first movie appearance.
It's alot of rapid fire banter and running around, people getting hit by doors and dropping things, lots of music being performed, with Michael McKean conducting (he seemed to be hired for his musical background more than his acting). The occasional set-pieces are designed around the features of the radio station: death by crushing in rotating stage, chase across the exterior of the building, with the WGN letters breaking and dangling, climbing up the radio tower like it's the end of a monster movie.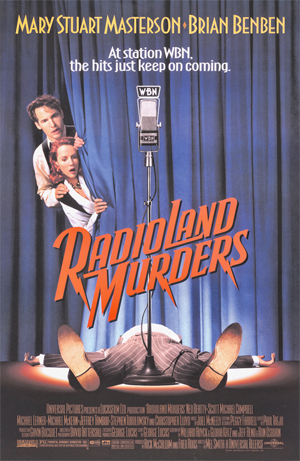 This was an abysmally reviewed movie, and I partly get why, because I had one big problem with it: it has constant jokes, but I didn't laugh out loud very much. Still, I was happy not to hate it. Aside from a few manic physical bits from Benben it's not a grating type of unfunny, and lots of it is kinda cute. One part I did think was funny is the scene where police can't stop laughing at the scene of a murder-by-laughing-gas. I also liked Dylan Baker's occasional lines as the dumb partner to investigating Lieutenant Cross (Michael Lerner), who doesn't realize that he never has anything valuable to contribute. And of course there's something a little contagious about this type of period piece that drips with admiration for the music, fashion, architecture, language, pop culture and acting styles of a specific period.
Of course, it wasn't exactly a great time. Early in the movie you see the writers' room, and there's one black woman there, but she seems to be… you know, the help. Her name is Morgana (Leighann Lord, comedian and more recently a co-host of Star Talk with Neil deGrasse Tyson) and she's the only black character in the movie besides some of the performing musicians. I was kinda torn about how they should treat race in a period piece like this. Having the black actors only be able to play roles like this seems degrading (see: "Burn Hollywood Burn," Public Enemy, 1990). But if they were to have black characters working in the station not as janitors, pretending like they could've been treated more respectfully at that time, would kinda be letting white society off the hook. And if they wanted to avoid both problems all together that would just mean another all-white cast.
I think Lucas and friends recognized these issues, and the movie has another thing up its sleeve. It knows that Morgana should have a better job than this, so when the idiot writers are stuck she keeps giving them the solutions. She also helps with solving the mystery. She even gives tips to the Foley artist Zoltan (Christopher Lloyd): try smashing a honeydew instead of watermelon for your murder sounds.
Morgana is clearly smarter than all of these doofuses, and arguably the only speaking character who's not a buffoon or a psycho. She could be better at most of their jobs than them, and these assholes probly even know it, but they still have her cleaning the bathrooms. This is not lost on the movie. I respect it for making that point.
Speaking of uncomfortable racial stuff, you know who could've knocked this one out of the park? The Coen Brothers. It actually reminds me of HUDSUCKER PROXY, which they were working on at that time, and a little bit of their disowned Sam Raimi movie CRIMEWAVE (which also had Brion James in it). It actually has a pretty witty script with some good lines, but they would've known how to time it better I think. Lucas tried to hire a comedy director, and went with Mel Smith (THE TALL GUY, BEAN), known for his long-running comedy show Alas Smith & Jones. But Smith later passed the buck, allegedly telling the Daily Mail "George doesn't understand comedy, so the movie flopped." I don't know if that means Lucas interfered with the directing of the movie or that his lack of comedy knowledge prevented him from hiring someone funnier to direct.
One part that is timed pretty good is when the killer says "But I never meant to frame Roger. It's just that he made it so damn easy." And then it cuts to this shot of Roger: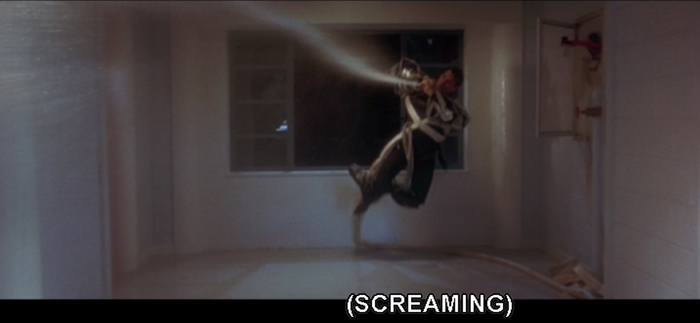 It's a little odd too, because normally the joke would be to say something about how great Roger is and then cut to him being a jackass. In this case it's the bad guy insulting the hero and then the movie making us admit, "Yeah, I guess we can't argue with that."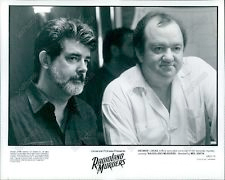 Like RAIDERS OF THE LOST ARK and WILLOW this is a project that had been in Lucas's brain since early in his career. He originally set it up for himself to direct at Universal after AMERICAN GRAFFITI, with a script by the same team of Willard Huyck and Gloria Katz (based on his treatment). He was still hoping to do it in the late '70s, at which point it might've starred Steve Martin and Cindy Williams. It finally happened in the '90s because of The Young Indiana Jones Chronicles and its demonstration of ILM's digital mattes and compositing and shit, which could bring the budget down considerably. He used a bunch of the Young Indy team, including producer Rick McCallum, composer Joel McNeely, costume designer Peggy Farrell, second unit director Vic Armstrong, stunt coordinator Leon Delaney, choreographer Jennifer Hammond-Moranz, and special effects coordinator David Beavis. Cinematographer David Tattersall, production designer Gavin Bocquet and art director Peter Russell had also all done Young Indy and would continue on to the STAR WARS prequels.
So this is from the same writing team as AMERICAN GRAFFITI (as rewritten by Moonlighting and Duckman writers Jeff Reno & Ron Osborn), but it's a way broader comedy. I suppose it has in common with it that it switches between several characters, takes place over one night, and looks nostalgically at the style and music of a certain time period. Just as GRAFFITI hints at Vietnam and the turmoil that would soon take away the innocence of these characters, RADIOLAND has a warning at the end that television is coming to take over this whole industry. While this phantom menace is killing off radio people, television is getting ready to kill off radio.
Fittingly, RADIOLAND itself was a warning that digital technology was on its way. But from watching it I never would've guessed that it was a landmark in digital filmmaking. Other than the handful of exterior scenes (like the bi-plane attacking as they climb the tower) I didn't even notice any special effects. But I saw an interview where Lucas said it had around 100 effects shots and that that was more than JURASSIC PARK.
There are connections to earlier Lucasfilm works. The opening shot visually references STAR WARS as it pans down the radio tower against the starry sky, making it look like a spaceship. At the end, Roger does a Han Solo style "I know," but gets chewed out for it. SPOILER: The solution to the mystery strongly mirrors the Young Indiana Jones episode about Edison's electric car. A mild-mannered inventor feels his creation was stolen by the company, and he wants revenge. I wonder if Lucas is relating to the inventor, or if he's afraid of people in his company feeling he's taking credit for their innovations? Either one would point to tensions that I haven't heard about existing in Lucasfilm or ILM. Maybe it's just a trope he likes.
As with CAPTAIN EO and other Lucasfilm productions, Lucas was reportedly unhappy with what was filmed and oversaw the rejiggering. According to actress Leighann Lord, who played Morgana:
"I did it; flew home and got the call a couple of months later to come back because George was not
happy with some of the scenes…George re-did some of the scenes personally. There were even
scenes I had originally done. They put me in some other stuff. And he is very persistent, very
demanding – he knows what he wants it; how he wants it and why didn't it happen already."
But I think from Lucas's perspective this isn't a matter of trying to rescue a movie that's not working (like John Carpenter's reshoots on THE FOG and HALLOWEEN II) but an intentional part of his process. At a press conference for the movie he said, "Not only are we using digital technology, one of the things we've pioneered in the TV series, something that I've used in my productions ever since the beginning of when I started making movies, was a more non-linear way of making films. Which is that normally you write the film, you prep the film, you shoot the film, you do the sound on the film and everything is laid out on an assembly line. And I've never been comfortable with that. Because I'm a writer-director-editor-producer, I'm very much more comfortable working in the medium the way a painter or a sculptor or somebody would. You don't start in one corner and just work down to the bottom of the page. You basically put on a layer, then put on another layer, then you step back and look at it and put on another layer. And that's what we've been doing in the filmmaking process."
Of course, the logical conclusion of this philosophy is Lucas's brutally unpopular decisions to alter THX 1138, The Young Indiana Jones Chronicles and the STAR WARS movies after we've already seen them. At that point we're happy and don't want him to "step back and look at it and put on another layer." I think we're pretty unanimous on that. But it's not up to us.
In that same press conference, Lucas discussed both his intention to do STAR WARS prequels and his feeling that the computer technology he'd been playing with would "change the whole process of making films."
"It's an outgrowth of what we've been doing for the last five years in television and we were very anxious to sort of move the process over to the feature film medium, which is a much higher resolution."
Considering Lucas's pattern of being ahead of the technological curve, he may have foreseen the upcoming ubiquity of the internet, but I doubt he expected the tidal wave of bile and negativity building up behind the dam of the upcoming prequels. If he'd been reading the letters page of Cinefantastique Magazine in 1995 he might've seen an omen of the coming age in which entitled fans consider themselves aggrieved consumers with a divine right to loudly and constantly make demands from artists: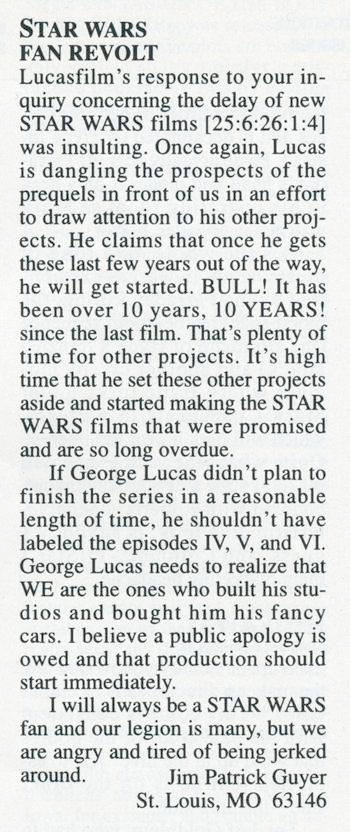 I'm not sure Lucas ever gave the public apology for creating movies on his own schedule, but his plans did happen to coincide with the demands of the jerked around legion. In 1999 Lucas and much of the RADIOLAND team unveiled THE PHANTOM MENACE, expanding the canvas of the STAR WARS universe using technology evolved from what they'd done over several years of Young Indiana Jones and RADIOLAND MURDERS, and indulging in Lucas's life long obsessions with car races, dog fights, mythological archetypes and the corruption of innocence and systems.
So there you go, Jim. You got what you asked for. Are yousa happy now?
This entry was posted on Monday, February 8th, 2016 at 1:12 pm and is filed under
Comedy/Laffs
,
Mystery
,
Reviews
. You can follow any responses to this entry through the
RSS 2.0
feed. You can skip to the end and leave a response. Pinging is currently not allowed.