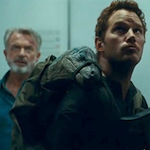 JURASSIC WORLD DOMINION* is not exactly the "dinosaurs running loose in the world" story I expected from the ending of JURASSIC WORLD: FALLEN KINGDOM – it ends up centering on yet another dinosaur park – but it does indeed take place at a time when dinosaurs have been running loose in the world long enough to proliferate, and for humans to respond with new governmental agencies, black market industries, etc. Which is an interesting world to spend time in.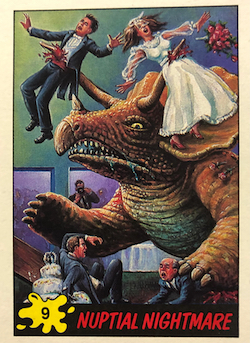 Maybe that's why some of the best stuff is before the plot really gets going – that part of a sequel that's a loose set of scenes catching us up with the old characters and their new situations. First we get a nice web video about the state of things, featuring fun clips like a wedding where the bride and groom release doves and a pterodactyl swoops down and eats them. It's in a joyful Dinosaurs Attack! spirit (though admittedly the cards themselves had an even better dinosaur wedding crasher – see right). Then we join JURASSIC WORLD co-lead Claire Dearing (Bryce Dallas Howard, HEREAFTER) and her FALLEN KINGDOM dinosaur rights associates Franklin (Justice Smith, The Get Down) and Zia (Daniella Pineda, MERCY BLACK) raiding an illegal breeding facility and rescuing a caged baby triceratops. The chaotic shots of adult triceratopses ramming Jeeps as they escape are a total joy.
*I dig the lack of a colon!