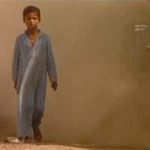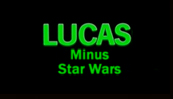 George Lucas and his big homey Francis Ford Coppola (CAPTAIN EO) are executive producers of Godfrey Reggio's POWAQQATSI (Life in transformation), the EMPIRE STRIKES BACK of the Qatsi trilogy that began with KOYAANISQATSI (Life out of balance) in 1982 and ended with NAQOYQATSI (Life as war) in 2002. If you've seen either of those, or the ones by Reggio's cinematographer Ron Fricke (I reviewed his SAMSARA in 2011) then you got a pretty good idea what this is like. Which is good, because my words might not cut it.
We could classify these as "experimental documentaries," but they don't have much of what anybody thinks of when they think of documentaries. No interviews, no narration, no onscreen text, no people talking at all. No storyline or argument made. No easily encapsulated subject or premise. Just themes.
They're like cinematic paintings, or photo essays, or poems. They rhyme by having similar shots and images over and over again, all set to very repetitive (in a good way) scores by Philip Glass.
KOYAANISQATSI focused on industrialization, lots of time lapse shots of factories, highway systems, foot traffic in crowded cities, humanity and machinery mimicking each other, bleeding into each other. POWAQQATSI is kind of the opposite. It starts in muddy valleys, dirt roads, puebloes, and it's almost entirely in slow motion. For a while I wondered if the many pans across landscapes and buildings were slo-mo, because if so it might be 100% slowed down. But toward the end the spell is broken when there are some hectic, sped-up shots – a train P.O.V. for example – as technology intrudes on their lives.
The long opening scene is just about a bunch of people carrying bags of what I thought was maybe grain or something up a steep, muddy wall. Looks like a pain in the ass. The imagery documents hardship and celebrates culture in various parts of South America and Asia. Reggio likes to do portraits of regular people. Extreme closeups or slow pans across serious, hardened faces, weathered elders, kids with their ribs showing. In slow motion, with that music, people just walking becomes epic. There is labor and squalor, but also dancing, parades, colorful costumes.
Since there are no explanations, and sudden changes of location, the cultures sort of blend together. They become an otherworldly every-people, a reminder of how much of the world I have no conception of, but also a unifying force, a vision of how much people have in common throughout the world.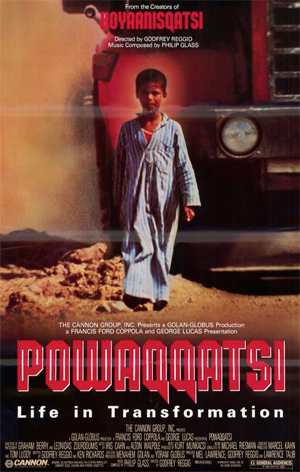 Almost halfway through there's a jarring montage of TV imagery, phony whitebread advertisements evolving into similar commercial propaganda for Asia, South America, even Russia I believe as the world becomes increasingly westernized and colonized by mass produced and marketed consumer products. And for the rest of the movie the imagery will be more and more invaded by airplanes, trucks, billboards, monolithic buildings and growing population.
"Powaqqatsi" is a Hopi compound word, and I'm not even gonna tell you what it means, because it's almost a spoiler. At the end, when it's defined on screen, it's such a poetic way of describing what Reggio is getting at that it makes a perfect exclamation point of an ending.
I've always let these movies speak for themselves, but for this one I watched some of the interviews on the Criterion blu-ray to find out what Reggio thinks it's all about. He says KOYAANISQATSI is about our industrialized lives in the northern hemisphere, and POWAQQATSI is about the simpler "hand-made" lifestyles of the south being intruded upon by our cyborg ways. He denies accusations of romanticizing poverty, but does worry about what technology is doing to these cultures, and questions whether "progress" and technological advancement are the same thing. That's why one of the iconic images of the movie is a little boy walking along the side of a road as a giant truck drives by, inches away from him, enveloping him with exhaust.
I didn't entirely pick up on all that. The opening scene doesn't exactly make you want to drop all your machines off at the Goodwill, especially after the interview explains what's going on: 1,500 miners are digging a pit and carrying bags of dirt out by hand. They edge their way up paths carved into a towering slope and climb wooden ladders with the things slung over their shoulders. The unconscious looking guy being carried got hit on the head by a falling rock. They could at the very least use the technology of helmets.
Reggio has some fiery, kill-your-television type sentiments, but he's so thoughtful and demonstrably worldly that to me it doesn't come across as some hippie bullshit. Also it's interesting to know that he used to be a Catholic brother. He comes from a background of seeking peace and fighting poverty. Now he does it with movies instead of brewing Chartreuse or whatever Catholic brothers do.
This is not a Lucasfilm. In fact, it's a god damn Cannon Film. Golan and Globus have their names on it right there with Lucas and Coppola. This was the same year they put out BLOODSPORT and BRADDOCK: MISSING IN ACTION III. I don't know what the deal is with them, but for Lucas I believe this another case of being a powerful film lover using his clout to help an artist he admires succeed in his struggle against the Empire of the bottom line. I doubt Lucas had any creative impact on the film, but I still think it should be required viewing for all future Star Warsers. Some of the cultures seen here may already be reflected a little in Lucas's planets, particularly the architecture of Tatooine. Lucas also brushed up against the POWAQQATSI theme in the static between the (presumably) aboriginal Gungans and the (I'm-reasonably-sure) colonialist Naboo. Of course it's heresy to request more Gungans in THE PHANTOM MENACE, but it would be cool if that conflict was explored instead of just hinted at.
Okay, I'm stretching here to find a connection between POWAQQATSI and STAR WARS, but to my surprise there's a pretty huge hard-to-deny one right up front. In the parlance of clickbait, this one WILL BLOW YOUR MIND.
Okay, listen to Glass's music for this opening POWAQQATSI scene. Pay special attention to the vocals starting 43 seconds in:
And now listen to John Williams' celebration music for the end of PHANTOM MENACE. For this one the relevant vocals start at about 31 seconds in:
CAN YOU FUCKING BELIEVE IT? I'm not saying there is a rough cut of THE PHANTOM MENACE entirely set to Philip Glass temp music. Actually I am saying that. That is what I'm saying. Or at least maybe they were both influenced by music from the same culture.
Lucas has recently mentioned POWAQQATSI when talking about the two experimental films he plans to make but not release. So it's something he remembers and is proud of, whether or not it was a conscious influence on his followup directorial work.
Anyway, good trilogy. Looking forward to the prequels.
This entry was posted on Thursday, January 14th, 2016 at 11:28 am and is filed under
Documentary
,
I don't know
,
Reviews
. You can follow any responses to this entry through the
RSS 2.0
feed. You can skip to the end and leave a response. Pinging is currently not allowed.