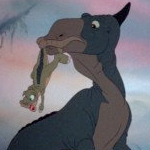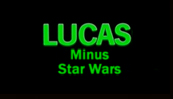 THE LAND BEFORE TIME is a good example of a movie legacy destroyed by a "franchise." Throughout the '90s the name was synonymous with candy-colored sing-along babysitters in clamshells thanks to thirteen straight to video sequels (THE LAND BEFORE TIME XIV: JOURNEY OF THE BRAVE starring Damon Wayans Jr. and Reba McEntire drops February 2nd – not a joke), and 26 episodes of a TV series. So I was surprised to watch the original – executive produced by George Lucas and Steven Spielberg and directed by Don Bluth (THE SECRET OF NIMH, AN AMERICAN TAIL), none of whom had anything to do with the sequels – and find out it's a pretty solid animated feature in the mold of early Disney.
Apparently Spielberg conceived it as BAMBI with dinosaurs, and that's pretty much what they made. It's an admiring depiction of the world of dinosaurs, with children being born into a scary world, making friends, experiencing danger and death. It is not a musical, the comic relief is minor, any cuteness is juxtaposed with an overall tone of melancholy. I mean, it's about plant-eating dinosaurs in a world with almost no plants left.
After we learn a little about the dinosaur world – divided between flat-toothed leaf-eaters and the "sharp tooth" predators that eat them – an earthquake separates the children from their parents, forcing them to journey alone to find "The Great Valley," one of the last places to find plants to eat. It's a desolate, starving world, and a non-talking t-rex keeps trying to eat them. But the kids all band together to survive and keep each other company. Well, except for the stubborn "three horn" Cera (Candace Hutson, DOLLY DEAREST), who is too proud to accept any help or show friendliness. She has to lead them. There's a moment when she realizes she's been going the wrong way, but is too embarrassed to admit it, and continues. A sad and too true moment.
The saddest part though is when the "long neck" Littlefoot (Gabriel Damon, ROBOCOP 2) sees his mother (Helen Shaver, Poltergeist: The Legacy) die in front of him. He's too young to understand death and can't figure out why she won't get up. Later he thinks he sees her alive, but it's really his own shadow stretched out and looking huge. What better visual way of saying that she will always be with him, because he is a small piece of her?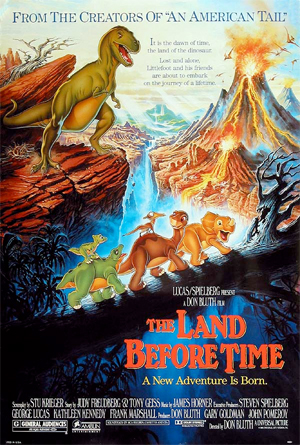 Like in BAMBI the kids have authentic kid voices, and many of the adults (who are drawn in more detail with more accurate proportions don't talk at all. The colors are muted and change with the lighting, so Cera (who I think is supposed to be a pale yellow) is often painted grey.
Later Bluth movies (ROCK-A-DOODLE, THE PEBBLE AND THE PENGUIN) were much cutesier, but I think this was his younger sensibility. According to the book The Animated Films of Don Bluth by John Cawley, "Spielberg saw animation as mostly a child's medium, much to the disappointment of Don and others." The movie is ridiculously short – about 69 minutes including the end credits – in part because Lucas and Spielberg insisted on cutting out 19 finished scenes (about a million dollars' worth) that they thought were way too scary for little kids. They also redubbed the children's screams to be lower the amount of bloodcurdling. After consulting psychologists about the mother's death scene they also had him add the character Rooter (Pat Hingle, who also narrates the movie) to give Littlefoot some comforting words.
Bluth – who, like Lucas, was a guy who'd gone off and started his own independent studio – disagreed with the changes. He lost the argument. A few more seconds were later cut out for video too (I think including the new Blu-Ray, but I could be wrong). Maybe some day Scream Factory or somebody will get the COMPLETELY UNCENSORED TOO HOT FOR GENERAL AUDIENCES DIRECTOR'S CUT THAT LUCAS AND SPIELBERG DIDN'T WANT YOU TO SEE.
They might've been right though. Even after the cuts there's kind of alot of dinosaur peril for a real young audience, and then it gets a little too "I feel like I'm babysitting a bunch of obnoxious kids" for adults when it gets all the dino-babies into one group talking to each other for the last act of the movie. And then the two kind of combine when the kids come up with their plan to use Sharp Tooth's short arms against him to trap him in water and bash his fucking head in with a rock. I know it's self defense, but it still feels a little like kids conspiring to murder an adult.
Anyway, maybe it's best for all of us that we get through it in just over an hour.
THE LAND BEFORE TIME is a decent example of the '80s-but-before-LITTLE-MERMAID era of animation – Disney inspired talking animals, but kind of gloomy and dour, so they feel like a poetic meditation on the struggles of living or some shit. This one is one folk song short of being kind of a bummer. Instead they have a ballad called "If We Hold on Together" by Diana Ross over the end credits. The score itself is by James Horner (WILLOW).
Though it pre-dates Disney's THE LION KING by 7 years, it mentions Littlefoot's mother's death as part of a "circle of life" and has her later appear to him in the clouds, just like fucking Mufasa. PLAGIARISM.
The script was written by Judy Freudberg & Tony Geis (AN AMERICAN TAIL) based on Lucas and Spielberg's ideas, but then rewritten by Stu Krieger (MONKEY TROUBLE) when they thought it was too much kiddie bullshit (paraphrase). One of Lucas's contributions was to suggest the baby triceratops character be a girl. He made sure it wasn't another one of these prehistoric sausagefest cartoons that everybody else was making.
Bluth had started as a Disney animator but had defected and, kind of like Lucas, set up his own studio. During the making of this one he moved it to Ireland. He found himself at odds with Spielberg, though the latter was busy filming INDIANA JONES AND THE LAST CRUSADE, keeping him out of the loop some of the time. Lucas's biggest contribution came when the production was about halfway complete. They then sat down for "a two-day marathon story session" where, according to producer John Pomeroy, they "made major structural changes" and "80% of the story came from that story meeting," including the death of Littlefoot's mother.
But Bluth had a racial theme in mind. "As the storyboarding continued," he claims, "we came up with another idea, that none of these dinosaurs get along with each other, they all hate each other. They're taught from the time they were born not to associate with each other, that's racism. They're going to have to be untaught the racist idea and learn to like each other and therein lies the triumph of the movie. They would work together to overcome a common goal or enemy." (I didn't pick up on any of that.)
Early on Spielberg saw it as a no-dialogue dinosaur joint, citing the "Rite of Spring" segment of FANTASIA as a precedent. That's weird because Paul Verhoeven also tried to make a movie like that, but his was supposed to be with go-motion animation by STAR WARS vet Phil Tippet, who had done an Emmy Award winning special called DINOSAUR!. After many years that evolved into Disney's computer-animated talking dinosaur movie DINOSAUR (no exclamation point). At the time it was the most expensive movie ever made (because they created a new computer animation studio for it) but I am willing to bet that most of you forgot it existed until reading this paragraph. If you ever knew it existed. You know about LAND BEFORE TIME, though. The one with the cute dinosaurs and what not.
Five years later Spielberg returned to the world of dinosaurs in a movie called JURASSIC PARK. Tippett was originally hired to do the dinosaurs in go-motion, but the technology invented for EMPIRE STRIKES BACK was headed for obsolescence the moment Dennis Muren at Lucas's company ILM convinced Spielberg that he could do it with digital animation. But Tippett's talents for breathing life into creatures through their movements transcends medium, so he stayed to supervise the animation. This time they decided not to make the dinosaurs talk.
This entry was posted on Wednesday, January 20th, 2016 at 10:52 am and is filed under
Cartoons and Shit
,
Family
,
Reviews
. You can follow any responses to this entry through the
RSS 2.0
feed. You can skip to the end and leave a response. Pinging is currently not allowed.