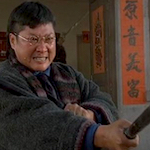 THE MILLIONAIRES' EXPRESS (also called SHANGHAI EXPRESS, originally 富貴列車, or FORTUNE TRAIN according to Google Translate) is a 1986 Sammo Hung directing and starring joint all-star period comedy.
In the tradition of LICENCE TO KILL it opens with a fight in snowy Russia, as Sammo's character Ching Fong-Tin is caught trying to steal from Russian soldiers and they force him to wear women's underwear and do a sexy dance for them. He kind of pulls a Bugs Bunny, leaning into it, and manages to escape with an impressive window leap while the cabin explodes, but is then captured by a mountain-trapper-looking CIA agent called Fook Loi (Kenny Bee, THE SPOOKY BUNCH), so there's more fighting. They end up rolling down the hill and making giant snowballs. (read the rest of this shit…)
VERN has a new action-horror novel out called WORM ON A HOOK! He has been reviewing movies since 1999 and is the author of the film criticism books Seagalogy: A Study of the Ass-Kicking Films of Steven Seagal and Yippee Ki-Yay Moviegoer!: Writings on Bruce Willis, Badass Cinema and Other Important Topics as well as the crime novel Niketown.