The Steel Frontier is a post-apocalyptic wasteland, alot like the place in ROAD WARRIOR, but filmed in California. It's the kind of place where you might find a legless man out in the middle of the desert and have to put the poor guy out of his misery. Or you might find a small town where everybody acts kind of like they're in a western, and a bunch of asshole bullies on motorcycles and souped up post-apocalypse-mobiles might drive into town and start fucking shit up and laughing about it.
That's exactly what happens here, this guy General Quantrell (Brion James) rolls in with his "desert scum," goes into the barber shop and gets a nice warm shave while his boys terrorize the place. They drag people behind their motorcycles, machine gun random people and cars, punch guys in the face, blow up buildings, set people on fire, do awesome motorcycle jumps through windows, bodyslam people, switch out the flag with their own, etc. They're nicknamed "the Death Riders" but officially "The United Regime," supposedly "the only civilized order in an otherwise savage land." Well, we can agree with the second part I guess.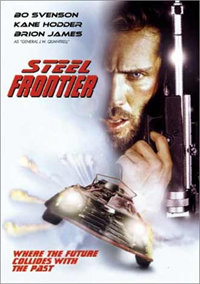 Anyway, Quantrell shoots the sheriff and then has the barber finish his shave. With the town conquered he takes off, leaving his son Junior in charge. This doesn't sit that well with Bo Svenson, who stands around watching the mayhem from his porch and doesn't seem to agree with it, but turns out to be one of the leaders of the Regime.
Now it's kind of like a western so they need some dude, a "rogue drifter" they seem to call them, to stroll into town and help the people to rise up or whatever. That man is played by Joe Lara and apparently his character is named Yuma, but I only noticed him introducing himself as "No One Special," which would be a good "Man With No Name" type of non-name for a guy like this.
No One Special has many of the qualities of a badass. He wears black and a cowboy hat and he drives a motorcycle that shits bombs and fires a gatling gun by voice command (he just has to yell "Angel!", even when he's not riding it and just has it parked nearby). He has a high tech sniper scope that he uses to hunt himself a possum and when it turns out to have high radiation readings he eats it anyway. See, he's fearless.
When he gets captured by the Regime and they want to know why he's snooping around he claims he was "Just amblin'." Then he beats them all at poker (I don't really understand how these tough guys also have impossible luck so they can get a royal flush every time. It acts like getting a good hand at poker is something that happens automatically if you're awesome. Not one of my favorite movie cliches). Like Yojimbo or The Man With No Name he joins their team in order to defeat them, but unlike either of those guys he lets them brand him and jump him in.
His gun skills are as ridiculous as his poker skills. When he has a showdown he not only draws faster on the guy, he shoots the gun out of his hand and then repeatedly shoots it while it's in the air, bouncing it up again and again like he's playing hackysack with it. And the theory of badass juxtaposition is in effect here too. He plays a bluesy harmonica version of "My Country Tis of Thee" and it causes him to tear up. I guess the regualar pre-steel frontier wasn't all that long ago. He remembers America.
The problem though, the thing that keeps this from being a great movie in my opinion, is Joe Lara. Nothing against him, I'm sure he's a nice guy and all that. I never heard of him but apparently he's best known for playing Tarzan in the TV series "Tarzan: The Epic Adventures," and is in a bunch of B-movies like AMERICAN CYBORG: STEEL WARRIOR and two of the OPERATION DELTA FORCE movies (playing different characters), but quit acting in 2002 to become a country singer. And for real, not like some Joaquin Phoenix deal. But he's playing a spaghetti western type anti-hero here and unfortunately does not have the type of presence or look you need to fill in for Clint Eastwood, Lee Van Cleef or Franco Nero. His look is more Michael Bolton, with his curly hair down past his shoulders. I'd expect him to be painted on the cover of a romance novel and make women swoon, but not put enough fear in the heart of Quantrell Jr. that he calls him "Sir." I think the long hair and beard are supposed to make him look like Jesus, but I don't know man. I don't approve. He's not cutting it.
I kind of feel sorry for him though because although the cover of the American DVD shows his face (long hair tastefully obscured behind large gun) it doesn't say his name, it says:
BO SVENSON
KANE HODDER
BRION JAMES
as "General J.W. Quantrell"
Even the name of Brion James's character is more important than the name of the star of the movie! I have to admit, though, they got my number. His name on the cover would've meant nothing, but seeing those three names on there it actually sounds like a good cast to me. You know how I feel about the WALKING TALL sequels, and that makes it seem like he's the main character. Hodder, by the way, plays another "rogue drifter," basically a thug role with little or no dialogue (I can't remember for sure whether it was little or no, but I think it was little). He does get his face shown more than he usually does in movies, where he's generally a stuntman. If you don't know what he looks like you'll spot him because of a corny in-joke, he's wearing a knit cap with a patch of a Jason-style hockey mask on the front.
Most of the characters here act like extras on a made-for-TV western, but you also got some post-apocalyptic type maniacs. There's one character credited as "Chickenboy" who you really want to turn into some McNuggets. I don't know if he's supposed to be retarded or brain damaged from radiation or what but he wears a bunch of feathers around his neck and he jumps around giggling and repeating what other people say. It's also implied that one of the soldier dudes punks him out, which is weird because there seem to be plenty of women around, it's not a prison type situation. And if you prefer the company of gentlemen it seems like you could do better than Chickenboy. But I don't know man, affairs of the heart and all that. I won't interfere.
There's another wasteland crazy that made me laugh though, when he's busting into some place and menacing a woman, and her husband says "Why don't you just leave us alone?" this guy gets upset and whines, "I am TRYIN' to IMPRESS the girl, MAN!"
(Don't worry, nobody gets ravaged. It's PG-13, somehow. I'm not sure how, but it is. Pillaging is okay in PG-13, but ravaging is not.)
There are plenty of good moments and ideas. The attack on the town has a good amount of crashes and explosions, and so does the chase between the motorcycle and the Road Warrior cars. Bo Svenson is mostly wasted, but not entirely because he gets one really great fight scene where he uses his grappling skills against a pack of desert savages called "roach eaters." I also like the idea that even in a postapocalyptic world there's gonna be religious people talking about "the end is near," although it would've gone down better without another character pointing out the ridiculousness of it. And the movie definitely has some commentary about the impossibility of a large military force occupying a place where the local resistence will never surrender. It could be about us in Vietnam, the Russians in Afghanistan, us in Afghanistan, or alot of other conflicts.
So there's alot to offer here. It's just too bad about that lead. All they had to do was get Lance Henriksen or somebody and this could've been some kind of minor classic. Despite that major weakness I gotta give it credit for elbow grease beyond the call of duty in the action and mayhem departments. You can see some of that in the trailer below, and the way the narrator tells it this movie is fucking incredible. He's almost convincing me.
.
.
Thanks to none other than The Artist Formerly Known as AU Armageddon for recommending this one to me. Kinda weird that an Australian is telling an American to watch an American rip-off of an Australian classic. Maybe he's trying to promote peace and cultural understanding before STEEL FRONTIER becomes a reality.
This entry was posted on Monday, November 29th, 2010 at 1:56 am and is filed under
Action
,
Reviews
,
Science Fiction and Space Shit
. You can follow any responses to this entry through the
RSS 2.0
feed. You can skip to the end and leave a response. Pinging is currently not allowed.