Note: Like most people of the planet Earth, I re-watched the whole MAD MAX trilogy during this last week of a decade of waiting for FURY ROAD. And I knew I'd never done a write-up of MAD MAX before, so I did one. I followed that up by writing about ROAD WARRIOR. And then I realized that I already wrote a review of it 8 years ago. And sometimes that's fine because I think my old review is sucky and I can do better now, but actually I kinda like that review, I made some good points, and I called Wez's bitch his "desert life partner," which was pretty good.
But let's be honest, we're not gonna think about a god damn thing besides Mad Max between now and 7 pm tonight and whenever we see the new one, so what the hell. Here is my alternate dimension review of THE ROAD WARRIOR where I still love it in the same way but say it in different words.
* * *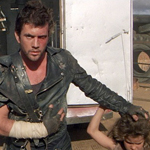 Yeah, I always liked MAD MAX, but THE ROAD WARRIOR (or MAD MAX 2 as most of the world calls it) is more my speed. Get it? Speed. 'Cause that's one of the things George Miller knows how to capture on screen. Even the mythically narrated opening montage establishing Max (née Rockatansky) as a legendary hero seems to be moving fast, then the screen opens up wide, we pull out of the blower on Max's car and the movie just launches us down the highway. The insane car stunts of the first one are multiplied, now we have even more cars flyiing through the air, rolling, flipping, smashing through each other, dragging broken pieces (or people) behind them, scraping across the pavement, spraying sparks, shooting pieces of rusty debris in all directions.
Wherever Max was before, where there were bars and homes and children and stuff, he ditched that fuckin place and now he scours "the wasteland" with all the other thirsty leather-clad psychos. And I kinda doubt the Halls of Justice are still standing anyway, it seems like shit has gotten worse in general, and we know from the montage that some forgotten factions of humans went to war and dropped the bomb on each other (in old black and white stock footage). Whatever the current socio-political situation is, we know that guys like Max travel the desert roads looking for crashed cars, or causing crashed cars, and trying to steal any leaking or unused gas, or "juice." It's a snake eating its tail, really.
Max doesn't have a family anymore, but he has a dog. Named Dog. Max gets first dibs on dog food when they find it, though. Still, Dog is a good partner. He holds a prisoner at gunpoint, string tied from him to the trigger.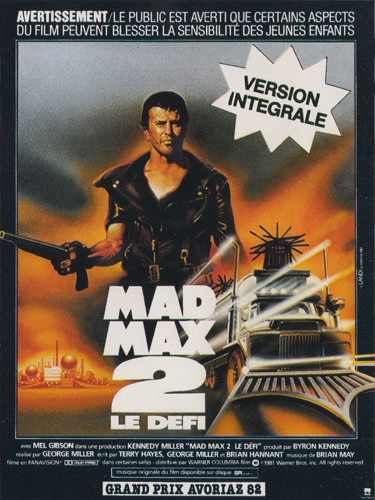 Max finds out about a small tribe defending an oil refinery aorund the same time they get an ultimatum from The Humungus (Swedish weightlifter Kjell Nillson), a hockey-mask and S&M gear wearing muscleman who leads a gang of bullying biker scavengers, many of them with mohawks and spikes and well-bound prisoners propped up on their vehicles like extravagant hood ornaments. His main henchman seems to be Wez (Vernon Wells in his first movie role), who became the prototype wasteland barbarian for a million ROAD WARRIOR rip-offs throughout the '80s (as well as the pro-wrestling tag team The Road Warriors). He sports a red mohawk (sometimes with face paint), armourized football shoulder pads (with feather decorations), studded belt and codpiece, and leather gauntlets with a wrist-mounted mini-crossbow. And behind him he carries his bitch, a skinny blond androgynous kid with a leather shirt that exposes his nipples. I know it's wrong to call somebody "his bitch," but calling this guy his boyfriend would be more offensive. He keeps him on a chain leash. We all know what's going on here.
(For the record, the credits call him "The Golden Youth." The actor is credited as "Jimmy Brown," but apparently really named Jerry O'Sullivan, and this is his only movie.)
One thing that's great about The Humungus is that he has his own hype man (credited as "Toadie" and played by Max Phipps of DARK AGE) to introduce him before he threatens the colony over a microphone. I'm surprised the guy doesn't come out and put a cape on him like Danny Ray for James Brown or hold a mirror in front of him like Jerome for Morris Day. But then when Humungus himself talks he's surprisingly eloquent. He didn't need a mouthpiece. It's all razzle dazzle. The guy's an entertainer at heart.
He gives the tribe 24 hours to leave or be killed. During that window one of their guys gets attacked, his wife killed, on the road. Max doesn't rescue him but he cynically brings him home injured in trade for gas. Max wants to stay out of this conflict, and the people at the refinery guilt him, or try to, for being so mercenary. The leader Pappagallo (Michael Preston, METALSTORM: THE DESTRUCTION OF JARED-SYN) guesses that Max lost his family. He does not guess that Max's late wife played saxophone. I think Max cares a little, even though he hides it by framing it in business terms when he makes a deal to go get them a truck he saw on the road. The people eventually catch on, but wisely treat him with suspicion and disdain most of the time they deal with him.
If it weren't for all the car chases this would be a western. I guess maybe it still is, because there's definitely a feel of jumping from horses to stagecoaches during some of these chases. They use a combination of guns and bows. There are scenes of camping out on hills, watching people through binoculars and telescopes. Max doesn't wear a hat, but he's the mysterious drifter who excels at violence and acts cynical and uncaring but turns out to have a code. The old gunslinger. And it's a movie about the open desert, wide shots showing dozens of vehicles and madmen from far away, beautifully shot by Den Semler (who went on to direct FIRESTORM with Howie Long and THE PATRIOT with Steven Seagal).
The dialogue is economical, the story is elegantly simple, the atmosphere is thick. There's an imagination in this world that in a weird way reminds me of THE TEXAS CHAIN SAW MASSACRE. Giggling insane people prance around caked in dirt and dried sweat, saying things that are difficult for the reasonable to understand. Pieces of metal junk are put together in ways it seems only a sick mind would figure out. (Art director Graham "Grace" Walker was later production designer for BEYOND THUNDERDOME as well as THE ISLAND OF DR. MOREAU.)
The lovable supporting characters include The Gyro Pilot, played by weaselly, lip-licking Bruce Spence (REVENGE OF THE SITH) in a cartoonish costume that predicted modern hipster fashion (skinny pants or leggings, scarf, ridiculous hat), and the Feral Kid (Emil Minty), a howling and growling little wild thing who wears a tail like he thinks he's an actual animal. He also knows how to do a backflip and commits murder with a bladed boomerang. Aussie Aussie Aussie, Oi Oi Oi!
Man, I love that scene where the Toadie tries to catch the kid's boomerang and it cuts off the tips of his fingers. All his friends immediately laugh at him, and after a bit he laughs a little too, like "Okay, ha ha, it is kinda funny. I can laugh at myself."
That Max looks out for the Kid says something. It's just like a suspected: he does still give a shit. He had a kid of his own in the first movie, so it's kinda like the surrogate parent and child relationship of Ripley and Newt from another all time classic movie that happened to be a part 2 and came out a few years later. But Max and the Kid are reticent to express emotions, or to talk at all, so they never admit to it.
Of all the great action movies, few are able to demonstrate this level of imagination. There are so many cool little details: the shielded bus that the colony uses as a gate, all the crazy pimped out cars and dune buggies, the guy carried around on bungie cords, the trick they play on the bad guys without letting Max in on it.
And of course the climactic truck chase is a masterpiece of action. There's a tanker covered in spikes, gunners, a rocket car, grappling hooks, guys jumping from vehicle to vehicle, shooting arrows, breaking off doors, blowing out windows. It goes on around 15 minutes but never stops feeling fast and dangerous. And furious too, I guess. I'm sure the FAST AND FURIOUS guys rewatched this scene a thousand times since it's a model for complex car battles. It even has what is now a FAST trademark: a guy driving a car fast and holding his arm out telling someone on another vehicle to jump to him.
We're talking about a movie of such potent badassness that it earns one of the most bombastic scores possible (Brian May again), as well as another metal logo and now two reviews by me. THE ROAD WARRIOR belongs in the hall of fame.
other George Miller movies I've reviewed:
Everybody have fun and drive safe and what not. Don't try to catch any boomerangs. When next we meet I will have become a man.