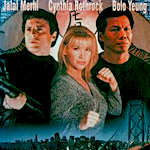 TIGER CLAWS II (1996) starts with part I's Tiger Claw kung fu serial killer Chong (Bolo Yeung) in jail, and ends with him on another astral plane. During that same period the quality of the movie takes a similar journey, going from very promising to something else entirely.
Chong is sitting cross-legged on the floor of his cell when a shithead cop comes in and asks "Who's the gorilla?" Hearing that Chong has just finished a 9 month psych evaluation and will plead insanity tomorrow, the cop (who didn't even know who the guy was) insists "He's not crazy!" and goes into the cell to "teach him some manners" by hitting him with a club and yelling at him.
(I do totally believe this part actually.)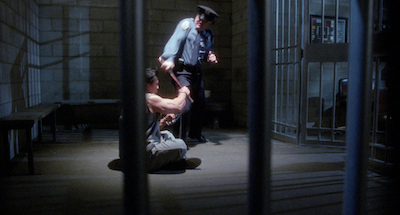 Chong sits and meditates, ignoring him at first, then casually taking the club from him. Unfortunately he doesn't do anything with it.
Meanwhile our boy Tarek (Jalal Merhi) is busting a gloriously-ponytailed arms dealer named Victor (Evan Lurie, DOUBLE IMPACT, MARTIAL LAW II, AMERICAN KICKBOXER 2). There are fiery explosions, he gets his man, but his partner dies, and while he's distracted some guys in a white van free Victor.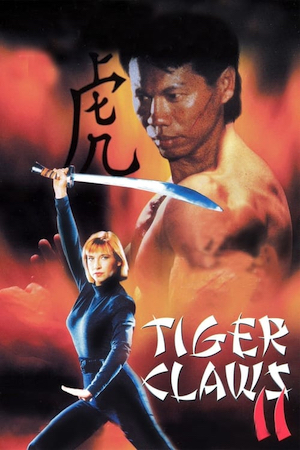 In the van are Harry (Harry Mok, TALONS OF THE EAGLE) and eye-patch-wearing Patch (Paul Rapovski, EXTREME CHALLENGE, BOONDOCK SAINTS II), who work for a guy in San Francisco named Dai Lo Fu (Ong Soo Han, BLOODSPORT 2). Next they free Chong as he heads to his trial. There's a little Woo-inspired shooting with lots of broken windows. I like that Chong doesn't know what the fuck is going on and pins Harry to the wall by his throat. When Harry says that someone named "Sifu Choi" has been killed, Chong goes with him.
They head to San Francisco to see their boss, who trained with Chong under Sifu Choi and has turned his dojo into a mob-front restaurant. On the road they ditch their van and steal some guy's food truck. There's a funny part where they're parked and two cops approach trying to buy french fries, so Chong puts on a paper hat and apron and attempts to actually prepare them. I respect that! He takes the fries out of the fryer with his bare hands and they do put a little bit of a sound effect in there, but there's clearly no grease, so it's kind of unclear whether or not he's supposed to be using his previously established ability to put his hands into hot liquids without feeling pain.
Anyway the cops are unhappy with the food – maybe because it's just cold fries with a pile of mustard in the middle? – so Victor shoots them.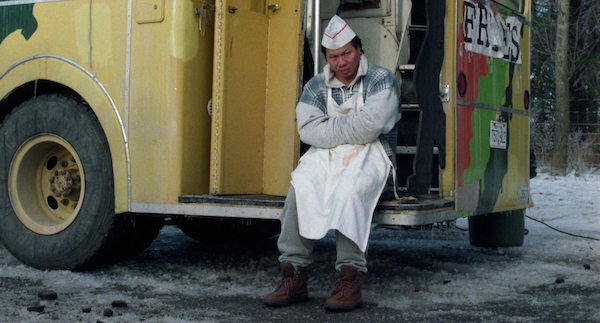 Coincidentally Linda (Cynthia Rothrock) – who in between movies dated and broke up with Tarek – lives in San Francisco now. They still talk on the phone sometimes, so he ends up coming to investigate Chong and some Tiger Claw murders with her.
Dai Lo Fu says that Master Choi's dying wish was for him and Chong to reunite to do some ritual from the ancient stories of the tigers or whatever that is only possible once every one hundred years (i.e. now). Chong is skeptical and fights some of Dai Lo Fu's men, but then agrees to participate in a traditional tournament in which the four finalists will help open a magic time portal.
(?)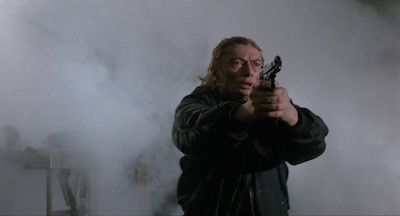 An actor who I'm pretty sure did come out of a magic portal, Lazar Rockwood (BARE KNUCKLES), shows up in one scene as some dude who runs a chop shop or garage or something connected to Victor's arms deals. Since they're in the weapons business they all have machine guns to fire at Tarek when he sneaks in. The local cops "don't like New York cowboys," so he has to work off the books with only Linda as backup – mostly waiting in a hotel. Unfortunately Rothrock's part is a little smaller than in the first one. She gets to fight a bunch at the end, but for a while she mostly has scenes like calling Tarek while laying in bed in a black nighty.
We get some of the good tournament movie shit though: torches, symbols, a mural of tigers, golden dragon statues, montages of matches between gimmicky fighters with different styles and outfits. Also a table with a plate of bananas and apples. (There may be a continental breakfast after the tournament.) Tarek and Linda are caught trying to sneak in; Tarek is forced to enter the tournament, while Linda is locked in a cell.
The chained up skeleton and fake brick corridors suggest a local haunted house attraction. The fighters have to go through these halls and kick each other – I like the part where they jump across the tops of wooden poles with dry ice fog obscuring the floor so we can imagine it's a bottomless pit.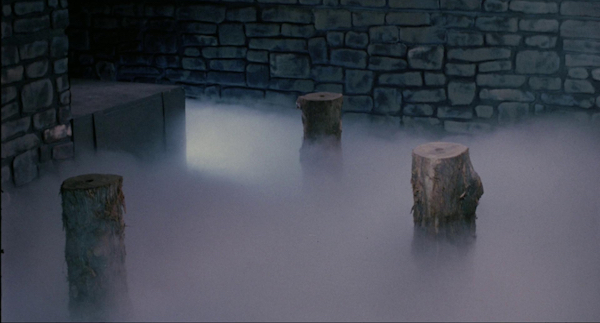 A twist is that Sifu Choi (Eric Lee, STEELE JUSTICE, wearing old age makeup) is actually alive and locked up with Linda. Rothrock finally gets to fight an hour and eleven minutes in when they escape together, so the movie picks up a little.
In the last 15 minutes or so the movie gets extra wonky. According to the blu-ray extras Yeung left after a dispute over whether he was supposed to get paid before or after completion. That explains the part where Sifu finally gets to talk to Chong and it cuts to a still photo of Yeung to represent him listening. It does not explain the scenes where Dai Lo Fu is portrayed by a guy with a hood hiding his face and occasional inserts of grainy older footage of his face. At least Linda gets to do some kicks and have a bench vs. wooden sticks fight with Patch while Tarek fights Victor.
And then, crazily enough, Sifu and Chong (or at least silhouettes of two people wearing hooded cloaks) open a magical glowing portal.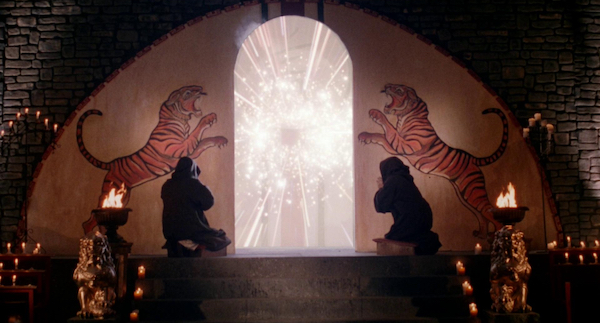 Tarek says, "Wait. Let them go. He's paid his dues." (I have no idea why he thinks that. This guy was a serial killer until they busted him less than a year ago. He murdered one of Tarek's close friends!)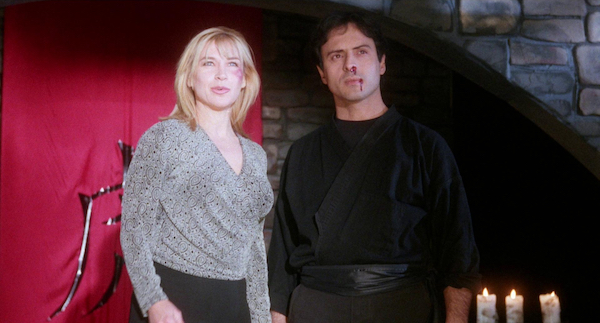 Part I writer J. Stephen Maunder was promoted to director for the first time, and co-wrote the screenplay with Andreas Kyprianou (BUSTER'S CHRISTMAS WISH). I think it's fair to say this isn't as well directed as the first one. I assumed the budget was smaller, but the extras say it was a little bigger. Rothrock also says that she had been taking classes at Second City to improve her acting, and I do think that's noticeable.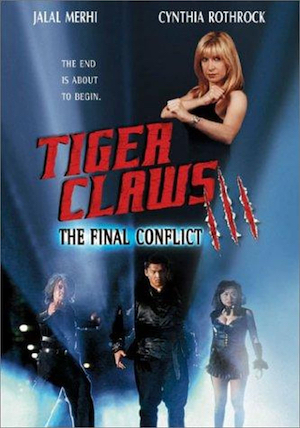 On the commentary Merhi says that the reason for the weird ending was to set up for Chong becoming a good guy in the third one. That could've been cool/fun/ridiculous, but after what happened on II he decided not to invite Bolo back for the finale, TIGER CLAWS III: THE FINAL CONFLICT (2000). Maunder directed again, and they continued with the magical time travel business, with an "ancient warriors in a modern city" premise kinda like a poor man's THE SHADOW or HIGHLANDER: THE FINAL DIMENSION.
This one opens with Tarek and Linda already together. She thought Tarek had invited her out for a steak, but it was actually a stakeout (get it?). A thief eludes them, but the incident gets them an invite to a fundraiser by Chinese artifact collector Malcolm Goodman (Nicholas Celozzi, "Man in High Hat Bar," MARKED FOR DEATH). Linda has a line about wearing pants whenever she goes out with Tarek (knowing she'll have to kick some motherfuckers). When they show up at the address they realize it's "the same theater that Chong murdered all those people in."
In the dojo part of the theater (which still has the tiger head banner and yin yang floor design), Malcolm unveils three uniforms belonging to ancient Chinese assassins and introduces Stryker Gudenov (Loren Avedon, NO RETREAT, NO SURRENDER 2 and 3), who Tarek recognizes as "de man from de warehouse."
But then the theater is struck by lightning, there's a bunch of electricity and sparks, and the three masters manifest inside their uniforms. They're played by Rebecca Chu (who played a hostess in part II), Sam Tsui ("Man #6" in COLD VENGEANCE) and… I'm not sure the third one. The only reference material I could find said it was Mo Chow, but I believe his credit as "Tiger Claw Master" is referring to a cameo where he walks by during the demonstration and we recognize him as Master Chow from part I.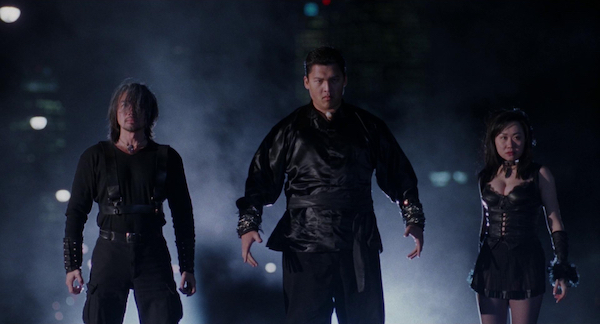 The partygoers flee as the masters make evil faces, growl, attack everybody and shoot electricity from their hands. In an obviously frustrating turn of events, Linda is killed off not much more than 20 minutes into the movie.
The warriors leave with Stryker, who's a funny character, just a total asshole who likes to smoke cigars and wear black suits, sometimes dances around a little, tells the warriors "what you need is to get laid," brings them around town to bully people at restaurants and stuff. They eat lots of food – "I guess they got hungry after 500 years," Tarek says.
When Stryker loses track of the warriors he says out loud, "Let's see, if I was 500 years old where the heck would I go?" And then "Ah ha!" when he hears some drum and bass music coming from a dance club. I don't know how he knew they were into that.
For help, Tarek seeks out Stryker's mentor Master Jin (Carter Wong, HARDCASE AND FIST, with blistered knuckles and three painted on white streaks in his hair) who is introduced with one of my favorite action cliches – happening to be in a mini-mart when some suckers try to rob it. He has a few odd quirks, like for some reason they establish that he falls asleep whenever he's in a moving car.
Tarek doesn't drink, so he mourns Linda by going to a bar and buying whisky for some other guy to drink. Then Master Jin catches up with him and says he'll teach him the dangerous Black Tiger style to defeat the three warriors. Tarek pulls a ROCKY IV by staying in a barn and running in the snow. There's a small mound he can stand on to practice cool moves. At night Master Jin swings a burning stick at him. The most unusual test is when he has to reach through a spinning wooden wheel to grab a chunk of salt hanging from a string. While blindfolded. (The last step seems gratuitous, but gratuitous is usually good in this subgenre.)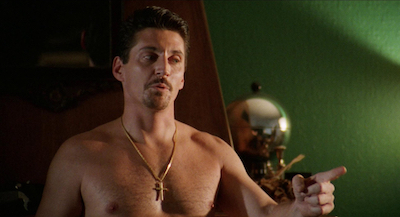 Meanwhile, Stryker uses the warriors as his "associates" to take over a gang led by Mr. Lau (Gary 'Si-Jo' Foo, TALONS OF THE EAGLE). They block bullets Wonder-Woman-style and beat everybody up. Stryker smart-assedly refers to what's happening as a "merger," and in one scene he makes Mr. Lau uncomfortable by dropping his robe in front of him. Then the masters walk around the city shooting beams and blowing up parked cars. Reminds me of HELLRAISER III: HELL ON EARTH.
Of course Tarek and Master Jin come after the bad guys. Tarek does several gratuitous cartwheels and handsprings (remember – that's good). He also kills a guy with a throwing star to the face (also always good).
I like that Master Jin gets to have the final showdown with Victor while Tarek fights the warriors. Usually it would be the new student who takes on the former one. There's a pretty good joke where Master Jin survives being shot and it seems to be magical, but he reveals that he put on a bullet proof vest – because he was cold! The beautiful part is that it was actually set up earlier in the car.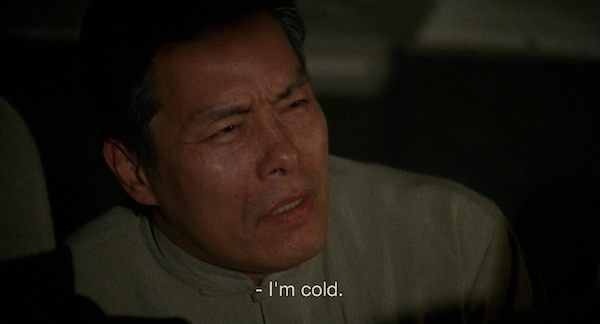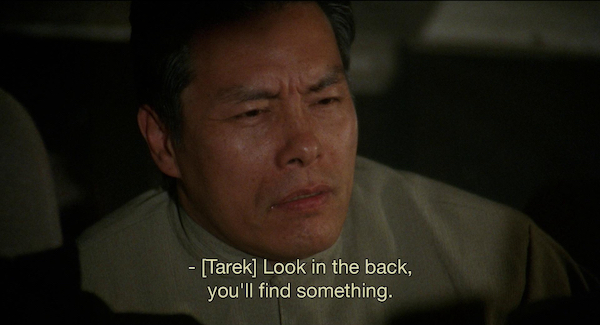 Linda comes back for a lovey dovey flashback, and then at the end when (PLOT TWIST SPOILER) we jump back to the theater where Tarek passed out when the lightning struck. So either the whole movie was a vision or he magically fixed it to set things back.
Of course the worst thing about the movie is what it does to Rothrock's character, but we learn from the interviews on the blu-ray that it was unavoidable. Turns out Rothrock was pregnant and they had to rewrite around that at the last minute. She did do a fight with a wooden staff and was supposed to do it lightly but she says she didn't know how to hold back.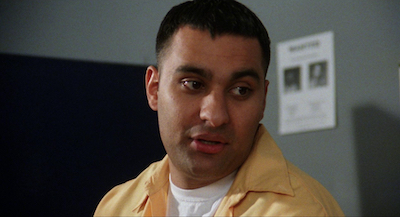 Future superstar comedian Russell Peters plays the less jerky of two police detectives who feud with Tarek – it's his second movie role, after "Snake's Friend" in something called BOOZECAN (1994). 13 years later he was number three on Forbes' list of the world's highest-paid comedians, earning $21 million in a year (which I'm pretty sure is quite a bit more than the budget of the whole TIGER CLAWS trilogy.) If that guy starts doing big movies and I review one of them I think you know which title I will put in parentheses after his name.
I'm glad Vinegar Syndrome's blu-ray set included the whole trilogy so we can go through the whole unpredictable journey with Tarek, Linda (RIP) (never mind, not RIP) and Chong (in another dimension). I like when sequels go Zeist on us like that. But to me TIGER CLAWS is the real gem of the bunch.
This entry was posted on Wednesday, May 4th, 2022 at 10:39 am and is filed under
Action
,
Martial Arts
,
Reviews
. You can follow any responses to this entry through the
RSS 2.0
feed. You can skip to the end and leave a response. Pinging is currently not allowed.