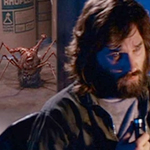 "I don't know what the hell's in there, but it's weird and pissed off whatever it is."
In snow, no one can hear you scream. 'Cause it's cold. They stayed inside.
John Carpenter's THE THING (1982) – not to be confused with Christian Nyby's THE THING FROM ANOTHER WORLD (1951) or Matthijs van Heijningen Jr.'s THE THING (2011) – is straight up one of the best horror films achieved by mankind so far. It's relatable but extraordinary, simple but original, blunt but ambiguous. It has quite possibly the most brilliant creature effects ever devised, or at least the only monster arguably weird enough to top ALIEN in the "well, shit, I never even thought of seeing anything like that!" department.
The Thing crash landed on earth some 100,000 years ago, and has only recently been unfrozen to raise a ruckus. A pessimist would say (as Wilford Brimley's Blair does in the movie) that this is the type of shenanigans that could end the human race in a couple of years. An optimist would say hey, let's just be thankful the flying saucer didn't land properly in the first place, we got an extra 100,000 years out of that. (read the rest of this shit…)