DON'T BE AFRAID OF THE DARK is a classed-up remake of an old '70s TV movie. The director is a rookie friend of the internet named Troy Nixey, but it was produced and written by none other than Guillermo del Toro (in collaboration with his MIMIC co-writer Matthew Robbins).
The tone is completely serious, but all in fun. It's not trying to punish you, like a Rob Zombie movie, but it is trying to make you wince and feel sympathy pain. That's why the opening scene is (SPOILER) an old man crying and apologizing as he chisels out his maid's front teeth. After that you know the movie is boss so you better just shut the fuck up and do what it says.

It's a refreshingly small scale story about a couple (Guy Pearce and Katie Holmes) restoring an old house and not realizing that some murderous little ghoulies live underneath it and feel they need to come out for human sacrifice and snacking on the teeth of children. These guys have a unique look, kind of a Nosferatu-faced ratman. They're li'l wufs.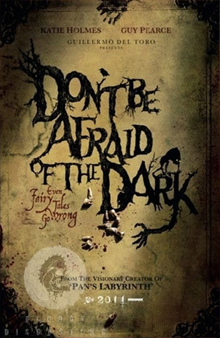 The handling of the creatures is A+. They do a great job of showing them in glimpses, scurrying by quickly as just a little bit of the flashlight catches them. The first time a character comes face to face with one they're both screaming in terror like E.T. and Elliot. You think you saw it clearly but it goes by so fast you're not sure if you remember it right. When you eventually do get a better look at them they live up to the anticipation and you feel like you're not supposed to be seeing them, you walked in on some crazy shit you weren't supposed to know was going on.
In the '80s they'd do POV shots and offscreen jibber jabber to save on the pain in the ass of shooting the Ghoulie puppets. Here they get to do it as a deliberate artistic choice. The technical execution of the creatures is just as flawless as their suspense-building presentation. I assume it's pretty much all digital because they're too spindly and move too well to be puppets. But they don't have any of the sins of modern digital effects. They don't jump around all the time or other stupid things filmatists tend to overdo to show off. They scurry around like real rodents. Actually they looked so good that I bet somebody at Warner Brothers or wherever will see it and decide it's time to remake GREMLINS.
But what makes this a solid horror movie is that you're not just bored waiting around for the part where you see the monsters. All three leads are really good: you have Pearce as the well-meaning but self-involved architect, and you've got Holmes as his girlfriend/interior designer, and a girl named Bailee Madison as his young daughter, who's pretty much the lead. She seems much more like a real kid than a spunky child actor. She's depressed and pouty but not whiny. You feel bad for her being dumped in a strange place with the dad she's never lived with. She looks so young and cherubic and doesn't talk that much but then knows how to throw out exactly the comment that will cut an adult down to her size. She unleashes the monsters out of a combination of innocent curiosity, bitter mischief and maybe slight craziness. I mean, she's lonely, why not look into these strange voices whispering to her through the vents? Maybe she'll find some company. Anyway, her living situation turns out to be worse than she thought.
I know everybody hates Katie Holmes now because she's married to a famous actor who is weird and practices a heathen space religion. But when she was a young teen star she seemed pretty promising. I remember she used to be on that show Dawson Creek, it was on that same "WB" channel that showed other shows such as Felicity I believe might've been what one of them was called, I'm really not sure. Dawson Creek was created by the writer of SCREAM and was the stuff that bothered you in the SCREAM movies and nothing that you liked and done as a weekly high school soap opera for several years. From what I saw it was not my bag but I always thought Katie Holmes was pretty good and should probly leave before she became too associated with it. But it really didn't seem to hurt her or her co-star Michele Williams who not only went on to be nominated for an Academy Award but also was in HALLOWEEN H20.
Anyway Holmes took a break for a few years after the Batman movie, which to be honest she wasn't that great in. But it's nice to see her back. At first I thought "Isn't Katie Holmes a little young to be with Guy Pearce?" and then I thought "Oh yeah, her real husband is older than her too" and then it turns out she's supposed to be younger, and this is a point of contention between Pearce and his ex-wife. The main relationship in the movie is between the girlfriend Kim and the little girl Sally. Sally resents Kim, Kim desperately wants to be accepted by Sally, and also sees how badly she needs a connection with someone that her real parents don't give her.
There's a part in the movie where Sally has to kind of resemble Kim, and it was so convincing I questioned whether that was Holmes's daughter playing Sally. Holmes must've trained her to do that weird crooked sad-smile she does. Unless they did it with computers.
It's nice of Kim to worry about Sally's emotional well-being, but she's gonna have to figure out to also worry about her physical safety, because there really are mean, furry little ancient beings out to get her. Yeah, if we knew about them and had our wits about us it would be pretty easy to grab the little guys and twist their heads off. Also we might consider capturing them and putting little doll clothes on them and forcing them to pose for funny pictures and what not. But nobody believes Sally and she has no control over where she lives so there's not much she can do.
And as long as the adults don't figure it out the wufs have the element of surprise on their side. Nixey milks the "creepy things we don't realize are about to touch us" factor with lots of POV shots from inside the vents or from low angles near vulnerable bare feet on cold floors or dangling off the end of beds. Or long sharp objects that reach out and just about poke an unaware Pearce before he moves away. I think I had some wimps in my audience but I could hear and feel them being creeped out, squirming, gasping and (this was probly going too far) screaming. One of those cases where I see the movie lead them around on a leash and have them completely under its control for 90 minutes and then at the end they laugh and claim it was dumb.
I don't want to take any credit away from this Nixey guy, who clearly did a good job, but there's definitely alot of Del Toro in here: the fascination with old mystics, dark fairy tales, evil tooth fairies, old sketches of monsters, creepy old houses, even a labyrinth. And like CRONOS or PAN'S LABYRINTH the main character is an independent, inquisitive little girl who understands things the adults don't but is far from invulnerable to physical and emotional torment. It kind of reminds me of when Spielberg used to produce movies like GREMLINS and POLTERGEIST. Del Toro is not the director but he's not just putting his name on it, his voice definitely comes through. And by that I mean that he is one of the voices of the li'l wufs.
I don't think I've seen the TV movie this is based on, but I know it has a reputation for haunting the nightmares of kids that saw it, kind of like that evil doll in TRILOGY OF TERROR did. This remake isn't gonna be on network TV and nobody should bring their kids to it, but you know some of them are gonna see it some way or other, and man is it not gonna be pretty. It's almost like it's designed to reinforce everything terrible their imagination tells them about their house at night.
This is a real good mainstream horror movie. It could never pass for PG-13, it never sissies out, it's upsetting what happens to some characters, but it's good clean fun for anybody that enjoys monsters fucking up people's lives. (Also, 100% rape free, friends.) I'm not gonna claim it's some new classic or anything but I think plenty of people will dig it out once every fifth or sixth Halloween and enjoy it. I will also say unequivocally that it is the best "little bastard" horror movie I've seen in a long god damn time although I have not seen all of the recent Full Moon releases or THE SMURFS.