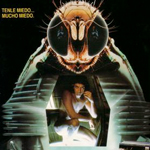 David Cronenberg's THE FLY is about a best case scenario for a remake. It takes the premise of a fun but very dated old sci-fi joint and gives it context, tone and emotional substance more fit for its time of 1986. At the same time it's a great stealth-Cronenberg movie that was normal enough to be a big hit at the time but artful and weird enough to be different from anything we'd seen before. This was his brief Hollywood period with DEAD ZONE, which was sandwiched between THE BROOD/SCANNERS/VIDEODROME and DEAD RINGERS/NAKED LUNCH/M. BUTTERFLY/CRASH/EXISTENZ/etc.
It starts cute with undiscovered genius Seth Brundle (DEATH WISH's Jeff Goldblum) awkwardly hitting on magazine reporter Veronica Quaife (THE LONG KISS GOODNIGHT's Geena Davis) and somehow getting her back to his lab, which she's not happy to learn is also his bachelor's pad. She's skeptical and probly a little creeped out until he demonstrates what he's secretly been working on: "telepods," a set of chambers that can disintegrate matter on one end and reintegrate it on the other. Teleportation. Star Trek shit! He points out that it will revolutionize transportation. In one of the few corny bits in the screenplay by Charles Edward Pogue (PSYCHO III, KULL THE CONQUEROR) we find out Brundle gets car sickness as extra motivation for inventing such a thing.

He's proved to her he's gonna change the whole world forever, but he can't let her write about it yet. It needs work. I mean it's perfect for inanimate objects, but it can't handle living organisms. The poor baboon he experiments on gets taken apart just right and put back together real wrong. He's not getting his deposit back from the zoo, I bet.
So he lets her stick around to document his experiments and also they start a relationship (WHAT HAPPENED TO ETHICS?). There's a complication in that her editor, Stathis Borans (John Getz – I did not notice that was Ray from BLOOD SIMPLE! Wasn't I just wondering what happened to him?), is also her jealous ex and a creep who lets himself in to her house to take a shower and says inappropriate things at work. And he's trying to push her into publishing before Brundle is ready.
The experiment scenes are great, a strong mix of dread for the inevitable horrors of science gone wrong and excitement for problem solving and discovery. I think we all know about the turning point when he tries to teleport himself without realizing there's a fly in there with him and the computer is like "shit, I don't know what to do with this… I guess combine the DNA sequences?" I mean, if that's what happens with telepods it would really limit the use of this technology. You don't want to end up with some dude turning into The Lice, somebody else The Crab.
The accident is set up well too. It's not his plan all along to experiment on himself. He gets upset at his new girlfriend, gets drunk and then he does it. And what he's mad at her about is a total misunderstanding. If he would've just talked to her it would've been straightened out. You know how it is. A mix of jealousy, stupidity and beer, you do something you'll regret your whole life. Which in this case won't be that long. Fucking idiot.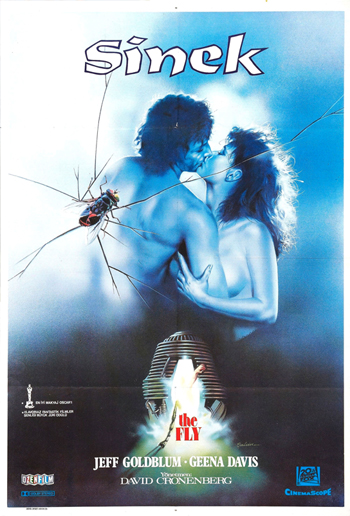 At first doing fly shit is cool. He feels great and strong, so he thinks teleporting is purifying. He turns it into a sexual thing and a religious thing, a push to purify a sexual partner. In other words he's in a Cronenberg movie. He pulls a Cronenberg. You know what would be a funny mashup t-shirt, it says Cronenbergers and it looks like a burger place but with weird misshapen flesh on the burgers ha ha.
The gymnastics and the ceiling crawling are cool but disconcerting, a similar feeling to my favorite part in POLTERGEIST where the mom laughs while playing around with the weird ghostly thing she discovered in her kitchen. The physical transformation starts gradually enough that Brundle ignores it. At first his splotchy face could be anything.
Because it came out in the '80s this is widely considered a parable about AIDS, and it definitely captures the terror of an unknown disease. But it's not a direct correlation, for example it's not sexually transmitted and AIDS doesn't give you powers. This is more generally "body horror," the fear of your own physical deterioration. His skin rots, his fingernails and teeth fall out, eventually his eyeballs too and his face peels off. This might be the best ever depiction of this classic type of tragic monster. He loses it slowly, it's a believable jump from eccentric scientist to The Fly.
One thing that's great is how intimate it is. There are a few different locations, but most of it takes place in Brundle's lab. There are many long dialogue scenes. There aren't very many characters, and most scenes are between just the two leads. If not for the incredible makeup effects transformation this could easily be a stage play.
And that really helps to make it feel so human, so sad. If there was a remake of THE FLY now, even a really good one, I can't imagine it wouldn't have a big final showdown with him on a rampage in a city, most likely flying around smashing things, the military coming after him or something. A traditional studio movie climax. In this movie he tries to combine himself with another person. It's an insane violation, but not a rampage. The horror ends in the same place where it began, the lab. There's not a hero who defeats him, there's the uncomfortable situation of the asshole ex-boyfriend trying to protect her. It ends with a mercy killing. The whole movie is leading up to the gut-punch of the look on the monster's face when he's ready to die. It's a pretty different take on the original's "help me."
The worst part is he really didn't need to push so hard for teleporting living beings. Just the object part was incredible. Can you imagine how different the world would be if he sold that shit to Amazon? If they somehow got it to where there were public telepods around and not prohibitively expensive it would change everything. You're at work, you spill something on your pants, BAM, buy new pants. Online shopping addicts would be fucked. Just ordering ordering ordering. And sure, you'd still have to fly across the country, but you wouldn't have to worry about if you can fit your carry-on into the overhead luggage. Or renting a car, if you own one you could send it over.
In fact, if you did want to rent a car, they could have one central location with every type of car that they could send out to different cities. The Amazon model for everything, and instant. Man, people would get so fucking lazy and entitled. Careful what you wish for.
Could've been useful though. You blew it, Brundle.