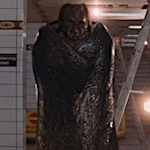 It really didn't occur to me, when I decided to finally rewatch MIMIC, that it was a movie about a pandemic. One of the main characters is the deputy director of the CDC! But it's not at all similar to the pandemic we're currently in – "Strickler's Disease" seems to only affect children, putting them in comas. Because it's spread by cockroaches, aforementioned CDC guy Dr. Peter Mann (Jeremy Northam, THE NET, AMISTAD, THE INVASION) recruits a brilliant entomologist, Dr. Susan Tyler (then-recent Oscar winner Mira Sorvino, between ROMY AND MICHELE'S HIGH SCHOOL REUNION and THE REPLACEMENT KILLERS), who comes up with a novel plan: she genetically engineers a new bug called the "Judas Breed" that infiltrates cockroach colonies and pukes up a bunch of enzymes that increase their metabolism so they starve to death. Give the roaches a disease to stop them from giving us one.
Three years later, Strickler's disease has been wiped out, the two doctors are married, and everything seems fine, except weird shit is happening under Manhattan. A mysterious vagrant type guy drags a priest underground, and only an autistic kid named Chuy (Alexander Goodwin) witnesses it. Chuy's guardian Manny (Giancarlo Giannini, BLACK BELLY OF THE TARANTULA) is a shoe shiner, so the kid has become affixed on people's footwear, and for some reason he calls this attacker "Mr. Funny Shoes." I don't know why, but that's one of my favorite details in the movie.
Susan doesn't know Chuy yet, but she has other kid friends, two streetwise scamps from Alphabet City, Ricky (James Costa, L.I.E.) and Davis (Javon Barnwell), who know her as "the bug lady" and bring a specimen they think is "our meal ticket!" to her lab (which it seemed like was also her apartment? But I must've misunderstood that). She gives them  ten bucks for a box of corn flakes that says "WEIRD BUG" with an arrow pointing down, and inside is a huge and bizarre unknown species. After some study she realizes that the Judas Breed (like the JURASSIC PARK dinosaurs before them) managed to reproduce, despite being all female, and have now evolved into this scary motherfucker that would give you two heart attacks if it scurried across your kitchen floor.
And there are worse ones out there. Way worse.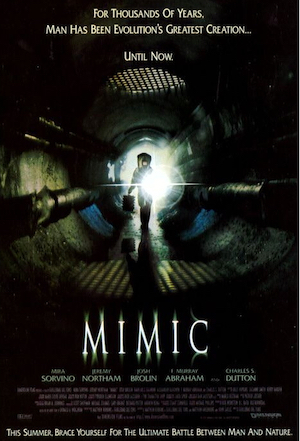 The story is mostly about investigating this scary bug problem, mostly off-the-books, vigilante style. They break into some subway maintenance office that the kids saw an egg sac in, sneak into tunnels, lie about authorization. Peter's less nerdy, more tough assistant Josh Maslow (Josh Brolin, coming off of FLIRTING WITH DISASTER) helps. Officer Leonard Norton (Charles S. Dutton between GET ON THE BUS and BLACK DOG) gets involved after seeing them snooping around.
The most important detail that I have not mentioned is that MIMIC is directed by Guillermo Del Toro. He wrote it with Matthew Robbins, the director of DRAGONSLAYER and THE LEGEND OF BILLIE JEAN, whose career goes back to SUGARLAND EXPRESS but he hadn't written a movie since *batteries not included in 1987. (Since MIMIC he's collaborated with Del Toro on DON'T BE AFRAID OF THE DARK, CRIMSON PEAK and PINOCCHIO.) The central concept, if not the plot and characters, comes from a 1942 short story by Donald A Wollheim*. Though it lacks the romance and tragedy present in so many of Del Toro's movies, it's very evidently his work, especially in the brilliant creation of the monster.
And that's the best part of the movie: the concept that (SPOILER) Mr. Funny Shoes, also known in the community as Overcoat Slim or Longjohn, is not actually a human, and not even a humanoid bug. He's a huge bug that can Transformer himself into the shape of a human. Sort of like how some butterflies have spots on their wings that look like the eyes of a large animal to scare off attackers, this guy has evolved to fold his wings into the shape of a human.
Susan figures it out while flipping through Polaroids of a dead Judas Breed and realizing she can put two together like a Mad Magazine fold-in. That's right before it becomes clear that the man who's been following her is not exactly a man. The digital effects on the big reveal look pretty dated, but the idea is enough to make it so fucking cool, and it was straight up mind-blowing in 1999. That moment of realization is the main reason I've remembered this movie positively for 20 years.
The creature design is credited to TyRuben Ellingson, who'd worked on the STAR WARS special edition and SPAWN and continued to work with Del Toro on BLADE II, HELLBOY, HELLBOY II and PACIFIC RIM, in addition to designing vehicles for AVATAR.
Anyway, Susan realizes that – oh, fuck! – the accelerated metabolism allowed the bugs to reproduce fast and evolve tens of thousands of generations. She should've done the math. (And should we worry about bunnies evolving into something like this? I feel like I've watched several generations come of age during my pandemic walks.)
The cinematographer is Dan Laustsen (NIGHTWATCH, SILENT HILL, JOHN WICK: CHAPTER 2–3, THE SHAPE OF WATER) and yep, it looks like a Del Toro movie. Can't go wrong when it looks like a Del Toro movie. There's also a scene where Susan's mentor Dr. Gates (F. Murray Abraham, SCARFACE, LAST ACTION HERO) dissects a bug (and finds lungs!) that reminds me of the great scene in BLADE II where they cut open a Reaper. Speaking of which, Susan's best friend Remy (Alix Koromzay, "Punk Girl," GHOST IN THE MACHINE, BLOOD WORK) gets help from the bass player in her band, because he works at the morgue, and he's played by Scud himself, Norman Reedus. It's only his second movie, and his first genre one. I think he counts as a Del Toro discovery.
In a sense, the Judas Breed is like Freddy. People tried to protect the children, and the consequences have come back to haunt them. But I think it's fair to say that Susan's attempt to control a pandemic by killing roaches was not as obvious a moral failing as burning a man alive. In my opinion. I know it's prevalent in sci-fi going back to at least the '50s, but "stay away from science, because these scientists, all they do is make everything way worse with their science" is not one of my favorite themes. What should they have done – let Strickler's Disease run its course? The implicit "man was not meant to play God" moral is kinda dumb, in my opinion. So as clever as it is, the woman-made origins of this monster detract a little from the much more interesting horror of this story, which is the inscrutability of Mr. Funny Shoes. You can look at an insect, you can see its eyes, but you can't look into its eyes. There's nothing about it that relates to humanity. I don't know what constitutes thought for insects. Are they individuals? Do they have ideas? I imagine they're more like a program, a series of instincts that cannot be defied.
But what of this human-sized Judas Breed? How evolved is it really? How hollow is its mimicry? We have no idea. Maybe it's no more than the biggest fuckin roach that ever scurried off into the shadows. Maybe it is capable of human-like thought. I don't know which possibility is scarier. When I picture myself standing in front of that thing and looking at its face, I lean toward the first one being worse. Standing face to face with an insect.
So there's that idea, and there are lots of little gimmicks and sequences that are cool, like a scene where Susan is stuck in the sewer screaming for help and we see people walking above her, not hearing her. That's scary in two ways – you imagine being her, unable to get help, and then you imagine being them, completely oblivious to the terrors right under your toes.
I like that Chuy's habit of rhythmically hitting spoons together allows him to mimic the sounds from Mr. Funny Shoes' mouth, though it's odd that they don't take it the next step to communication. I remember at the time being shocked/impressed that children actually get killed in this, not to mention the grossout climax where the heroes smear dead bug slime all over a subway car and themselves, using pheremones to hide from Mr. Funny Shoes. Now that I think about it, I think Reedus's show The Walking Dead copied this idea and has come back to it several times.
All this is enough to make me like the movie, but I think the storytelling is pretty muddled. The build up is great but in the middle it loses momentum. I didn't know this until researching it now, but that may be explained by the fact that it was initially conceived as one half hour of a three-part sci-fi anthology. Danny Boyle actually completed his segment, Alien Love Triangle starring Kenneth Branagh, Alice Connor, Courteney Cox and Heather Graham, but it was shelved when they decided to turn this and IMPOSTOR into features. (IMPOSTOR is the one from a Philip K. Dick short story, starring Gary Sinise, from HOMEFRONT director Gary Fleder.)
MIMIC is Delo Toro's second movie, following CRONOS. It was the era of Miramax finding new directors from other countries and importing them to Hollywood to have a terrible experience and leave. I'm not sure if they were bad at working with new talent or if it was actually a plan to scare away foreigners. That's what they did to Ole Bornedal, who they got to remake his own movie NIGHTWATCH with two of the same stars as this film. Bornedal was happy with the remake until post-production, when Miramax demanded numerous rewrites and reshoots and delayed the release by almost two years. When it finally came out it was not well received. Bornedal returned to Denmark and didn't do another American film until 2012.
In someways they treated Del Toro even worse. Bob Weinstein didn't like what he was doing and tried to force him to resign, until Sorvino figured out what was up and threatened to quit. Then they messed with Del Toro's cut – it was decades before a version he approved of was released on video. (That's what I watched this time, but I don't remember the theatrical one well enough to notice any changes.) Del Toro later described the production as "a horrible, horrible, horrible experience." It was bad enough that James Cameron confronted Harvey Weinstein about it at the Oscars the year TITANIC won everything. Cameron later told Vanity Fair that during a commercial break, when Weinstein tried to "glad hand" him about how good his company was for artists, Cameron laid into him about how he'd treated his friend Guillermo on MIMIC. Supposedly it was heated enough that they almost got into a fight, people were saying "Not here!," and Cameron hit Weinstein with an Oscar. Keep that in mind next time you make fun of him for saying "I'm the king of the world!" in his speech that night.
So anyway, MIMIC is probly Del Toro's most compromised movie, and definitely not his best, but it's still pretty cool, and makes a good time capsule of some of the things that were good and some of the things that were terrible about the reign of Miramax in the '90s. Also let's all make a pledge that three years after this Covid vaccine we'll all keep an eye out for weird shit in the sewers and subways.
*Wollheim was also an editor and publisher who founded the first science fiction magazines and edited the first mass market science fiction anthology book. As editor of Avon Books he was one of the fathers of the paperback industry. When J.R.R. Tolkien snobbishly refused his offer to publish the Lord of the Rings in the format, Wollheim was so offended he found a contract loophole that allowed him to do it without permission. Though the stunt succeeded in pissing off Tolkien, it also led to an official paperback with another publisher that (to Wolheim's dismay) made Tolkien very rich.