Ah shit, I hate it when this happens. I'm about to write a review for a sequel, or in this case a remake, and before I get started I figure I should go back and read what I wrote about the first one so I don't repeat myself too much or forget something important. But it turns out I never wrote a review of the Swedish kid-befriends-vampire movie LET THE RIGHT ONE IN. And now I'm gonna review the American version of the Swedish movie everybody loves without reviewing the first one, and everybody's gonna think I'm an asshole.
So please imagine I wrote a brilliant, in some ways moving and definitely mind-expanding and film criticism re-inventing review about how it was a very original and well made movie, I liked how the kids talked like kids and it didn't really feel like any movie I'd seen before, pretty good, etc. Way to go, Swedes.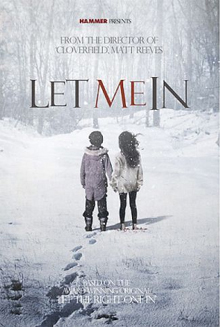 This American version is directed by Matt Reeves, best known as the co-creator of that TV show 'Felicity,' although in a little piece of trivia I should mention that he also directed the movie CLOVERFIELD. It stars Kodi-Smit McPhee (the kid from THE ROAD) as the boy now called Owen, Chloe Grace Moretz (Hit Girl from KICKASS) as the (SPOILER?) vampire now called Abby, Richard Jenkins as the serial killer guy who takes care of her like a dad, and Elias Koteas (looking like Stanley Tucci in THE LOVELY BONES) as the cop.
So this is the story of skinny, awkward, clothes-too-big 12 year old Owen, a kid in snowy Los Alamos, New Mexico. His parents are in the middle of a divorce and he doesn't seem to have anybody to spend time with, he just plays by himself in the courtyard of his apartments. At school there's some pricks who bully him real bad, and unlike Katherine Heigl's character in the Matt Reeves-scripted UNDER SIEGE 2: DARK TERRITORY he doesn't have an elite soldier uncle who taught him some self defense moves. He's helpless, he even wets his pants when they're beating on him.
So in his free time he fantasizes about getting his revenge. It's actually pretty disturbing when he wears a Halloween mask and talks to them in the mirror or when he repeatedly stabs a tree with his little pocket knife, because there's nothing Hollywood about it, it's exactly like what an angry little kid would do, nothing exaggerated to make it more cool or more whimsical.
Then he meets this girl who moved in, says she can't be his friend, but over time they sort of do become friends. He teaches her about Ms. Pac-Man and Now 'n Laters. Even more than Oskar in the original this kid is shockingly realistic. Not idealized at all. He's almost uncomfortably true to life. They don't give him funny quips or smart, mature things to talk about all the time. His interests are things like sharing his love for Now 'n Later candies and making sure Abby likes the way they taste also. He's 12 years old.
But what he doesn't realize is that Abby's a vampire and her "dad" is going out at night with a garbage bag over his head murdering people so he can feed her their blood. There's one really spectacular suspense scene where Jenkins is laying in the back seat of a car driven by some teens, passing for a junk pile, waiting to attack. And this leads to a really cleverly shot car crash scene shown from inside the car.
Like any kid that age Owen doesn't know what the fuck is going on, so when weird things happen like his friend pukes up any food she eats or she somehow appears at his not-ground-level window it just seems like yet another thing in the huge adult world out there that he doesn't understand. So when he asks her about it and her answer doesn't make sense he doesn't push the issue, he just plays along like she must know what she's talking about. Don't let on that you're a kid and you don't get it.
The camerawork and lighting and what not is really phenomenal in this thing. Small amounts of light reflecting off snow in this dreary neighborhood at night… just a really strong sense of atmosphere. Gotta give some credit to the original for inspiring it of course, but they did a great job here. This is actually the first in a new line of movies considered to be released by Hammer Studios, and that's kind of weird but I think it really is worthy of the name.
You know what man, the Swedish version was really good, I agree with the world on that. But I guess it didn't hit me as hard as everybody else. To be honest I got annoyed with hearing buddies of mine say it was the best vampire movie ever made and hyperbolic shit like that. You ever heard of a vampire by the name of Dracula? I think he would disagree on that.
The truth is I don't remember LET THE RIGHT ONE IN in too many specifics. From what I can remember I think this one is very similar to the first version, except I remember something about CGI cats that wasn't repeated here. They definitely staged the climactic swimming pool massacre about the same, though, with the kid held underwater and suddenly body parts and blood start falling in and he (and we) don't see exactly what happens. If I was more familiar with that version this would be more of a problem because it would probly feel like too much of a rehash, but because of my situation it didn't bother me.
The kid really makes the movie. I'm not gonna say he's better than the Swedish kid, because that kid was great too. But Kodi Smit-McPhee is perfect. He's so skinny and boyish. He doesn't seem like a movie version of a kid that would be picked on in school, he seems like a kid that would be picked on in school. And he's so isolated. We only hear his dad over the phone and his mom is always shot with her head out of frame or partially blocked or from behind, like Charlie Brown's teacher or the adults in E.T. besides Dee Wallace or Peter Coyote. So he's left so alone with nobody to help him with his problems but this neighbor girl who is actually not a girl at all but a hundred year old mass murdering hermaphroditic monster. But one that's nice to him.
I'm not really sure what to make of this relationship. It's not the murdering so much as the age difference that bothers me. When he's grown I don't care, he can have a gal that's way older than him if he wants. But he's a scrawny little kid. Abby is an adult, what's she doing agreeing to "go steady" with this little boy?
In fact I sort of have to wonder how other people view this story (either version). I know the terms "love story" and "beautiful" tend to come up alot. The kid is obviously very relatable to some people, and there's some wish fulfillment in his violent revenge on the bullies, but then it just perpetrates the cycle of violence until his vampire boyfriend brutally murders them. People don't really consider this story romantic, do they? Yes, it's sweet that this lonely kid found a companion and a protector, but now this kid is complicit in mass murder and it seems like he's just replacing Richard Jenkins, consigned to a life of travelling around murdering people to feed their blood to this beast that never ages. I mean, if somebody chooses to live that life I guess that's their decision, but I don't think a 12 year old boy is ready to make that kind of commitment. I mean, he has to really live first, he has to get the wisdom and the experience and what not. Who knows if he's even gotten to see RETURN OF THE JEDI yet. Or RAIDERS OF THE LOST ARK. I don't think he has, or he'd be playing ewok out there, not stab-the-tree.
Anyway, I just think he should be able to go to high school and date girls and stuff before he dedicates his life to being an assistant vampire.
So, do we agree on that? This is a tragic, fucked up story, that's why it's interesting. It's not a sweet love  story, right?
Stephen KIng called this the best American horror movie in 20 years. How about the best Americanized horror movie since THE RING? I think that would be a fair compliment that doesn't go overboard.
There is almost a whole subgenre now of unwanted but surprisingly decent remakes. And LET ME IN is pretty much the most accomplished movie of this type so far. Good job, Matt Reeves. I don't know why you'd do this particular job, but good job.