One type of humor I'm a sucker for is the ol' pathetic lie joke. For example in that movie KINGPIN Woody Harrelson and Randy Quaid are trying to hustle some guys at a bowling alley and Quaid says he's gonna lose all his money because he's "so bombed." But the bartender knows he hasn't been drinking and says, "You get that way from ginger ale?"
They're caught, they're dead, there's nowhere to go from there, they should hang up the towel, but they don't. Woody goes for the pathetic lie.
"Nah, he was sniffing glue in the parking lot."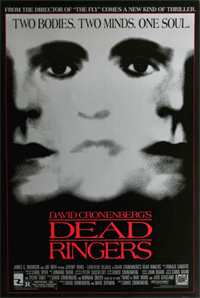 DEAD RINGERS has the same thing. See, one of these two twin gynecologists has kind of gone off the deep end and is convinced all the patients he's seeing have mutant insides, and he needs to create special tools to work on them, but he knows the surgical tool companies will refuse to make these for him because they're too radical so he goes to a local metal artist and gets them made, but when he tries to use them in surgery he gets busted and they're taken as evidence, but then he's stumbling through the city high one night and he sees that the artist he hired has put duplicates of the tools on display in a gallery so he steals them, and then when he goes over to his lady's house and passes out she finds the mutant gynecological tools in his bag, so when he wakes up she asks what they are.
"They're for separating siamese twins," he says.
'Cause, you know, you carry tools for that around with you. It could come up. Funny shit.
Well, maybe you had to be there. And it turns out to be kind of true, in a way. Well, I thought it was funny anyway.
In the tradition of THE PARENT TRAP and DOUBLE IMPACT comes Cronenberg's twin movie. Elliot Mantle (Jeremy Irons) and Bevery Mantle (also Jeremy Irons – whoah, how did they do that?!) are two odd Canadian gynecological geniuses, both with some good traits and some real fuckin perverted terrible ones. We first meet them as socially awkward youths asking a neighborhood girl to have sex in a bath tub because they're interested in the differences between human and fish mating. Then we see them as college students getting chewed out for using a surgical tool of their own design on a cadaver. Next scene they're being honored by the school for inventing this important new tool. As grown men they have their own practice working together closely, living together and switching off with each other in various unethical ways.
Now, I have never been to a gynecologist before myself, but in my opinion this is probly not the one I would want to go to. Yes, they are very good at what they do. But also they wear crimson robes like it's a satanic ritual. And when one of them is examining a famous movie star he starts complimenting her insides and telling her that there should be beauty contests for that. She's very gracious and cool about it but in my opinion it's a little over the line. Alot of movie stars don't even like to be asked for an autograph, let alone have somebody tell them their idea for an inside-the-vagina beauty contest. You gotta know your place, man. At least he didn't hand her his screenplay, I guess.
At first it seems like Elliot is gonna be "the bad twin," because he's a real asshole. He makes the moves on the movie star, gets her in bed, but pretending to be his shy brother. Then he hands her over. But Elliot is also the more responsible one. Beverly is just so damn fragile. He falls in love with this girl and then gets paranoid that she's cheating on him, and he just turns into a total mess, starts shooting up and shit.
And when he shows up for surgery high out of his mind and expecting the nurses to have no qualms about handing him those mutant tools he made up, that's some pretty uncomfortable humor there. Luckily he passes out before it gets too Larry David uncomfortable.
In a classic Cronenberg move he purposely deals with aspects of female sexuality that men are intimidated by, and then makes them way weirder with all this mutant business. One thing I noticed, if this helps anybody out, DEAD RINGERS is not the best movie to put on while you eat breakfast, in my opinion. Not that it has any gore or anything. It's just unpleasant in its ideas.
Jeremy Irons is outstanding and the twin effects are flawless. It's a wonder he didn't go on to do a bunch more multiple-role movies like Eddie Murphy or Mike Myers. I guess just because you can play these two characters so well, and somehow make them interact in such a dramatically and psychologically complex way, doesn't necessarily mean you work good in a fat suit. That might be a totally different skill set, I'm not sure.
This is a great achievement for Cronenberg because it's a drama, not any kind of a horror movie or a thriller, but it might be his creepiest movie ever. These guys are just so unsettling. They have a seemingly unhealthy attachment with each other that seems to cause total detachment from anybody else. The type of guys you could look them in the eye and they look back at you but you feel like they're examining your cell structure or something. Or they're like Neo staring at a bunch of 1s and 0s, they don't see you as a person to relate to.
And because they don't care about other people they don't see anything wrong with tricking them by switching places with each other. It's cute in THE PARENT TRAP when they fake each other's accents to meet each other's parents, it's a little less cute when a woman is having sex with or sitting in the stirrups for the brother of the guy she thinks she's with. There are a few times in the movie when at least I was unsure which twin was in the scene, and it made it even more effective. You got a hard enough time dealing with one twin on his own, then you find out they're playing with you. You don't even have the comfort of knowing which one you're uncomfortably dealing with.
But as creepy as the twins are I kind of feel sorry for them too. It's a tragedy. Spoiler. A real sad movie. It was Cronenberg's next one after THE FLY. He made a real tragic mainstream sci-fi type of movie and then thought you know what, let's explore that tone but instead of monsters it's gynecology. For some reason they didn't make a sequel to this one like they did THE FLY. But this franchise and licensed property has a big following. I think there's alot of potential for the rebootening. I hear Sam Worthington looks good in 3-D, maybe they should get him as one or more of the twins.
It's such a unique movie it's hard to even know what to compare it to other than MULTIPLICITY, TWINS, and a couple of the Barbarian Brothers pictures. I would not recommend it for rookies. This is a weird fucking movie that I enjoyed much more now than I did when I saw it in the 1980s. Either it was ahead of its time or I was behind mine, or somewhere in between.