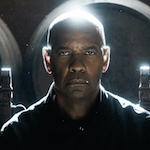 THE EQUALIZER 3 is another fine entry in Academy Award winner Denzel Washington's only ongoing franchise. It has a very different setting than part 1 or part 2 and he's up to slightly different things, so it's not exactly a rehash, it's pretty different in a way. In another way it's exactly the same as the other two, or any number of movies starring Liam Neeson. Very solemn and serious, but also over-the-top and absurd. Kinda melancholic, but also kinda awesome. And that's what we want. If you don't want any part in a "we" like that then that's fine, you know what to do.
Washington (VIRTUOSITY) stars as Roberto McCall, née Robert, former Marine and DIA officer turned pro bono bad guy slayer. In the first one he took on the Russian mafia and corrupt police while working at Brand X Home Depot, in the second one he took on mercenaries, kidnappers and gangs while working as a Lyft driver, and in this one he takes on the Camorra (afiliated with Syrian terrorists) while chilling out like a retiree in gorgeous Altamonte, Italy. He gets there by accident, though.
Do you remember how part 2 opened with McCall in disguise on a train to rescue a kidnapped child in Istanbul? This time when the movie starts he's been involved in an equalization case at a remote winery in Sicily. It's a hell of an opening that holds off on seeing our hero, like he's the monster. Instead we follow as this old man, Lorenzo Vitale (Bruno Bilotta, DOUBLE TEAM), arrives at the scene. He's got a young grandson waiting in the passenger seat but we realize he's the boss of some nefarious operation when a terrified underling out front says, "He told me to wait outside." They walk in and there are bodies everywhere. McCall has already committed a massacre. I love how the camera floats along to show us the details – see how this guy has a hatchet in his face? Well, he also has this slash across his torso. This guy here, notice the bloody head-sized shatter on the mirror next to him. Etc. It's great on its own because we can imagine how McCall did all this, but also, to my delight, he later has a flashback where we see some of those kills from his POV.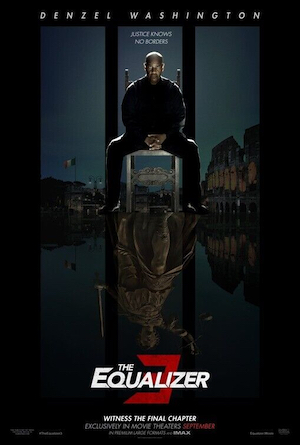 Anyway, McCall is sitting patiently in the cellar with two guns pointed at him, not at all scared, and he shouldn't be, because he will be victorious here. If you're new to this series, it follows that popular action movie rule that if you worked for some government agency then it doesn't matter if you're an old man because you learned all the moves to disarm a bunch of guys and kill them real quick. It's kind of a version of super heroes. Just as getting bit by a radioactive spider = being able to swing around and stick to walls, working for an intelligence agency = being able to make big burly guys run away because you twisted their arm the right way or knew how to pinch a certain nerve in their hand. One Weird Trick to win any fight. It's actually the exact same mythology Seagal always used, minus having to hit or throw people very much.
You gotta allow yourself to believe in these intelligence agency super powers to accept Denzel Washington as the most unstoppable motherfucker on earth. But the genius of the casting is that it is easy to believe he's smarter than everybody else on screen, always knows something they don't, and is confident enough to give them a little nod or grin that notifies them of this advantage. He stares them down and half smiles and they're like "Wait… why is he… what is he–" but it's too late because he already knows the exact series of quick movements that will snap a bone out of their elbow and twist their gun around their back to shoot the other guy in the head and the bullet goes through and hits the third guy or whatever.
One nice detail I noticed: he spends much of each day at cafes and restaurants, and he always always always sits with his back to a wall, facing the exit, or away from the building if he's outside. Even if the restaurant is full he somehow managed to get the table best for repelling attackers.
McCall is also OCD – he still plays with his watch and has napkin and spoon related rituals with his tea – and I assume that's supposed to be connected to his superhuman calculations for brutal and economical violence. He seems to have lost interest in books, though. That used to be his passion. I hope he's okay.
Back to that opening at the winery. He lets only one person live – the little boy – and the fucker shoots him in the back. So this is that thing I love, where the hero is rescued by someone in a small village and is nursed back to health and is welcomed as part of the community and then luckily he's there because some shit goes down and he's able to help them. Officer Gio (Eugenio Mastrandrea, A.C.A.B. – ALL COPS ARE BASTARDS) finds him passed out in his car and brings him to kind town doctor Enzo (Remo Girone, who also played an Enzo [Ferrari] in FORD V FERRARI), who generously hides that it was a bullet wound and lets him stay as a guest while he heals, and even after.
We also get that familiar old man action thing where there's a beautiful younger woman who notices him and takes care of him and seems like a love interest but you could also interpret that they're just good friends. She's a waitress named Aminah (Gaia Scodellaro, That Dirty Black Bag).
Of course as he's limping around town with a cane (which, sadly, he never uses as a weapon) he befriends the owners and workers of cafes and markets, observes them being shaken down by gangsters, and eventually gets involved. The plot could almost be a western, complete with lots of long scenes of just standing on the street watching people. There's also a Peckinpah-like attention to the tragedy of innocent children having to witness violence. I actually wish the score by Marcelo Zarvos (BROOKLYN'S FINEST, SIN NOMBRE, AMERICAN ULTRA) had more of a spaghetti western bluster to it, but (with the exception of some noisy guitar textures that come in three or four times) he stays disappointingly mellow.
The main villains are Camorra hotshot Vincent Quaranta (Andrea Scarduzio, MISSION: IMPOSSIBLE – DEAD RECKONING PART ONE), who kinda looks like an Italian Daniel Bernhardt, and his eager-to-prove-himself younger brother Marco (Andrea Dodero, THOU SHALT NOT HATE), who's part of the younger generation of newfangled gangsters with tattoos and manbuns and shit. He even has a buddy named Viking (Alessandro Pess, HOUSE OF GUCCI). Those guys do the extortion of small businesses while big brother works on a big important project, which turns out to include pushing some of the local businesses out so they can build casinos and resorts.
That evil scheme is pretty lightly sketched, but I like it. They're not just mobsters, they're not just aiders of terrorism (long story), they're fucking developers intent on ruining this amazing town of winding cobblestone roads and thousand year old churches nestled between the coast and two mountains, where even humble fish sellers live the good life, sharing amazing food and wine, enjoying local festivals and football victory parades, drinking espresso in places where any direction you look could be a postcard. They want those people to leave so rich tourist gamblers can be there. Evil.
While McCall is equalizing he always has a young friend he helps out. In part 1 it was Chloe Grace Moretz and in part 2 it was Ashton Sanders (right before he starred as RZA in Wu-Tang: An American Saga). This time the young friend is nearly 30, but with the crowdpleasing touch that it's a MAN ON FIRE reunion. McCall dials up a secret CIA number and anonymously tells agent Emma Collins (Dakota Fanning, THE CAT IN THE HAT) the location of the winery where he did that mass murder. We get the joy of watching her and her crew (including David Denman, POWER RANGERS) check out the crime scene and be like "What the fuck!?" as they discover not only all the dead people but a massive terrorist-affiliated drug operation. And then she tracks down McCall and he won't tell her what his deal is but enjoys watching her piece it together.
For many, the most memorable thing about the series is that McCall pulled an R-rated HOME ALONE at the hardware store in part 1, making booby traps and drilling guys and shit. That tradition of sadistic violence continues in some pretty funny ways here. You know kinda how the story will go, but a couple times it's like "Oh fuck, he's just gonna murder that guy already?" And he has pretty much a straight up Jason Voorhees sequence, sneaking through a dark mansion, slashing motherfuckers, appearing out of nowhere in a flash of lightning, stabbing a guy with a fire poker, even setting up that time honored slasher movie prank where the victim puts his hand on a friend's shoulder and starts to turn him around and suddenly the friend's head falls clean off. Gotcha!
Another one I really appreciate is when McCall does the classic Jason move of throwing a dead body through a window to scare the shit out of somebody, but the victim here is a rich mobster in Italy so it's through a huge stained glass window over the guy's bed!
One thing he does that would even be cold for Jason is he leans down to look straight into a guy's eyes as he dies. Can you imagine how it would feel for Denzel to give you a cold stare for any reason, let alone because he wants to see the life leave your body? It's pretty fucked up!
Interestingly, McCall's prime target winds up in kind of a John McClane situation, barefoot and stepping on shards of glass, and he gets a machine gun (ho ho ho) but doesn't jump out the window with a hose or anything. My favorite touch is that he torments all these humble people in order to live surrounded by all this extravagance – sculptures and paintings and stuff – but when McCall comes for him he panics and starts blindly shooting everywhere, destroying all of it, just like he would destroy the town for money if he had his way. You could dismiss McCall as a tourist (Vincent keeps disgustedly addressing him as "American"), but the locals have accepted him as one of their own – they explicitly told him that! – and he gets Altamonte more than the fucking Quarantas do. So he tells them he's gonna live there now and they're gonna have to go do business somewhere else. When they refuse they gotta get equalized.
It's hard to even say there are fight scenes, because it's just these quick stabbings and arm twistings and off screen murders, but the stunt coordinator/second unit director is Liang Yang, a veteran of several STAR WARSes and MISSIONs IMPOSSIBLE and controversial comic book movies (WONDER WOMAN 1984, MORBIUS, DOCTOR STRANGE IN THE MULTIVERSE OF MADNESS). The d.p. is Robert Richardson – Oliver Stone's guy who became Scorsese's guy and then Tarantino's guy. The editor is Fuqua's usual, Conrad Buff IV, who previously did James Cameron's THE ABYSS, T2, TRUE LIES and TITANIC.
The plot is always pretty much what you expect, but there are a couple good shocks and exclamation points and parts where you gotta laugh because it goes further than good taste dictates. And then it left me smiling because the story wraps up so nicely. There are two reveals at the end that are kinda like two punchlines. One is a connection to the previous movies, the other an explanation of what exactly McCall was after in the winery at the beginning, and for who. Basically (non-specific spoiler) he was doing a random act of kindness and accidentally uncovered a massive terrorist-funding drug operation on the side. At the beginning of the movie he didn't know how to answer Enzo's question "Are you a good man?," but the movie argues that yes, in fact he's maybe the good-est man ever, at least among those with high body counts to their names. I gotta give props to writer Richard Wenk, who has an unbelievable resume of meat and potatoes 21st century action movies: 16 BLOCKS, THE MECHANIC, THE EXPENDABLES 2, all three EQUALIZERS, COUNTDOWN, THE MAGNIFICENT SEVEN, JACK REACHER: NEVER GO BACK, THE PROTEGE… and then every time I review one of his movies I'm reminded that before all that he wrote and directed VAMP! Give this man a lifetime achievement award or name a scholarship after him or something.
As with the whole trilogy, the director is Antoine Fuqua. It's kinda beautiful that he directed the movie that got Denzel his Oscar, and then went back to being the guy who directed THE REPLACEMENT KILLERS, and Denzel was like, "I don't care, I'm in!" Old man action movies aren't a new phenomenon, but it used to be guys like Charles Bronson and Lee Marvin, who were already mostly known for tough guy roles. Now we get the stars of MALCOLM X and SCHINDLER'S LIST doing movies where they stab a guy in the face with a gun, but they don't seem to think of it as slumming. They are artists and men of honor and passion so they take the characters seriously and give real performances. There is nothing pretentious or restrained about this part 3 of a series loosely based on an '80s TV show, yet it always has time to watch Denzel think and squint and rub the back of his neck and move the objects around on a table, and really go to work, and really mean it. And that's a beautiful thing.
P.S. The poster says "WITNESS THE FINAL CHAPTER," but since we're following Jason rules I hope we get to witness a new beginning. Or it could be a HIGHLANDER: ENDGAME type movie/TV teamup where Denzel Equalizer passes the torch to Queen Latifah Equalizer. Or how 'bout Emma quits the CIA but knows how to do the submission holds required to help regular folks just trying to get by? I know she's not an old man but why shouldn't Dakota Fanning star in a bunch of violent action thrillers? It seemed weird when Denzel first did it too, but we can get used to anything.