You know what movie's good? SCHINDLER'S LIST! Why did nobody tell me this before?
Would you believe this was my first time seeing SCHINDLER'S LIST? It's getting toward 20 years old and I remembered I hadn't gotten around to seeing it yet. It's kind of a heavy decision to make one day: hey, I got 3 hours before I gotta leave for work, maybe I should watch SCHINDLER'S LIST? Never had the urge I guess.
But recently I did just that and I gotta admit it didn't bum me out as much as I expect, because it left me high on how good the movie was. It's a great movie, and all the more impressive to watch right after HOOK. Spielberg must've felt real guilty about that one to follow it up with the JURASSIC PARK/SCHINDLER'S LIST one-two punch. And after years of avoidance I gotta say SCHINDLER'S LIST is not what I expected. Of course it's really emotional, but it's not at all a chore to watch. Is it bad to say that this is an entertaining movie?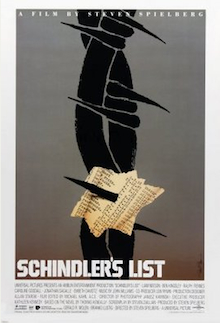 It begins with Spielberg's mastery of imagery. A candle dissolves into what looks like a smokestack – a horrific sight in a WWII movie, but as the camera pulls out – phew, it's just a steam train. But oh shit, wait – trains are usually bad too! In this case it's bad, but not as bad as I feared for a second there. It's Polish Jews arriving at the Warsaw ghetto. The beginning of the horror. They don't realize yet how bad it's gonna get. (Later they even have discussions about it, and there are varying levels of optimism.)
Next we see a man getting ready for a night on the town. No face, just glamorous closeups of him putting on his watch and jewelry, his cufflinks, money clip, lighter. This is some suave motherfucker. Then the last thing you see is his swastika pin. Ah shit, cinema tricked us into thinking this guy was cool! Now we feel like assholes.
But of course it's Liam DARKMAN Neeson as Oskar Schindler, future list-writer, current player, schmoozer and businessman. As the movie and war begin he's hatching a scheme to buy a pot and pan factory and use it to become the king of black market goods. He finds a brilliant Jewish accountant (Ben Kingsley) and convinces him to use his connections in the community to find investors and employees. In a way it kind of feels like a crime movie like GOODFELLAS, AMERICAN GANGSTER, KILL THE IRISHMAN or anything where you watch a charismatic outside-of-the-box-thinker ingeniously build an empire. Obviously the difference is he never feels like a bad guy or an anti-hero. He's a criminal against the fuckin Nazi regime. He's dealing in goods that are only black market because the place got invaded. It's nice suits and stuff. 'Cause he likes that stuff. Same thing Diddy would do.
So he's a good guy, but he's not exactly Superman or Robin Hood because the only reason he's sheltering Jews is he thinks it's "good for business." Just a convenient part of his money-making scheme, more like a paying-illegal-immigrants-under-the-table type of deal than an intentional good deed. His accountant Stern (Ben Kingsley) is the one that starts claiming old amputees as essential workers to save their lives. But hey, the boss man doesn't stop him. So he's a good guy.
Man, what about that scene where Stern doesn't have his work permit with him and gets put on a train, and Schindler has to threaten the soldiers in charge with getting them fired, then run along the side of the train yelling for Stern until he finds him? It's an intense struggle to rescue an important man that's ultimately gonna save hundreds of lives, but at the same time it's so cold-hearted and uncomfortable – he's looking past all these people who are gonna be put to their death, searching for the other guy to save. Sorry folks, just looking for my accountant.
Of course this and other experiences lead to a gradual awakening and eventually his activities do become completely about saving lives at great risk to himself. It's not a business anymore, it's a front. He even turns it into an ammunition factory for the war effort and then intentionally makes defective ammo. Straight up sabotage. He's brilliant at justifying his actions with logic that will make sense to Nazis. For example he claims he needs children in his factory because their tiny fingers are the best way to polish the inside of .45 shells. Nazis are assholes, they must love child labor so he's throwing it out there for them.
And in some sense he is Superman, because there's something unrelatable about his specific type of heroism. Schindler is not an Everyman. We're not in his position of power, and even if we were we can't imagine ourselves ever encountering an evil on the level of the Holocaust. Still, what he does is relevant to any time, 'cause there's always gonna be business people that could grow a conscience and some balls and use their resources and connections to try to do the right thing and make the world a better place. In some cases it might even be like Schindler at the beginning, it might be "good for business." There could be profits in getting us off fossil fuels, in letting gay people have weddings, whatever. Or even if there's not, still you can "Go home to your families as men, not murderers" for doing what you knew in your heart was right.
Ralph Fiennes as the Nazi commandant Goeth is a hell of character too. He's an evil fucking bastard – some mornings he likes to go out on the porch shirtless and pick off random prisoners with a sniper rifle – but like Verhoeven did later in BLACK BOOK Spielberg dares to give him the monster a few human qualities. His lust for a Jewish woman makes him fantasize about running off with her after the war, and that in turn makes him stand up for Schindler when he gets in trouble for kissing a Jewish woman. It almost seems like they're building a real friendship, but of course it's more of a working relationship. Schindler's gotta butter this guy up to get what he needs out of him, just like buying drinks for the officers in the opening scene. He's gotta become sort of buddies so he can spray the train cars with hoses (to get much needed water to the prisoners) and make Goeth think it's a funny, cruel trick. Ha ha, let's spray 'em with hoses.
This guy is one of history's biggest monsters, but in his mind he's just a hard-working joe who never catches a break. In one amazing scene he complains to Schindler about what a pain in the ass it was to build a concentration camp. I mean, have you ever worked with barbed wire? You don't really think about how hard it is to string that shit up. It's hard to imagine somebody being so oblivious to whine about something like that, but of course if somebody was gonna do it it would be the fuckin Nazis. Something felt really horribly true about that scene. I believed that he probly really felt that way.
SCHINDLER'S LIST is obviously a story about an exceptionally heroic operation, but I think it's comforting just to know there were some people in Germany and Poland who tried to do something, didn't just go along with the program. The Bad Germans, maybe you'd call them. I read that Adi Dassler of Adidas did a little bit of that, giving jobs in his factory to Jews in order to shield them. Obviously not on the same level as Schindler, but I wonder how widespread that was? It's nice if alot of places were doing it. I mean, what do we sacrifice these days to try to make the world better? Maybe drive a Prius?
There are a hundred little details in the filmmaking that work brilliantly. In the opening, as hundreds of Jews are brought to the ghetto on trains, he starts to focus in on a bureaucrat's preparations of pen and ink, so he can put their names on a list. Of course this is later reflected with the preparations of the titular list to save as many of them as possible. Another great early scene – one that feels very loose for Spielberg – has a bunch of Jews standing around talking about life in the ghetto, offering different opinions of it, because none of them really realize how bad it's gonna get. I swear it's like a Spike Lee scene, like Mother Sister or Da Mayor talking to Martin Lawrence and the other kids in DO THE RIGHT THING.
I don't know specifically why Spielberg went with the black and white, but it's perfect. When people use it now black and white can be very stylized, another step away from reality, and a way to emphasize shadows and contrasts, create a dreamy film noir type of atmosphere. That's not what this is at all. This looks raw and real, like a newsreel maybe. Spielberg tried out more stripped down documentary type of camerawork, but not the kind where it shakes around and looks like crap. I guess he didn't use cranes or steadicams and did almost half of it with handheld cameras, so it looks different from his other movies. I think subconsciously it feels a little more "real," but without sacrificing his usual clear visual storytelling and energetic cuts.
Some day if somebody wants to humiliate me they could confront me with all the movies I have publicly admitted to crying at part of. And alright you assholes, you can add this one to the list. I gotta admit I was unprepared for the little epilogue at the end where real life surviving "Schindler Jews" visit his grave. I thought I was through the woods with my manhood intact and that fucker snuck up on me. It could've ended with the ol' onscreen text telling you how many lives Schindler saved, but it takes the next step and makes you actually see real live people who would not exist if not for the events depicted in the movie. I mean, I thought Neeson was really good in DARKMAN too, but it didn't end with actual saved lives.
Nothing against DARKMAN, I also like DARKMAN. Part 3 is pretty good too. SCHINDLER'S LIST is not very much like the DARKMANs in my opinion but I still recommend it highly.