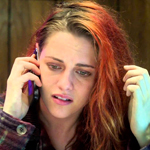 AMERICAN ULTRA is an action… I want to say comedy?… about what would happen if a totally unlikable stoner who works at a Cash 'n Carry turned out to unknowingly be a brainwashed government super killer who has been missing and the CIA tries to take him out so he finds himself killing a bunch of dudes in self defense and doesn't know why. THE BOURNE IDENTITY meets some dude you know's unproductive early 20s.
But it's not jokey like a Cheech and Chong picture or THE PINEAPPLE EXPRESS. Mike, the horrible loser protagonist, is played by Jesse Eisenberg (CURSED) with his usual cold distance, minus the intelligence. He's not the funny or huggable type of stoner either, he's just the kind that you're supposed to like because he has a dream of creating a generic "underground comic" about a monkey (it could be this generation's MONKEYBONE in my opinion) and mumbles quasi-deep philosophical bullshit comparing his life to that of a tree. In narration he humblebrags about being "a fucked up couple" with his long-suffering, oh-that-poor-woman, someone-really-needs-to-have-an-intervention-with-her-about-that-terrible-boyfriend-that-is-sucking-away-her-life-essence-every-second-of-the-day girlfriend Phoebe (Kristen Stewart, JUMPER). But, sorry bud, these two aren't even Sid and Nancy, they're just a guy who disappoints his girlfriend by saying they're going to Hawaii and then instead having a panic attack and bringing her home to make her an omelette and then burning it.
I mean, there is some neon colors and some hyperactive shootouts and a car blowing up in a parking lot, but also an equal amount of two very tired-seeming people who haven't washed their hair in a while cuddling, and the guy is real neurotic and won't shut up and the girl is real sad but says she loves him despite his constant failure. If you like that kind of thing.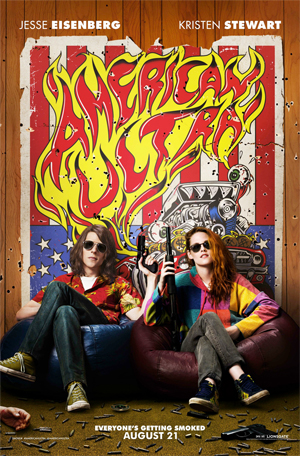 Phoebe is not a stoner, she's just "the perfect girl" whose primary activity is comforting Mike and being weirdly forgiving of everything he ruins constantly all day every day. The mystery of why she puts up with him briefly seems solved when it's revealed that SPOILER she was his CIA handler keeping an eye on him. But then it turns out she really fell in love with him and abandoned her life as a weirdly young agency hotshot to be with him. It's like if Maya in ZERO DARK THIRTY decided instead of finding Osama bin Laden she should live in the basement of the shittiest member of the worst band in your city and sit on car hoods staring a the sky and listening to him talk about his thoughts on existence.
Something CLEARLY has to be wrong with this woman to choose this life willingly, and yet he has the nerve to get mad at her when he finds out her secret. He throws a tantrum like a baby instead of saying "you know what, that makes so much more sense, thank you so much for doing this for me, I clearly don't deserve it and will never earn it."
I can dig a good unlikable protagonist, like your bad lieutenant or santa or what have you, but I don't think that's what this is supposed to be. If this was Danny McBride or Will Ferrell or somebody the character's obnoxiousness would be a source of humor, but the movie seems to play him more like it's TRUE ROMANCE or something where you're supposed to like and relate to his foibles. Audiences love foibles. There are a few violence-related laughs and a mildly amusing John Leguizamo (EXECUTIVE DECISION) drug dealer character who for some reason thinks he's allowed to use the n-word. And for a minute it's kind of cool to see Topher Grace (SPIDER-MAN 3) as the smarmy agency villain.
The best part of the movie is Connie Britton as the former head of the assassin project who goes off the reservation to try to help Mike. She doesn't necessarily think he's someone to hang out with, she just has a conscience, so it's believable. Britton is very compelling as an agent who has to come out from behind the desk and risk herself, not because she's gonna be good at it, but because she thinks it's the right thing to do. And Walton Goggins does what he can with an assassin who's supposed to be weird because he laughs inappropriately. Sorry Walton. Some day.
I was unclear why they had to kill Mike for being an assassin when they had a whole truck load of other assassins they send after him. Presumably they also have another truck of assassins to send after each assassin in this truck, and then other trucks for the ones in those trucks? I guess it probly has something to do with her saying he did better than the other ones. Because he can use a spoon to stab a guy or whatever. But I guess I just don't really buy that he's so much more dangerous than a thousand other killers.
On paper I do think the premise is kinda funny: a brainwashed ex-super agent is reactivated to defend himself, but he's become too much of a stoner since leaving the program to figure out what's going on. And I respect the idea to then treat that mostly seriously, with them having to deal with different layers of law enforcement and intelligence agency bureaucracy, getting set up, attacked by drones, etc. But it doesn't really feel like a real action movie. These aren't exciting sequences. And there aren't many laughs to make up for that. So you're left with a very sincere love story that I have trouble getting into since I find one of the characters so gratingly horrible.
I've seen reviews pinning the characters' lack of appeal on Eisenberg and Stewart allegedly being wooden or un-energetic performers. I disagree and think Stewart especially is good in the role. I felt sorry for her character. This was directed by Nima Nourizadeh (PROJECT X) and written by Max Landis (CHRONICLE, VICTOR FRANKENSTEIN), and I think the latter is my problem with it. I confess that Landis is one of those rare filmmakers whose public persona I find so obnoxious that any traces of his personality that show up in his work become distracting to me. I couldn't help but thinking he partly based this awful character on himself and that he thinks there's something cool and romantic about how "fucked up" he always says he is.
To be fair, I used to feel similar about Kevin Smith's movies. I had a hard time not thinking of his ensembles as a bunch of Kevin Smiths patting each other on the back for the clever things they say to each other, but I've softened to him over the years, and kind of liked his last couple movies. So some day many years from now Landis could have his TUSK.
Although AMERICAN ULTRA was considered a huge flop, it appears to have an enduring legacy. Many, including Landis himself, have speculated that Eisenberg based his squeaky-voiced, hyperactive pest version of Lex Luthor in BATMAN visits SUPERMAN on Landis, sort of like how Mike Myers based Dr. Evil on Lorne Michaels. Landis can help make a movie terrible without even lifting a finger, just by existing. That's the kind of power he has. We need to send a truckload of other screenwriters to stop him.
I originally wrote this before seeing BATMAN verbally dresses down SUPERMAN, and now I feel kind of bad posting the reviews back-to-back because I hated Eisenberg's acting in that as much as I hate his character in this. I just want to make it clear that this is not Let's Turn On Jesse Eisenberg Week. It's only movies where he plays a stand-in for Max Landis that I have a problem with him. I've enjoyed him in almost everything else I've seen him in, and I still believe he deserved best actor for THE SOCIAL NETWORK (Colin Firth won that year for THE KING'S PEACH).
He is a good actor. This one's not his fault. This one's on Alex Luthor.