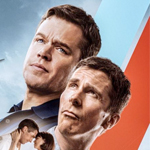 FORD v FERRARI: VROOM OF JUSTICE is a perfectly enjoyable, kind of square and obvious, know-it-all-car-guy underdog racing picture. It has been widely described as a "dad movie," and sure enough a one-day awards season engagement drew a different crowd than I usually see at the Cinerama, with a higher contingent of gray-haired men. Everyone applauded and cackled at the sticking of it to the man, and in recognition of all the lines from the trailer. A good time was had by all.
It's the story of Caroll Shelby (Matt Damon, TITAN A.E.), one of the only Americans to ever win the 24-hour-Le-Mans, now retired from driving due to a heart condition, making his living building and selling cars and sponsoring a racing team. Then one day he's approached by Lee Iacocca (Jon Bernthal, THE ACCOUNTANT), who has convinced Henry Ford II (Tracy Letts, who also played the grouchy boss in LITTLE WOMEN and maybe other best picture nominees) that the way to make his grandpa's car company into Not Your Grandpa's Car Company is to build a car that beats Ferrari in Le Mans. It's a tall order, but Shelby agrees to give it a shot and recruits his friend Ken Miles (Christian Bale, POCAHONTAS), a "difficult" automotive genius, to help develop and drive the car.
It's a story of engineering (designing, building, testing, failing, going back to the drawing board, being inspired, solving the problem) and racing (practicing, strategizing, worrying during pit stops, fighting with engine troubles, dodging bad luck), but also business (the angry boss, the idiotic middle management). The antagonist is not so much Enzo Ferrari (actual Italian Remo Girone) as it is Ford corporate stooge Leo Beebe (Josh Lucas, STEALTH, who probly thought he could stop playing douches like this after HULK, but then fuckin Bradley Cooper came along), who's always trying to make his mark with stupid ideas, starting with replacing Ken with a more wholesome driver.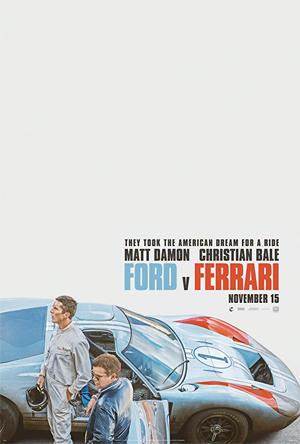 It's a pretty good big screen movie because it has lots of car-go-fast footage and roaring engines that vibrate in your bones. But the main appeal of this tale is that it's simultaneously a MONEYBALL and a TROUBLE WITH THE CURVE, as contradictory as that may sound. They're these plucky small time outsiders who strut in knowing exactly what to do even though everyone thinks they're crazy and stands around waiting to do a spit take or faint when their outrageous ideas turn out to be brilliant. But also they're the scrappy veteran do-ers who, when the computer doesn't figure out what's slowing the car down, know to give each other a nod that means "these guys will shit themselves if we do the thing where we tape little pieces of yarn all over the car to test the aerodynamics or whatever and don't explain it to them and they look at us like we're crazy but we're not crazy we totally know what we're doing."
In other words they're geniuses. Top of the line. Top guns. Hot shots. Iron eagles. Best of the best. Best of the best part 2s. The type of guys where Ken is racing and Shelby is watching and for some reason Shelby feels the need to say out loud "Wait for it… wait for it… now" to show off that he understands the exact timing of the thing that Ken has to do… even though he's saying it to his crew who are also genius hot shot top gun best of the bests and surely also know to wait for it and then say "now." They just let him do it because he's the boss.
And yet these elite automotive minds are not, you know, elites. These boys are the working man. The blue collars. Salt of the earth, boots on the ground, man on the street, hard scrabble rugged individualists rolling up their sleeves, greasing their elbows, digging in, getting 'er done, doing the deed, making it happen, bringing home the bacon, eating the bacon, shitting out the bacon I suppose, etc. So we can all relate. Those are our guys. We know we would never be like the suits from Ford, pissing their pants when Shelby decides to drive them around at top race speed or spontaneously convince the pilot of the private jet to let him take over the controls for a sloppy landing. No, we would be like hey good job Shelbs I totally knew you weren't gonna kill us with this reckless stunt, high five buddy.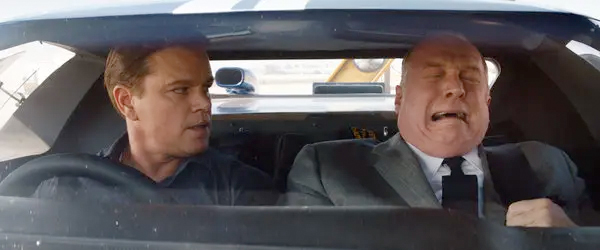 It's very much a movie about dudes. I think Ken's wife Mollie (Caitriona Balfe, SUPER 8, ESCAPE PLAN) is the only woman in the movie. There are two scenes early on working valiantly to make her Not Just the Wife, but there's no getting around that that's her function in the story. She loves Ken and she's very cool and supportive and she's the wife character.
Damon starts the movie doing a Tommy Lee Jones impersonation, which he returns to occasionally. He chews a piece of gum like it insulted his mother. He's used to everybody calling him "Caroll Shelby" all the time – even his doctor. Sometimes he wears a cowboy hat.
Bale gets to be English and funny. He was always great in those brooding roles, but I like him better when he's having fun. That they laugh together about the long odds they face goes a long way to make them endearing. The friendship and hanging out seems at least as essential as the competition. Ken's orneriness is also tempered by his relationship with his son (Noah Jupe, A QUIET PLACE), who worships racing and beams whenever his dad pays attention to him, or especially tells him to get in the car.
For sure director James Mangold (COP LAND, WALK THE LINE, 3:10 TO YUMA, writer of OLIVER & COMPANY) recognizes the parallels to his life as a commercial filmmaker who strives for integrity. Caroll Shelby just wants to do his thing, but his thing requires the money and resources of Ford. He understands that they're just trying to sell a product, so he tries to keep them happy without violating what he wants to do. It doesn't always work. Sometimes the things they make him do screw him over. Sometimes he's able to convince them of his way, though he never seems to have final cut. Somewhere in there is the difference between THE WOLVERINE and LOGAN.
SPOILER: And I appreciate that in the end, when Ken reluctantly agrees to be a company man and do what they want – he gets fucked over by it. Accurate. I didn't know shit about the real story, so I was impressed to find that the very made-up-seeming thing about Ford having him slow down so the three Fords can tie, thus causing him to lose, really was true. One thing they don't mention is that Enzo Ferrari got his revenge at the 24 Hours of Daytona race when he had his three drivers go over the finish line together as a fuck-you. (No Fords finished.) Maybe he already had that in mind when he gave Ken a long distance nod and hat tip of respect.
Only a few years ago Bale was set to play Ferrari in a movie directed by Michael Mann, but he dropped out due to health concerns related to the necessary weight gain. So Hugh Jackman stepped in before Bale decided it was okay to gain weight for a brilliant performance in a terrible movie.
Mann is credited as a producer on FvF, so I assumed maybe it evolved out of his Ferrari movie, but apparently not – he's still trying to make that. Meanwhile, the producer of CRASH (racism one, not car-fucking one) directed LAMBORGHINI: THE LEGEND starring Antonio Banderas.
Previous to Mangold, it was TRON LEGACY director Joseph Koskinski who developed FvF. His version would've starred Tom Cruise and Brad Pitt and probly had a cool soundtrack. The script is by Jason Keller (ESCAPE PLAN), rewritten by Jez Butterworth & John-Henry Butterworth (EDGE OF TOMORROW, GET ON UP).
In conclusion, if you're the kind of person who would enjoy FORD v FERRARI, I think you will enjoy FORD v FERRARI.