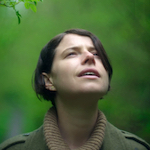 MEN is this year's film from Alex Garland (writer of 28 DAYS LATER, SUNSHINE, 28 WEEKS LATER, NEVER LET ME GO, and DREDD, writer/director of EX_MACHINA and ANNIHILATION). It got mixed/semi-positive-ish reviews but its greatest achievement was a D+ Cinemascore, which sometimes can be a badge of honor.* Much more than the other A24 horror releases this year (X, BODIES BODIES BODIES, and PEARL) this is an A24 horror movie in all the senses of the term, so I advise many of you, you know who you are, to move along to the other movies that they have out there available to watch. I kinda liked it though.
Jessie Buckley (JUDY) plays Harper Marlowe, a recently widowed woman trying to treat herself by renting a huge cottage out in the country. She does a little remote work and keeps in regular touch with supportive friend Riley (Gayle Rankin – Sheila the Wolf Girl from GLOW), but mostly I think she's trying to get away from it all, relax, take long walks and baths, just try to enjoy being by herself.
Of course it's hard to do that, even out in the country, even out in the woods. You end up running into people. Awkward conversations are had. People know a little about you and think they should give you their opinion on things. You want to tell them why their advice is bad, but you don't even owe them that, so it's not worth getting into it.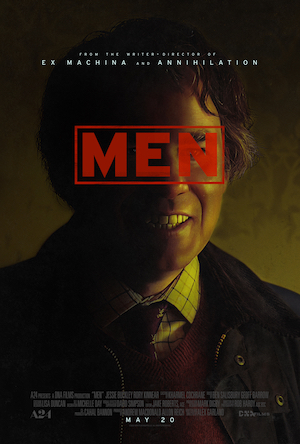 I like that the title is MEN because it kinda reminds me of nature attacks movies like BEAKS, ORCA, SLUGS, THE BIRDS, GRIZZLY, or ANTS!. In fact I wish it was called MEN!. The title signals that this is meant to be specific to the experience of women being surrounded by men, but I think at least some of it is relatable to everyone – it's a series of social annoyances growing increasingly hostile. It starts with the owner of the house, Geoffrey (Rory Kinnear, QUANTUM OF SOLACE) giving her the tour. She later describes him to Riley as "a real character – a very specific type." He makes little jokes and he's funny, but not as much from the jokes as from his overall manner. He has a smile that's meant to be wry, but comes off as possibly leering. He's very welcoming and helpful, slightly overbearing, causes some uncomfortable pauses and unnecessary lingering. Later, when it becomes a horror movie, he's still a joker, not sure if he believes her that anything is wrong, but invokes knights and maidens, and his responsibility as a landlord to protect her – things that are well-meaning and probly harmless, but sort of a symptom of the problem here re: men's attitudes toward women.
A detail that stands out to me is during the tour when Geoffrey shows her that there's a piano and asks her if she plays. "Oh – no," she says. Later on, when she's alone, she sits down and plays a Chopin piece. It's not set-up for anything – there's never some moment where he finds out she lied to him and looks upset, or asks her about it and makes her uncomfortable. It's just a little piece of insight into where she's at – she's only renting the house, she's not trying to be this guy's friend, and if she doesn't want to discuss what instruments she plays it's not any more of his business than where her husband is. (To that, she implies that she's divorced, which is also avoiding a conversation.)
She doesn't need a reason to want to be left the fuck alone, but she has a damn good one. From early on we see flashes of the death of her husband James (Paapa Essiedu, Gangs of London). The first thing we gather is that he jumped to his death from a floor above and made eye contact with her through a window as he fell. Fucked up! And the more that's revealed the thornier it gets. She had decided to divorce him, and his response was to threaten suicide; after the argument led to him hitting her she appropriately told him off and kicked him out, and that's when he did it. A final, grievous emotional injury to her, making her feel guilty for standing up for herself. She has alot to process. Leave her alone.
If you want your horror to be quick and easily digestible you may hate this. But if you dig atmospheric, moody and open to interpretation it's got much to offer. A scene about walking in the woods and finding a tunnel (a normal one, not a scary one) gives her time to enjoy solitude and natural beauty before it starts getting creepy. This is where it starts being more specific to being a woman – a man out for a walk in the woods seeing someone running toward them might be intimidated but feel like they have to stand there and confront the person. This woman wisely says fuck this and runs.
Next she encounters a man with his dick out. There is no outward sign of a threat, a police officer will later note, but of course there doesn't have to be. We all understand what the possibilities are here. The naked guy follows her home and stands outside the house – there's a well choreographed sequence of her having a Zoom meeting and then a video call walking into different rooms, repeatedly missing that this guy is behind her, outside the windows. An annoying fact of life for many women: unsolicited dongs always hovering.
There are a handful of other characters, each infuriating in their own ways. The strangest is the one in the Marilyn Monroe mask (seems like symbolism, but I don't get it) who throws a tantrum and calls her a bitch when she politely declines to play hide and seek. He looks like an adult but seems like a kid, and when we get a good look at him later I finally realized he was an adult's head on a kid's body (that symbolism I do get).
What I did not realize, and I may be slow for this, is that the adult head is also Kinnear. And he plays the naked man too, and everyone in the village. That includes the vicar and the cop – people who think they're helping, and she gives them the benefit of the doubt, but they overstep boundaries and/or disregard what she tells them, thinking they're just being reasonable, trying to help. These very real frustrations start to bleed into mind-trippy horror: men appearing and disappearing outside the cottage with the flick of a light, eventually straight up threats and chasing, and some surreal and well-executed FX-based freak out shit.
I had heard it had a wild ending, and I do think that aspect lives up to the hype. It's not a twist, it's just some crazy shit that's about half obviously symbolic and half I don't know what. Plenty to chew on for all experience levels.
CRAZY SHIT SPOILERS THIS PARAGRAPH ONLY: It starts with all the men in the movie being one. The naked man tries to attack her and reaches through the mail slot. She stabs his hand, but he pulls his hand all the way off the knife, causing a huge, nasty split. Then she's attacked by a procession of each of the men, each of them sharing that wound. But the best part is when the naked man comes up, now covered in plants like Swamp Thing (explain that), his belly expanding, and he lays down and gives birth to the kid, who then grows a belly and gives birth to the vicar, who gives birth to Geoffrey, who gives birth to James.
And there's a heavy-handed Adam & Eve reference with eating an apple. Let's call it an homage. Hopefully there's an "all the easter eggs in MEN" slideshow explaining which book it comes from. Also there's something about dandelion seeds. It comes up a bunch. I don't know what that's about.
This year of 2022 has quite a bounty of memorable horror releases, both of the original and long-running-franchise variety. For me personally MEN doesn't rank near the top, but it's also very distinct from any of the other ones, so I would understand anybody saying it was their #1. My advice is that if it sounds like you might like it, try watching it. If you get pretty far into it and you're hating it, at least fast forward to the end. You're gonna want to see that shit.
*Movies that I and/or others like that got a D+ CinemaScore: Terence Malick's THE NEW WORLD, PUNCH-DRUNK LOVE, HEREDITARY, VAMPIRES, THE EMPTY MAN, KNOCK OFF, EVENT HORIZON, VALENTINE, THE WEATHER MAN, ULTRAVIOLET, THE RUINS, HAYWIRE
P.S. Other movies that could've been called "MEN" if they wanted to lay all their thematic cards on the table like this: FIRST BLOOD, GLENGARRY GLEN ROSS, GOODFELLAS, FIGHT CLUB, 300, THERE WILL BE BLOOD, THE WOLF OF WALL STREET, THE NORTHMAN