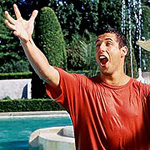 This is the new Adam Sandler picture, but instead of being directed by one of his college roommates, this one's by a real director, "p.t. anderson" (a.k.a. Paul Thomas Anderson, director of HARD EIGHT, BOOGIE NIGHTS and MAGNOLIA). Mr. Anderson – not to be confused with Paul "not Thomas" Anderson, director of RESIDENT EVIL and crap – is one of these virtuoso younger directors that's so obviously talented that people bend over backwards to prove he's overrated. Not too many people saw HARD EIGHT but they'll tell you BOOGIE NIGHTS was a ripoff of Scorsese and MAGNOLIA was a ripoff of Altman and now they're saying PUNCH DRUNK LOVE is good for an Adam Sandler movie but it's Anderson's worst.
Well I'm not sure I agree with that. Sure it's a little lighter just because it's not long and it's got two main characters instead of a whole ensemble. It's not an epic. It's smaller than the last two. But it's his most original, and maybe his most genuine. Now he steps out from the obvious comparisons to other director's styles and shows you which parts are the p.t. anderson style.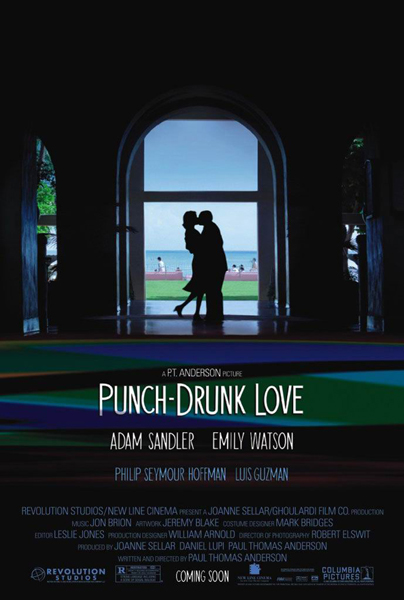 It'll be funny if people go in expecting THE WATER BOY and get this instead. This is clear in the long, quiet opening scene where Sandler sits by himself in a big garage mostly just drinking coffee and talking on the phone about the regulations of a sweepstakes offer. It's a less cartoony, much more vivid world than you've ever seen Sandler in, but it's also full of surreal touches and mysteries, like the organ that somebody drops off on the street and he decides to keep it.
Mr. Sandler really is great in this picture but maybe what's most refreshing is he's not trying some formula to become a serious actor. He's not really doing anything that different from what he's done before. He's definitely not pulling some kind of Robin Williams tears of a clown bullshit. There are no dramatic monologues or anything. It's just that Anderson puts this guy in a context where you take his emotions seriously, and you can see the sadness and anger that is just behind those eyes waiting to get out. Well, actually there are alot of parts where it's not waiting to get out, he breaks alot of shit in this movie. He has kind of an anger problem, in my opinion. It's played for laughs here like it is in the other Sandler movies but also it's real sad. You don't see Bob Barker or anybody.
Mr. Anderson is one of these directors, like the other Mr. Anderson who did ROYAL TENENBAUM, who have an almost ridiculous attention to detail. So there are many great touches in this movie and I would rather not give them away by summarizing the plot. But as this lonely, socially inept toilet plunger salesman finds his first love (Emily Watson!) you find many great things you've never seen in movies quite like this before. As soon as you see his sisters, you know exactly why he's how he is. There are many scenes of loneliness and ineptitude that we can all relate to, like the part where he leaves Emily Watson's apartment and then tries to come back but has no clue which one he just came from. It's so true to life, emotionally speaking, that I'd have to say this is more sincere than BOOGIE NIGHTS which is dealing more with problems like "I am doing so much cocaine that I can't get it up and this is costing me my job," or MAGNOLIA which has real emotions but seems to pile every possible tragedy besides killer bee attacks onto one small group of characters. Laying it on too thick.
You also see two of the great Anderson regulars in there, Luis Guzman and Philip Seymour Hoffman. Unfortunately John C. Reilly, who was in all three of Anderson's other movies, is not in attendance.
This movie is a great balance of sad and funny. It has a very unique feel of dark comedy combined with old fashioned romance (made more glamorous by occasional lapses into rainbow colored abstract animation) and stupdendous use of music and car crashes. I'll definitely watch this one again.
This entry was posted on Friday, November 1st, 2002 at 12:12 pm and is filed under
Comedy/Laffs
,
Reviews
,
Romance
. You can follow any responses to this entry through the
RSS 2.0
feed. You can skip to the end and leave a response. Pinging is currently not allowed.