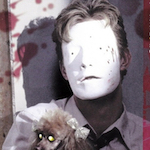 During this year's October viewing I wanted to revisit a few things that I consider lesser movies from directors I like, that I haven't seen since they came out decades ago. You know – just to be sure.
I started with a forgotten later one from George A. Romero – his last non-living-dead-related movie, BRUISER. I was disappointed in it at the time, but that was 22 years ago, and I'd had high expectations for it since he hadn't had a movie in 7 years. There was that gap between his Hollywood stint in the early '90s and his return in the new millennium, and it was in the middle of that period that I became obsessed with DAWN OF THE DEAD and KNIGHTRIDERS and everything. So it was a big event when he finally came back with this odd French-American co-production starring a dude from LOCK, STOCK AND TWO SMOKING BARRELS.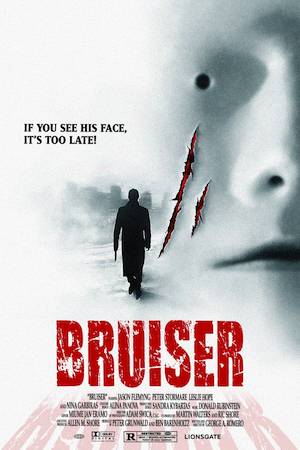 BRUISER has a tiny pinch of AMERICAN PSYCHO in it, and I think it's Romero's attempt to explore what is now popularly called toxic masculinity, though it could easily be seen as an example of toxic masculinity. It's about a wet noodle yuppie drip named Henry Creedlow (Jason Flemying, THE LEAGUE OF EXTRAORDINARY GENTLEMAN) who's a creative director for some kind of pretentious/self-consciously-provocative lifestyle magazine called Bruiser. He hates his wife Janine (Nina Garbiras, Boomtown) and her yappy dog, and fantasizes about suicide while shaving and listening to talk radio in the morning, or murdering people who piss him off on the way to work. He's mad that he's not approved for a platinum card, and tells the guy on the phone that he's trying to impress his wife. His best friend Jimmy (Andrew Tarbet, WALKING TALL) is also his stockbroker, and is ripping him off. They have their guy talks while playing tennis, if that gives you an idea of the kind of guys we're talking about here.
I think what's supposed to make Henry likable is his pathetic crush on one of his co-workers, Rosemary (Leslie Hope, SWORD OF GIDEON). He comes close to admitting it to her, but she doesn't catch on. She's the ex-wife of their boss, an obnoxious, coked out prick named Milo Styles (Peter Stormare, THE LOST WORLD: JURASSIC PARK). We know Henry, Rosemary and Henry's assistant Tom (Jeff Monahan, "featured zombie who pulls Steel's hat off," DAY OF THE DEAD) aren't total douches because of how they wince and pace uncomfortably during the editorial meeting as Milo pulls his pants down, uses racial slurs, and belittles Henry and others, on account of how edgy he is. Later, at a poolside barbecue work function, Henry sees his wife giving Milo a handjob (or, as Wikipedia puts it, "Henry sees Milo and Janine across the pool in a very intimate moment.") When he confronts her about it on the way home she harangues him for being a pussy and not "slugging" Milo or herself over it.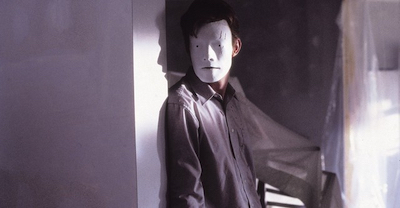 The next morning Henry finds that his face has somehow transformed to look like the white plaster mask that Rosemary molded of him as a prop for a cover photo. It has little drill holes for eyes, so it kinda reminds me of Tintin or the Late Night with Conan O'Brien logo. It looks cool, and it's one thing I like about the movie – this conceit that he becomes "faceless" with no real explanation and takes the opportunity of this form of anonymity to give in to the violent and vengeful impulses that he usually suppresses. Romero knows that horror doesn't require a reason. It's about what would happen if a guy woke up like this, not how a guy would wake up like this.
I think it's meant as a statement on the character, not the writer/director, that the first person Henry goes after is his Latina maid Katie (Beatriz Pizano, GET RICH OR DIE TRYIN'). Romero was probly the most race and class conscious horror director of his era, and it's one of the things I love about him. But he was still from an older generation – not even a Boomer, he was part of the Silent Generation! – and stuck with some old attitudes and stereotypes. They come out, for example, in the early housing project raid in DAWN OF THE DEAD. And here he is in 2000 depicting a maid stealing the silverware. Later in the movie a stereotype of a Black male mugger/stabbing turns out to be a put on, so maybe he's trying to say something here, but it seems to me like this is promoting the paranoid fantasies of rich people about "the help" being out to get them. Anyway, Henry rages and accidentally kills her, and then he decides to start killing people on purpose.
The other best thing about the movie besides the mask is Stormare, bringing life to the thing by cranking the sleazy obnoxiousness levels way into the red. There's a scene where he's lifting weights listening to weird funky synth rock and yelling at his maid Inga to "Get the fucking door!" – something the protagonist and villain have in common, I guess. On his doorstep is Detective McCleary (Tom Atkins, THE FOG – always great to see him), investigating the death of Henry's wife, who Henry threw out the office window with a noose around her neck after she had sex with Milo. When McCleary implies to Milo that his affair makes him a suspect, Milo says, "Fuck you, Pope Pius – like you never stuck your dick up another man's sandwich. Come on, gimme a break, we're two guys talkin here." It would be goofy dialogue for any actor, but Stormare's thick accent makes it five to ten times more enjoyable.
I think there's a certain amount of stylization intended, but Romero's dialogue seems pretty out of touch to me. He's got cops talking about "dames" all the time like it's an old detective movie. There's a part where a cop says, "9 mil slugs in the walls, and a shirt with a button hole where there ain't suppose ta be a button hole, if ya know what I mean." And a character refers to the stresses of "the rat race." It's very corny and old fashioned for something that appears to be trying to be contemporary. But I guess it would be worse to see Romero trying to imitate FIGHT CLUB or something.
I appreciate the sometimes unhinged quality of the plotting, and random fantasies like when a woman bumps him so he wrestles her and flips her under a train and her head gets run over. In the real world, when the cops show up at his door after he killed his wife, he figures the gig is up and pulls out a gun to blow his head off. But they think he's not home and he hears them through the door discussing that "the dame" – Rosemary – probly did it, and he puts the gun away.
Okay, I liked that better when I thought it was just him thinking he would get away with it. Instead, he's trying to sort of do the right thing and make sure Rosemary doesn't get blamed for his crime.
The climax takes place at a Bruiser costume party with an elaborate haunted house type entrance. Inside the Misfits are performing and waitresses pass plates of fake fingers and eyeballs (are you supposed to eat them?). There are people suspended from wires, including a dummy in S&M gear that later gets its head blown up with a laser as part of the pyrotechnic show. Henry outs himself as the murderer on his favorite talk radio show, then crashes the party dressed as the Phantom of the Opera, with an actual mask of his mask-like-face. He avenges Milo, prepares for the detectives to catch up with him, and finds Rosemary.
He keeps talking about her being beautiful when professing his love, then berates her for still living in her ex-husband's mansion, saying "He probly still gets to fuck you in the shower when he has energy left over, am I wrong?" Angry that she's merely his close friend and not the other thing he never even told her he wanted, he says, "You want a companion, get a fucking dog!" (Then adds a gratuitous jab at his dead wife's dog.) I don't know dude, since you never told her you wanted more than friendship and since you were married and now since you murdered your fucking wife maybe she doesn't see you that way.
I know he's already a murderer at this point, but it's a good depiction of a guy who believes he's nice and sensitive and has always been mistreated and doesn't recognize that he has some straight up incel misogynist attitudes in his heart. He also threatens his co-worker Tom for knowing too much, spies on him and is about to kill him when he thinks he might've ratted him out. He's worse than his enemies. Fuck this guy. And I have to believe that's Romero's point. Except – is it? In the end, angelic Rosemary seems to side with Henry, and goes out of her way to clear his name. The mask suddenly disappears, and he seems to take it as a reward because "I stood up for myself!" Worst of all, there's an epilogue where he's working as a mailboy for a new company with a new asshole boss yelling at him. Suddenly he gets the mask-face back and says a one-liner and it zooms in like ah ha ha, you're gonna get it now, buddy. It definitely implies we're supposed to get a kick out of his vengeful violence, though we might be busy being distracted by how awkwardly it cuts to the end credits and a pop punk cover of "Take On Me" (performed by the German band Wohlstandskinder).
Regardless of how I interpret it, I just don't find this movie very enjoyable to watch. I think Henry is supposed to be, or if not then he should be, a semi-relatable guy at the beginning to lure you into taking the journey into darkness with him. But he just seems like an annoying dipshit – not because of his inability to stand up to the shitty people in his life, but for his choice to surround himself with them in the first place, working at a ridiculous job with terrible people, having a wife he hates who hates him, listening to a dumb asshole on the radio who brags that "they're payin me to stir it up," having a shitty Wall Street asshole best friend. And then Flemyng, who is a good actor, is just not the best choice for this type of role, I don't think he has the right type of screen presence for the lead, and has a weird shifting accent throughout. So BRUISER still didn't win me over.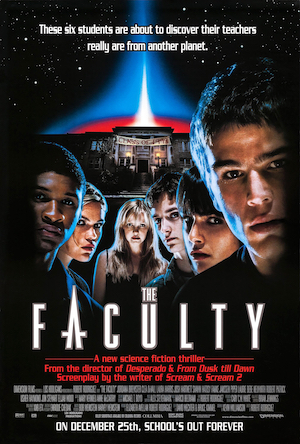 THE FACULTY also seemed like an exciting event when it came out on Christmas day, 1998. Rather than the return of an old master, it was the latest from one of the new younger guys I was into. I loved Robert Rodriguez from EL MARIACHI and DESPERADO, I also enjoyed ROADRACERS and his part of FOUR ROOMS, and then he had his big genre movie team up with Quentin Tarantino on FROM DUSK TILL DAWN. That had turned out great, and now he had a sci-fi-horror one with Kevin Williamson, the exciting new writer of SCREAM? Seemed too good to be true.
Well, it wasn't the phenomenon that Dimension Films hoped – maybe because it was holiday family time and more people were going to see PATCH ADAMS, STEPMOM and YOU'VE GOT MAIL, and they also had PRINCE OF EGYPT, MIGHTY JOE YOUNG, A BUG'S LIFE and ANTZ to compete with. But it seems to have been profitable, and I know at least one person who still loves it today (shout out to Mike from the Action For Everyone podcast). I kind of liked it at the time, but it didn't live up to my hopes. I thought maybe nostalgia for the era would give it an extra boost on the rewatch? Nah, unfortunately it didn't hold up that great for me.
I do not believe this is one of Williamson's better scripts, but it has some appeal to it. The idea (which started in a spec script by David Wechter [MIDNIGHT MADNESS] and Bruce Kimmel [THE FIRST NUDIE MUSICAL] before being rewritten by Williamson) is INVASION OF THE BODY SNATCHERS meets THE BREAKFAST CLUB. When tentacled shapeshifting alien parasites take over the bodies of all the teachers of Herrington High School in Ohio, a group of outsider teens from incompatible cliques come together to try to stop the invasion.
You've got Stan (Shawn Hatosy, THE POSTMAN, BAD LIEUTENANT: PORT OF CALL NEW ORLEANS, STREET KINGS 2: MOTOR CITY), the school's football hero who just became disillusioned with jockdom and quit the team. His bitchy, superficial girlfriend Delilah (Jordana Brewster in her first movie) doesn't get it or support it. She's both head cheerleader and editor of the school newspaper, and basically the Gayle Summers of the movie because she starts out as a proud bitch and then it's supposed to seem layered when she just switches up into a nice character. Casey (Elijah Wood in the same year as DEEP IMPACT) is a constantly bullied nerd photographer for the paper, who works with Delilah and she's mean to him but then she starts to like him and unconvincingly transforms. And representing those with punk or goth leanings we've got pouty eyeliner-aficionado Stokely (Clea DuVall, CAN'T HARDLY WAIT), who Delilah calls a lesbian, so I thought she was gonna fall for new-to-the-school southern sweetheart Marybeth (Laura Harris, "Girlfriend #1," STAY TUNED), but this was a mainstream release in the '90s so actually she's straight and she falls for the fucking football guy!
I don't buy it, but actually I shouldn't be so harsh, because I really like Hatosy in this, and he's not really your standard issue teen soap opera or teen soap opera-esque hunk that you would expect to see in this era, and specifically from this studio and writer. If you don't believe me, please note that although he sometimes seems like the main character he's not one of the six faces pictured on the theatrical poster. Usher is, and he's barely in it. On the DVD cover Hatosy is there, but at the back, behind Usher.
Williamson and SCREAM have been rightfully credited with inspiring many meta-elements in horror (here bluntly represented by characters mentioning some sci-fi movies – not that unique to Williamson, really), as well as bringing back whodunit slashers and then regular slashers after they'd seemingly written their final chapters. They also changed the type of actors that were cast in these movies, which I don't think was entirely bad – it raised the standard of acting quality and made it more acceptable for known actors to do horror. Still, it's cool that Rodriguez was able to find new faces to play the teen heroes. Other than veteran-child-star Wood, these were little-known up-and-comers or completely new discoveries. And the obvious rock star of them, in arguably a star-making role, was Josh Hartnett as rebel, drug dealer and chemistry genius Zeke.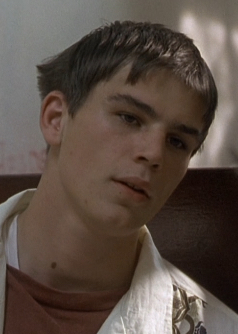 I like Hartnett in his only earlier role, as Michael Myers' nephew in HALLOWEEN H20 (also from Dimension, and partly written by Williamson), but here he doesn't have to brood, he just exudes mischievous charm. I remember the DVD extras on H20 talking about how he drove the hairstylists crazy by always mussing up his hair between takes – here he takes it to the next level by having a haircut that already looks ridiculous.
The established names are playing the titular faculty. Robert Patrick (DIE HARD 2) is the asshole football coach, Famke Janssen (DEEP RISING) is a not-even-remotely-convincingly-nerdy-bespectacled-uptight teacher who turns hot and seductive when the aliens take her over, Rodriguez's greatest discovery Salma Hayek plays the school nurse, Bebe Neuwirth (JUMANJI) is the principal, motherfuckin Academy Award nominee Piper CARRIE Laurie plays the drama teacher who becomes the alien leader, and Jon Stewart, who started his 16 year tenure on the Daily Show 2 weeks after this came out, plays science teacher "Edward Furlong." He gets his fingers chopped off and then stabbed in the eye with a pen.
Zeke invented his own drug that he sells stashed inside Bic pens, and since the aliens require massive amounts of water and the drug is a diuretic it turns out to be the way to kill them. That tees them up for a THE THING homage when they all have to prove to each other that they're not aliens by getting high on the stuff. Even in horror it seemed kinda subversive to just casually portray a teenage drug maker/dealer as the savior of the world, and it's funny to use his interest in illegal drugs as the excuse for him to know how to use lab equipment and explain the pseudo-science behind the aliens. (If I remember right they kinda did something similar with a drug dealer in 2000's GINGER SNAPS.) It's hard to deny that it's irresponsible to do that in a teen movie, but on the other hand, who the hell ever had any life decisions influenced by THE FACULTY? Nobody I ever met. It's fine. It works.
Unfortunately, I find neither the character drama or the horror to be a pimple on SCREAM's ass, and worse, this really doesn't seem like a Robert Rodriguez movie. I don't want to say because it was a for-hire gig his heart wasn't in it, because I'm sure they offered him a chance to work with Williamson and he jumped at it. But I think he intentionally challenged himself to prove he could make a movie in the slick Dimension Films style, and as a result it's just not as stylish or distinct as his previous movies.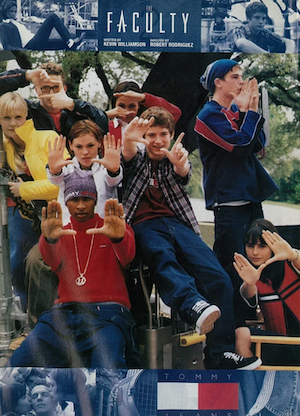 I guess he lights it his own way. And I like the angles he uses on the football practice at the beginning to make the players seem larger than life. The early scene of possessed-Patrick chasing Neuwirth through the school at night is an effective take on a SCREAM-type stalking sequence. Maybe I'm wrong – is he not more subdued than usual? Maybe it's just that Antonio Banderas and George Clooney and Danny Trejo wearing black suits and shooting guitar guns and shit in sunny Mexico is more interesting to look at than a bunch of kids in Tommy Hilfiger clothes standing around in an ordinary suburban high school? Whatever the cause, it lacks the energy of those earlier Rodriguez movies. It feels like Rodriguez Lite.
On the positive side, he did get them to let him film it in Austin, which allows for little things like DAZED AND CONFUSED star Wiley Wiggins showing up briefly, and Austin Chronicle co-founder Louis Black playing a teacher, and, uh… it didn't seem like a bad thing at the time that Harry Knowles is a teacher in a couple scenes. If it was a ploy for lots of online coverage, it worked. I remember Harry claiming that Wood pressed him for any information he had on this LORD OF THE RINGS movie that was in the works, before he auditioned. I don't know if it's true.
I wish I was more into this, but I can at least say there are some cool parts, mostly in the last 15 minutes or so when you get to see the monsters (some designed by comics legend Bernie Wrightson). Some of the digital effects are cheesy, but generally they're pretty fun. For example I like the part where Janssen's head is chopped off but sprouts squid legs and crawls back to reconnect with her body. Kind of a MARS ATTACKS! feel to that one, which is a compliment, even if they were going for THE THING.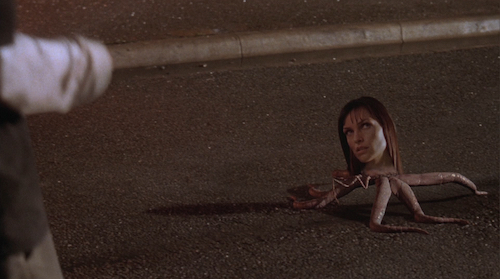 More importantly there are some great animatronic creations, like this big roaring slimy dinosaur motherfucker. Very impressive.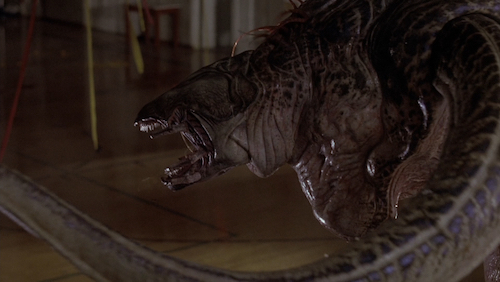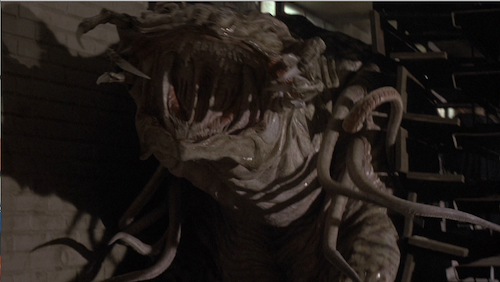 This month I also watched THE RELIC for the first time. I've honestly meant to see it since it came out. The monsters is kind of funny, even though it's Stan Winston several years after JURASSIC PARK doing FX that look laughable next to JURASSIC PARK. Anyway THE FACULTY and THE RELIC are kind of similar in that they have a monster loose in a big dark building, but to me watching THE RELIC was torturous, with its dull characters having dull conversations to over-explain pseudo science (and museum grant competition politics) that I don't give a shit about. And then when the monster finally gets there about 90 minutes too late he really doesn't go all that ape shit. Just a huge bummer to watch that one, I'm afraid. (Beautiful cinematography, though, at least.)
Anyway I am reminding myself of THE RELIC in order to make it seem like I enjoyed THE FACULTY. Since it's not boring like THE RELIC I am making the choice to forgive THE FACULTY's horrendous epilogue where Stan has successfully left the football team but for some fuckin reason Zeke joined? And I guess is fucking his teacher (see also Dawson's Creek)? Smoking a cigarette on the field is funny at least. But Stokely toning down her makeup and wearing a pink cardigan is fucking bullshit. I don't care if it happened to Lydia Deetz too – these guys should know better than to treat de-gothification as a happy ending.
But it's better than THE RELIC and it's better than BRUISER. Congratulations, THE FACULTY.
This entry was posted on Tuesday, October 25th, 2022 at 7:00 am and is filed under
Horror
,
Reviews
,
Science Fiction and Space Shit
. You can follow any responses to this entry through the
RSS 2.0
feed. You can skip to the end and leave a response. Pinging is currently not allowed.