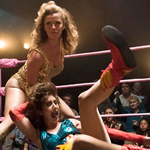 I don't usually review TV, but this show is short and consistent enough to review like a movie, and long-time commenter Mr. Majestyk tried to get me to defend my love for it, and it seemed to me worthy of its own post.
GLOW is a fun new Netflix show inspired by the 1986 founding of the Gorgeous Ladies of Wrestling. It's not a historically accurate representation of people or events, and even the wrestling personas are sort of off brand or alternate dimension versions. There's a Machu Picchu instead of Mountain Fiji, and a team called The Beatdown Bitties are similar to The Housewives. But it takes the idea of fringe Hollywood people doing a casting call for women willing to live in a house together and learn to wrestle, and makes it into ten breezy half-hour-ish episodes of dramedy. There are underdogs, friendships, creative expression and a winning let's-put-on-a-show spirit. And the show they put on is women in crazy costumes and glitter makeup tossing each other around in a ring with pink ropes, which is better than some other types of shows that somebody might put on.
At the center of the story are two friends, Ruth (Alison Brie, SCREAM 4) and Debbie (Betty Gilpin, Nurse Jackie). The former is a struggling actress frustrated with the shitty roles for women that she can't even get hired for anyway, the latter is a successful soap actress who recently quit to have a baby. In the first episode we find out that the doofus who Ruth has been fucking (Rich Sommer, Mad Men) is Debbie's husband, so this establishes the show's biggest conflict. Ruth has to come to terms with not being the good guy she thinks of herself as, and the betrayal becomes fuel for a wrestling feud that we hope will save a friendship.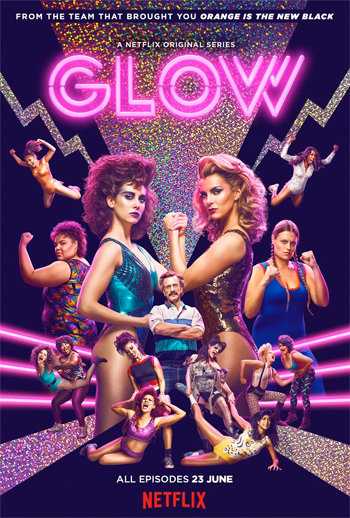 The fictional G.L.O.W. is conceived by two cokeheads: rich kid rookie producer Bash (Chris Lowell, THE HELP) and creative director Sam (comedian/podcaster Marc Maron). All the bitterness, liberal cynicism, casual abrasiveness and relationship turmoil of Maron's comic persona is reborn in the body of a burnt out b-movie director, and I suspect he had alot of input into his dialogue, because it sounds just like him. Sam is an asshole, but once the girls coalesce into a team they can handle him. Instead of a tyrant he's more like their puppy who happens to be an asshole.
Sam has a previous relationship with Cherry (Sydelle Noelle, CAPTIVE), who as a stunt woman (she says she doubled Pam Grier) is the closest thing they have to a wrestling teacher (after he fires the real one). She's my favorite, the most badass of the ensemble, though they also have Kia Stevens, a good comedic actor who, when the matches started, I realized was a real wrestler.
The story gets really good when Ruth and Debbie are unsatisfied with their training and go to get private lessons from Machu Picchu (Britney Young, Crazy Ex-Girlfriend)'s brothers, played by wrestlers Tyrus a.k.a. Brodus Clay (NO ONE LIVES) and Carlos "Carlito" Edwin. She's part of a wrestling dynasty, but her dad Goliath Jackson (played by the menacing Winston James Francis, who's not really a wrestler but sure looks the part) disapproves of her participation. We get some behind-the-scenes how-to-do-wrestling-moves and a training montage set to Stan Bush's "Dare" (from TRANSFORMERS: THE MOVIE).
Does Stan Bush still make music like that? Somebody should get him to do new songs for training montages.
Maybe my favorite thing about the show is how, without being insidery at all about wrestling, it shows a great respect for it as an art form and as an athletic feat. Obviously they have to learn on tv-show-fast-speed, but we see the hard work that goes into learning wrestling, and we get hyped for them to pull off a successful match, and especially to do the big finisher move that's so important to them.
At the same time, Debbie transforms from the person least respectful of what they're doing, who has to be begged and bribed into lending her mild stardom to their project, into the one who feels it deepest. She discovers a new side of herself through wrestling, describes it convincingly, and waves it in the face of her snooty husband who doesn't get it. Gilpin also gives the star performance of the show, a very layered portrayal of a woman suffering devastating disappointments that lead to the best kind of self discovery – the kind where you jump off the top rope.
I've read that creators Liz Flahive and Carly Mensch did not grow up on G.L.O.W. – in fact, they hadn't heard of it until they saw the documentary. I don't think they're as young as the Stranger Things guys, but the number of times they have people saying "fanboy" and "fangirl" in the '80s made me wonder. I only bring this up because there are probly G.L.O.W. hardcores who will be disappointed that this doesn't have that much specific fan stuff in it. I guess that's why it's my speed, as someone who doesn't follow wrestling but is endlessly fascinated by the idea of it.
A major theme is discomfort with wrestling's tradition of promoting cartoonish stereotypes. Sam gives some of them characters they find demeaning. He argues that it's some kind of satire, which I think was the case with the actual G.L.O.W. tag team the Housewives, who wore hair curlers and bathrobes and whined about their opponents dressing like tramps. On the show the satire defense applies best to Welfare Queen (Stevens), a villain who parodies right wingers' greatest nightmare/wet dream by bragging about getting rich from the government and stuffing food stamps in people's mouths like Ted Dibiase did with hundred dollar bills. It's, uh… very uncomfortable satire, in my opinion.
In one of my favorite episodes, Cherry realizes how bad they're going to look beating up "old" white ladies and comes up with a brilliant way to get the crowd on their side (SPOILER: She convinces the Bitties to fight them wearing Klan robes.) But most of them don't get that luxury. I like the scene where "Beirut the Mad Bomber" (Sunita Mani, Mr. Robot), after getting serious, beer-can-throwing heat from a crowd riled up by the hostage crisis in the headlines, goes backstage feeling bad about them genuinely hating her. Britannica (singer Kate Nash), trying to be supportive, asks, "Yeah, but that just means you're doing a good job, doesn't it?" The scene ends without an answer.
(Read my review of THE SHEIK for more thoughts on this dilemma.)
A podcast I listen to, in the context of praising the show, mentioned disappointment that it's about "fighting over a man." I think that's wrong. They never fight over the man, only over the betrayal of a friendship. Everyone also seems to mention that there's a little bit of nudity on the show, and some of you brought it up in a comment thread. I guess I didn't know anything about the marketing that Majestyk considers hypocritical, but in the context of the show I don't see anything exploitative or inorganic about these moments, other than that you never thought you'd see Marc Maron's ass. If we're going to ditch the restraints of advertising-based television it's only natural to leave behind the PG-13 boob-covering blanket. And I guess I take the STARSHIP TROOPERS shower scene position that we should've moved beyond making a big deal out of naked bodies. That we do make a big deal out of them, though, is the whole reason for the scene, because they know the shock of the abrupt cut makes Ruth's moral lapse funnier. We wouldn't shout "oh no!" at the screen if they were tastefully blocked by romantic candles.
The creators have said they're fascinated by the question of whether the women are being empowered or exploited by G.L.O.W. I think they've made a good argument for empowered. Though they're wearing spandex and high cut leotards, they don't seem sexualized. They seem like super heroes. They're relatable people overcoming a lack of experience, questionable organization and funding, societal prejudice against women and also against wrestling, to become icons. So when they get in the ring and they manage to fly through the air or take a hit convincingly it feels like a great triumph.
The character of Sam, it has been pointed out, must be loosely inspired by Matt Cimber, who directed G.L.O.W. but also CANDY TANGERINE MAN, HUNDRA, YELLOW HAIR AND THE FORTRESS OF GOLD and THE WITCH WHO CAME FROM THE SEA. Sam sometimes mentions the eight movies he's directed, and they don't sound as cool, but he prides himself on having what he thinks are deep left wing ideas in what other people just see as trash. And now he's clumsily trying to use wrestling as a vehicle for that type of expression.
All of these characters (including the producer and director) are failures in some way, and are fighting to prove their worth. All of them have something that they need to express or exorcise, and they discover how to do it through wrestling. We get to know them as vulnerable, flawed, funny people living together in this hotel, and then when they're in character they tap into something different. In the guise of arch-enemies American Belle and Zoya the Destroya, Debbie and Ruth are closer than ever. They work hard together, support and encourage each other, collaborate, are physically intimate, and put full trust in each other. But outside of the ring, as co-workers with a history, they have a hard time even talking. Only in their exaggerated selves can they stay best friends.
In my experience, many of these shows designed to dump onto streaming all at once tend to have longer and more episodes than the story requires. They don't need you to tune in every week like a real TV show, they just need you to leave the Netflix on all day while you sort of watch and sort of look at your phone. I'm not really made for that type of thing and if I live another 50 years I don' think I'll be able to get to the end of Daredevil season 1. Sorry. But this one I got through in a couple of days, and I can't wait for more.
In asking me why I like this show, Majestyk made it clear he wasn't in love with it, explaining "I keep almost giving up on [it] because it's a lady wrestling show that seems to find cute pizza boys, Russian landlords, and obnoxious theater kid neuroses more interesting than, you know, lady wrestling."
But I guess I disagree that this should be limited to focusing on the physical act of wrestling. The premise, taken from reality, is an underdog story of unlikely people becoming wrestlers, originally as a gig before it takes over their lives. It's also largely about Ruth trying to find her character. You guys have all heard, or experienced yourself, that a big part of writing is going throughout your day not getting jack shit done while your brain tries to figure out what the fuck you are gonna put on the page – in this show wrestling is kinda like that. Ruth awkwardly latches onto a Russian person and meets his family as research to play a villainous Russian. Debbie attends a real wrestling event to understand what she's up against. Sheila the She-Wolf (Gayle Rankin) tries not to let anyone see her out of character.
To me the process of getting to the wrestling is what makes the wrestling a thrill. Otherwise wouldn't this just be non-wrestlers doing fake matches? Shouldn't we just watch wrestling then?
I love these characters and root for them. You know how much? To the point that when Britannica gets them to join in a terrible "Super Bowl Shuffle" style rap (like they did on the actual show), first as a time killer and then as a demonstration of unity and pride, I find it actually moving. I'm sensitive about terrible rapping, even when it's intentional like this, so that's a true achievement in my opinion. I guess what I'm saying is that GLOW is better than BULWORTH.
P.S. Extra special thanks to my friend Jason B., who generously allowed me to use his Netflix to watch this and some of their exclusive movies to review in the future. I can now say from experience that their streaming service is catastrophic as a replacement for video stores (I can't abide by a world where kids grow up with no access to T2) but really cool to have as a supplement.
This entry was posted on Thursday, July 13th, 2017 at 9:50 am and is filed under
Comedy/Laffs
,
Drama
,
Reviews
. You can follow any responses to this entry through the
RSS 2.0
feed. You can skip to the end and leave a response. Pinging is currently not allowed.