Released in February of 2001, VALENTINE was one of the last of (the last of?) the post-SCREAM studio slasher movies. Its low box office totals, combined with the success of THE RING the next year, might've sealed the deal on that particular horror cycle. It's directed by Jamie Blanks, who debuted with the similarly crappy URBAN LEGEND and later returned to his native Australia, where the spirit of the Tasmanian tiger or something blows in the wind, into his lungs, inspiring him to make much better movies (STORM WARNING, NATURE'S GRAVE).
The story begins with a flashback to a CARRIE type humiliation at a middle school Valentine's Day dance. A nerdy kid named Jeremy Melton keeps asking girls to dance with him, and they all basically tell him to fuck off. Even the girl sitting sadly by herself seems like she's gonna say no, but next thing you know they're making out under the bleachers. This seems like a major coup for the nerd, but when the popular kids spot what's going on they get the girl to cry rape and then they strip the kid to his underwear and start beating him up. I'm pretty sure they're on their way to sticking a broom handle up his ass when it skips forward to the future. I will not tell you whether or not these past events have any bearing on what happens in the present.
Okay I can't keep it a secret any longer, this is about how 13 years later the grown up girls who turned him down start getting killed by a dude wearing a cupid mask who leaves them threatening valentines and (in one case) maggoty chocolates. I wish there were also clues left on conversation hearts, but I can't win 'em all. Seems like it's that nerd kid killing everybody, but "Jeremy Melton couldn't manage a water fountain without screwing up. I don't think he's capable of an intricate revenge plot," says Denise Richards.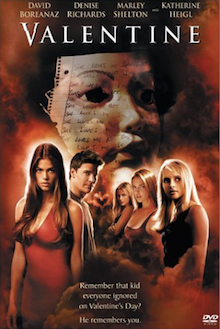 The unfortunately-now-formulaic Janet Leigh/Drew Barrymore role goes to Katherine Heigl, post-UNDER SIEGE 2: DARK TERRITORY and BRIDE OF CHUCKY but pre-everybody-else-knowing-who-she-was. She's a medical student who gets stalked in a big lonely building surrounded by cadavers. The killer has a creepy look with that blank-expression angel-face mask, a sort of old-timey black coat and blood dripping out of the nose (he's allergic to peanuts or something). This is the scariest part of the movie because after he determines that she must be hiding in a body bag he walks down two rows of carts systematically stabbing all the dead bodies while you wait to see which one is gonna be her.
So the girls from the middle school dance were all and still are friends who live in the same area. I'm not totally clear on who lives where, but at least one of them lives in a big mansion. They all have love problems though: Marley Shelton (Earl MacGraw's daughter in both GRINDHOUSE movies) is hesitant to get back together with her alcoholic boyfriend (David Boreanaz) so she goes "turbo dating" with her openly-slutty best friend Paige (Richards) while Dorothy, the false-accuser-from-beneath-the-bleachers (Jessica Capshaw) has a mysterious new boyfriend who she's paranoid about losing because she's still hung up on how she was "fat" as a kid (I saw the flashback, and she was not very fat).
There's really not much to the plot here, and it's not told very clearly. I was confused and had to rewind to try to understand a major plot point about some suspect that the police questioned and had to let go. And there's not much of an arc, other than the Dorothy girl is gonna have a Valentine's Day party. It's weird that this girl who thinks she's been an outcast for her whole life is able to throw a huge mansion party with like 200 good looking people there having fun. But then she pouts and says mean things to everybody because her boyfriend "stood her up." (He seems like a scumbag and suffers from embarrassing erectile dysfunction but in his defense I don't think he would've let her down at the party if not for being ax-murdered.)
The "kills" are not memorable at all. In fact, there's one that has a long stalking set up involving water and power being shut off, you're waiting to see what gimmick they go for and then it's just one strike of the ax to the back. It almost works as a play on your expectations except the other murders aren't anything fancy either. And I know horror movies don't have to be gorey but in a silly one like this that isn't genuinely scary and doesn't have much of anything to offer they oughta have blood and limbs and eyeballs bouncing off the walls and dipped in chocolate.
The best one is definitely (SPOILER) Denise Richards, who makes the mistake of suddenly for no reason leaving the crowded party to sit in a hot tub completely alone in a building with the lights off and her eyes closed. (She didn't know not to do that because it wasn't a rule in SCREAM.) He closes the lid of the tub on her, it's glass so you can see her squirming around in there. Then suddenly he has a huge power drill and starts putting holes in the lid. Either they didn't plan it out very well or she's just supposed to be really stupid because she desperately puts her mouth over one of the holes to breathe even though there's clearly plenty of air at the top and her head is not submerged in the water.
I don't know why but no matter how shitty they are I seem to get at least a little enjoyment out of these formulaic slashers as long as they seem professionally made and are kind of old. I probly wouldn't have gotten much out of this at the time but now that it's from a bygone era (pre-9-11 even) it's mildly diverting time capsule garbage.
Like alot of the movies I review here the enjoyment in this one comes from the occasional head-scratching moments where I honestly don't know what they were going for. Just little odd moments that don't really connect to each other or add up into anything specific. For example, when a cop is showing them age enhanced renditions of a childhood photo of the Melton kid they picked on she asks "Do you have any more recent pictures of him?" and the cop reacts with appropriate sarcasm. This is the heroine of the movie asking what the script is acknowledging is an idiotic question.
After that meeting, I guess just to set him up as a red herring, the detective hits on Paige. She turns him down and then he checks out her ass as she leaves his office. Then he behaves himself for the rest of the movie and is a good guy.
In another scene the killer seems to be walking in on a woman sexily putting on stockings, then it turns out to be a guy.
At the big Valentine's Day party, before her date with drill destiny, a sleazy guy Paige met from the "turbo dating" gets her to go upstairs to "show her something," which of course turns out to be his dick. She's insulted so she plays the ol' movie trick of pretending to be interested until she gets him naked strapped to a bed and then dumps hot candle wax on his dick. In fact, that should be a rule in SCREAM: never let a girl tie you up for sex.
But here's the thing: she then goes downstairs and doesn't tell anybody about it. This is her friend's house, presumably her friend's bed. Seems like it would be polite to mention the tied-up naked dude. Worse, it's a major waste of storytelling potential. Later in the movie it's been completely forgotten, why not have the killer chase somebody into a room where they are confronted by a tied-up naked dude's boner? That would be a shocker. Better than a shrieking cat jumping out all the sudden.
VALENTINE was written by Donna & Wayne Powers (DEEP BLUE SEA) and Gretchen J. Berg & Aaron Harberts (Beverly Hills 90210). Back then people criticized slasher movies like this for having young stars from shows on the WB Network, but they didn't know this one was actual 90210 writers.
It was based on a book, by the way. Loosely it sounds like. But that's my goal in life now. I want to write a book that gets loosely adapted into a crappy movie like this so I can always complain about it. Or a good movie I could be proud of would also be acceptable.
Although I love the concept of the miner in MY BLOODY VALENTINE, this cupid mask deal is definitely the coolest looking of the Valentine's Day slashers. And there's another thing that stands out about this one. All four Valentine's Day slasher movies that I watched this week start out with a flashback to a horrible incident on Valentine's Day years ago and then skip to the present when the anniversary causes a series of murders. But this is the only one where the original incident was not a murder, it was only a beating. So VALENTINE is the most original Valentine's Day slasher ever made! Congratulations to everyone involved. I'll buy you a balloon bouquet and a shitty teddy bear.