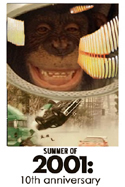 released June 15th, 2001
Lara Croft (Angelina Jolie)'s trade is a "tomb raider," which is like an asskicking archaelogical adventurist. It's just like whatsisdick, the guy with the hat from that other movie that also used the word "raider" in the title – but don't worry, that's a coincidence. Lara's introduced in what looks like some sort of an ancient crypt. She's wearing short shorts, a The Phantom belt, spinning two pistols. Her crotch and her large, pointy boobs are somewhat emphasized, in my opinion. Might just be me.
Wouldn't you fuckin know it, her search for treasure is interrupted by a large robot. Cue the electronical music and the wire-assisted acrobatics (remember we're just two years after THE MATRIX). The fight is too forced to be very exciting in my opinion, but it ends on a nice touch: after killing the robot Lara takes a breath, then laughs to herself.

Unfortunately that little human moment becomes lame punchline when you realize this isn't a real tomb being raided, it's a training facility she has in her mansion. I guess in this business you gotta be ready for robots to interrupt your archaeological discoveries, and Lara Croft can afford to prepare. Turns out she's not just Indiana Jones, she's also Bruce Wayne or Tony Stark. She inherited the mansion and tomb raiding profession from her pops (Jolie's real life estranged father Jon Voight). She has an Alfred and a Q (the nerd who built the robot). She's a real brat, though. I guess it's supposed to mean she has Attitude, but she seems a little on the obnoxious side, always putting her feet up to show off her boots whether she's in her office or at an auction. It's so rude. I guess at least she doesn't have mummy shit on 'em.
Lara drives a motorcycle, which always makes a movie character look cool. Have you noticed that? Maybe it's because sunglasses and leather are appropriate motorcycle wear, and those are also signifiers of cool independent of the form of transportation itself. Anyway she zips through traffic and everybody's honking at her. Again, it means she has Attitude, but also that she's a terrible driver.
But she's talented in other areas. At one point we learn she's ex-special ops, with favors to call in. So I guess she's earned some of these fighting skills through experience and elite training. It's not all daddy buying her robots to practice on. She has a vast knowledge of ancient relics, she's good at solving puzzles and climbing things, and she speaks Russian.
At some point it should be said that she lives in England. So yes, Jolie's doing an accent, and the supporting characters always gotta say things like "Oh, bugger!" so we Americans will know it's legit. I didn't think it was real bad, but I thought I should mention it. You have the right to know.
If this next part is sexist then I apologize and condemn my actions, but I feel I also gotta talk about Lara's boobs. This is based on a video game and the character was most famous for her… let's say idealized proportions. I remember seeing articles at the time, it seemed like breast-size was a major issue with the filmatistic adaptation. Fortunately whatever they did to augment Jolie's equipment does the job. I'd like to think it's mainly the movie's presentation that brings my eye right to the chest, and not just my own weakness. They got one of those badass shots where she's with a group of guys walking slow motion toward the camera, she's wearing a long coat with a hood on it, there's two helicopters behind them, still my eyes go immediately to the boobs poking out of the coat. Now that's a good composition.
Okay so I mentioned the accent, the breasts, now let's discuss the plot. The Illuminati (old guys with ties sitting at one of those Evil Tables) are trying to pull some shit that involves some ancient relics and a planetary alignment that only happens once every 5,000 years. It just so happens that Lara has one of the relics needed to find the other relics, so she gets mixed up in this. Also one of her colleagues in the tomb raiding industry, played by Daniel Craig, is trying to get the same pieces. They have a flirtatious rivalry, they seem to be ex-partners and lovers or something like that. They kind of hate each other and kind of love each other, I think. She hates that he's into tomb raiding only for the money, but that's easy for her to say, she doesn't need money. To her "doing it for the money" might as well be "doing it in trade for Kleenex" or "will work for hugs." Making more money is meaningless to her.
This was before Craig was known in the U.S., but it's a major part. They were smart enough to showcase him. Director Simon West even tries give Jolie and Craig equal ogling. They each have their own sensual shower scenes, and Craig is shown naked from just above the equipment.
She does some climbing around on shit. At the climax there's a big metal solar system puzzle thing that spins around in different directions and they crawl up it, jumping from level to level, ducking to not get hit and stuff, and you remember oh yeah, this is based on a video game.
It makes you wonder, why do these ancient contraptions always work? You know, you put the medallion in place, you reflect sunlight onto the thing, you stand on the right tile, whatever, it makes some big stone gear turn and a thing rises up and reflects a beam onto a wall and it opens up and whatever the ancient people planned. It seems like at least every once in a while, and more likely almost every god damn time, something would go wrong. There's too much sand and cobwebs and rat skeletons and shit inside there, something gets stuck and none of it works. Prophecy not fulfilled. Or maybe they just planned it wrong in the first place, put something at the wrong angle or measured it wrong, or didn't account for wind. Just one of these times I'd like to see everybody fighting over the relic and then they try to do the ritual and nothing happens, or it rumbles a little and then peters out. Oh well.
My favorite scene is when Lara is in her pajamas and turns on some classical music while she does her evening indoor bungee ballet. It's good to have high ceilings for this type of activity. This would not work in any house or apartment I ever lived in, that's why I never had enough training to tomb raid. It would probly be my favorite scene even if it was just a depiction of what she does to relax, but then she gets attacked and I like that it's an excuse to do a big wire-fu scene without having to hide the wires. Next thing you know she's doing a motorcycle jump in PJs and slippers, firing a machine gun in mid-air. I think if I was Daniel Craig I'd try to get back together with her.
It could use a better bad guy I think, but there's one part I gotta give them credit for. The guy is camped out in Africa somewhere, he sets up a fancy couch outside to lay on. That's a guy you're gonna root against.
Watching the 2001 summer movies all in a row like this I couldn't help but compare TOMB RAIDER to THE MUMMY RETURNS, since both are clearly inspired by RAIDERS OF THE LOST ARK. They got their archaeologist heroes sneaking around in ancient tombs, dealing with fancy puzzles and curses and shit. If IMDb is to be believed, LARA CROFT cost about $80 million to make, and MUMMY RETURNS $98 million, so it's a stretch to call this the b-movie version, but that's what it feels like. It seems cheaper than MUMMY RETURNS, not as slick and without the period detail, but I liked it alot better. The story at least has a structure to it and the character is kind of cool at times. And has big pointy boobs, not sure if I made that clear or not.
It's not as much of a show-offy effects movie as MUMMY RETURNS, but that's a good thing because the effects they do they're able to pull off. The robot and the living monkey god statues in this look much more real than the mummies or scorpion kings in the other one.
I remember at the time they made a really big deal about The Rock being in MUMMY RETURNS and how he was gonna be a big movie star. They were right about that, but he was in less than 5 minutes at the beginning, with one line and not in English. Meanwhile nobody knew that Lara Croft's rival/love interest – an actual major role in the movie – was gonna be the next James Bond. And he's playing American to balance out Jolie playing British.
The script is credited to a bunch of people including Mike Werb & Michael Colleary of FACE/OFF fame. The director is Simon CON AIR West, who I've always thought was the worst of the worst, but my opinion on him has softened, especially after this. He's gone on to last year's fairly decent post-action remake of THE MECHANIC and has recently been hired for EXPENDABLES 2: HOPEFULLY THE TALKING SCENES WILL BE OKAY.
I cannot claim that this is a good example of a summer movie, but it's not as bad as its reputation. Actually it's the one I've enjoyed most of this 2001 summer movie marathon so far. It would be embarrassing if this was the best movie of the summer, but I like a couple of these too. I mean, TERMINATOR 2 came out summer of '91, that doesn't mean I can't also enjoy KICKBOXER 2, that came out the same summer. And also POINT BREAK and STONE COLD. And DOUBLE IMPACT. Oh shit, why didn't I do 1991?
In conclusion, I just learned that today is the 20th anniversary of the release of SUBURBAN COMMANDO. But LARA CROFT: TOMB RAIDER is still semi-watchable.
* * *
Legacy: 1 sequel. Jolie continued to play larger-than-life action heroines in SKY CAPTAIN, MR. AND MRS. SMITH, WANTED and SALT. Not sure if the video game series is still relevant, I have not noticed any commercials in recent years.
Datedness: the dance music, the wirework, the fact that it's based on a video game
Would they make a movie like this now? No, not at all. Maybe a TV pilot.
Summer '01-'11 connections: Daniel Craig will be starring in COWBOYS & ALIENS with the guy who played the real Indiana Jones.