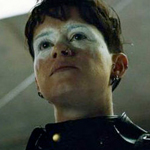 It's fair to say that earlier in the century The Girl With the Dragon Tattoo was a pop culture phenomenon. Stieg Larsson's three novels, posthumously published starting in 2005, were worldwide hits. I enjoyed the stories through their 2009 Swedish movie adaptations (THE GIRL WITH THE DRAGON TATTOO, THE GIRL WHO PLAYED WITH FIRE, THE GIRL WHO KICKED THE HORNET'S NEST) which launched their star Noomi Rapace (PROMETHEUS, PASSION, DEAD MAN DOWN, THE DROP, CLOSE) into international movie stardom, and their leading man Michael Nyqvist into spending his last years playing bad guys in Hollywood movies including ABDUCTION, MISSION: IMPOSSIBLE – GHOST PROTOCOL and JOHN WICK (where he delivers the best syllable: "Oh."). David Fincher's 2011 English language take on the first book was pretty great and even got Rooney Mara an unlikely but well-deserved Oscar nomination.
But it wasn't a big enough hit to justify a sequel budgeted for Fincher, Mara and Daniel Craig, so after years of haggling they went with plan B: a lower budget sequel with new director and cast, based not on the next in the trilogy but a continuation written by new author David Lagercrantz. And nobody really seemed to be waiting for that.
Except me! Selling point #1: director Fede Alvarez, who really impressed me with EVIL DEAD and DON'T BREATHE. Selling point #2: less grim and rapey, more fun and actiony. You still got the trademark fucked up and fetishy shit of the snow-bitten Larssonverse, but in this one our heroine is never sexually assaulted, but does have high speed chases on multiple vehicle types. Hot move: ditching police cars by jumping your motorcycle onto a frozen lake.
I felt that Fincher, by having what I called at the time "an evil version of a James Bond opening credits sequence" and casting Craig as the boyfriend-in-distress, positioned Lisbeth Salander as a 21st century alternative to 007. And it's true, she's a modern day pulp hero. Just like Bond she was in a series of books that were continued after the author's death, and she's been in a series of movies played by multiple actors, where she becomes increasingly capable of spectacular feats. Like Bond she has many sexual conquests, but they include men, women, and in this one a 6′ 1″ trans woman (model Andreja Pejic). Unlike Bond, Lisbeth dresses punk and works against the government and the system as a freelancer or vigilante. And she has an expensive sports car, but it's stolen.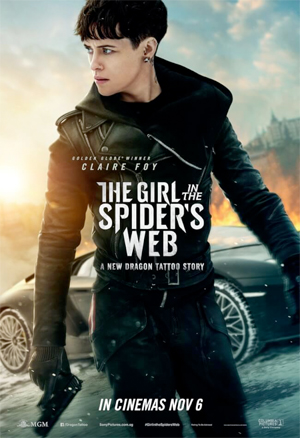 One weird thing about this character, or a sign that the movie worked on me: despite my attachment to both Rapace and Mara's versions of Lisbeth, there wasn't a moment where I didn't accept Claire Foy (SEASON OF THE WITCH) in the role. Hers is arguably less angry and definitely less aggressively punk (no spikes, no shaved hair), but she does have some intimidating facepaint during her opening vigilante mission to terrorize a woman-beating CEO.
In this one – adapted by Steven Knight (EASTERN PROMISES, REDEMPTION, LOCKE) and then revised by Alvarez and Jay Basu (MONSTERS: DARK CONTINENT) – Lisbeth is hired by genius computer programmer Frans Balder (Stephen Merchant, LOGAN) to steal back a program he created for the NSA. It's called Firefall and it has something to do with nuclear weapons so he's decided it's too dangerous to exist. Yeah, no problem, but when she breaks into the NSA servers Agent Edwin Needham (Lakeith Stanfield, MILES AHEAD) notices it happening, traces the source and personally heads to Stockholm to find her. She has the program on a thumbdrive but doesn't know the answers to a riddle needed to open it and then some other violent dudes come trying to get it from her. And she ends up having to protect Balder's son (Christopher Convery) – long story.
She's skinny and they're killers but she outsmarts and out-toughs anybody that comes after her. She leaps away from explosions, breaks into high security areas, uses surveillance systems to figure things out. When the Swedish Security Service arrests Needham for interfering with their business she busts him out and forces him to take care of the kid. So he's sort of her Felix Sater in my opinion. Stanfield seems like strange casting for an NSA agent at first, but we learn that he's a legendary hacker who started working for the government – you know, like BLACKHAT – and then it kinda makes more sense that he's an oddball. Doesn't stop him from using a sniper rifle though.
Also in Lisbeth's corner: her hacker pal Plague (Cameron Britton, Mindhunter), who backs her up in his hacker van, and of course her sometimes lover, the famous investigative journalist Mikael Blomkvist (Sverrir Gudnason, BORG VS McENROE) of Millennium magazine. Poor Gudnason is a few years younger than either Nyqvist or Craig were and much more of a traditional pretty boy. It's an unfair position to be put into, to replace fuckin Daniel Craig when you're a regular human, so it's lucky that the character is a little less central to the story this time.
In my review of Alvarez's last film, DON'T BREATHE, I tried to describe the moment I realized I loved the movie during a suspense sequence of DePalmian complexity. In SPIDER'S WEB I'd say that was somewhere during the long sequence where she gets injected with a tranquilizer and, though barely able to move, manages to snort amphetamines and then not only drive a stolen police car at high speeds while impaired, but also zero in on her prey using security camera footage, police databases, GPS and the hacking of an onboard computer system.
When Lisbeth is on the run from both killers and law enforcement, she steals a badass black Lamborghini (the kid's choice) and moves into an abandoned geodesic dome. I suppose you could be the kind of person who gets mad at a movie for existing in a reality where someone would and could do that, but I'm the other kind of person. Also, I'll just come out and say it: she has an evil sister. A twin in the book, I guess, but here she's played by Sylvia Hoeks (Luv from BLADE RUNNER 2049). It's been a while since I've seen the other ones, but I believe this ignores the revelations of part 2, because their father Alexander Zalachenko (Mikael Persbrandt, KING ARTHUR: THE LEGEND OF THE SWORD) seems to be a sicko abuser, but not necessarily a former Soviet spy who, now disfigured by Lisbeth's molotov cocktail, runs a sex trafficking ring with her half brother, who can't feel pain.
It seems this movie wasn't a success, which is too bad, because I really would've liked to see her further adventures into the Spider's-Web-Verse. Maybe they'll keep trying it again with a different actress every several years.