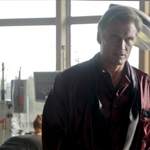 THE PACKAGE continues two DTV trends that I enjoy:
1. Stone Cold Steve Austin, possible heir to the DTV throne, co-starring with all the other icons of the DTV Action Era. This is his Dolph Lundgren movie. Previously he did his Michael Jai White movie TACTICAL FORCE, his Danny Trejo movie RECOIL and his Steven Seagal movie MAXIMUM CONVICTION. He's still got to do a Van Damme, an Adkins and a Cuba Gooding Jr.
2. Dolph doing colorful supporting roles where he gets to goof around more. He also stole the show in ONE IN THE CHAMBER and THE EXPENDABLESes and I haven't seen STASH HOUSE or SMALL APARTMENTS but I bet it's true of those too. Maybe all these roles where he gets to experiment more will bring something new to him next time he's the leading man again.
Austin is the star here, playing Tommy, loyal enforcer to the gangster Big Doug (Eric Keenleyside). He'd like to get out, and his wife thinks he could just be a bouncer, but after Afghanistan he feels like he's only good at violence, plus he's working off the debt of his little brother Eddie (Lochlyn Munro), who stole from Big Doug and is now in the joint. But now Tommy is offered an important job that would pay off the family debt. He just has to deliver "the package" to "the German" (Dolph). I don't want to give anything away but in my opinion I get the feeling there might be more to this gig than he's told.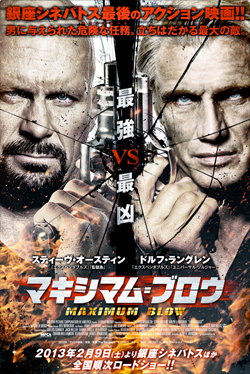 See the thing is there are a couple different bosses vying for power here. The other guy finds out that Tommy is bringing something valuable to the German, so he sends a crew of ex-military contractors to intercept it. They're led by Darren Shahlavi (who played Twister, the asshole British fighter in IP MAN 2), they are heavily armed and very professional, but they still get shown up as chumps after they kill Tommy's partner, flip his car and shoot at him in a small town grocery and feed store. The best part is how he K.O.s Shahlavi by slamming him against a shelf, and the fucker wakes up when it's over and chews out all the others like it's their fault. Hey man, I was unconscious the whole time, so it can't be my fault.
One of the guys in this scene is so big he gets away with calling Stone Cold "little girl."
The inclusion of military contractors leads to an interesting bit of politics. The woman on the team, who really has it out for Tommy (he killed her fiancee in the feed store, boo hoo) is said to have been a former U.S. intelligence operative who interrogated al Quaeda suspects. She brags about how sadistic she is. Off the top of my head I can't think of another action movie that uses our reputation for post 9-11 human rights abuses as a bad guy bonafide. That might even be a little bit subversive.
When one lesser known white guy screen martial artist fails it's time to call in another one. Former PKA and PKC kickboxing champion of the world Jerry Trimble (TERMINATOR WOMAN) is the man they send in after Shahlavi. It's cool to see him again, fitting nicely into the veteran-mob-guy role but also getting to fight. There are some obvious stunt double shots but you can see him getting in poses and stuff. He fights Tommy with the action movie atmosphere double whammy of light snow at night and sparks from a welding torch. After a while I started to wonder why those guys keep welding on top of that platform and never seem to notice there's guys fighting beneath them. Just minding their own business, I guess.
Meanwhile people are trying to kill Dolph too, and he's not having it. He disagrees. In one scene he's set up to be shot to pieces by a bunch of guys with machine guns. He picks up a small steak knife from a table, kills all of them, washes the knife in the sink. Also in this scene his arms burst through a wall to strangle a guy, clearly a Jason Voorhees move. In another scene he has a bunch of mob enforcers tied up and wounded and he decides for some reason to give them a cooking show style demonstration of how to make a healthy smoothie.
Austin is a good example of this type of actor I like who has pretty much no range at all, but a very likable action hero persona and screen presence. You watch his movies for the tiny variations. The unique angle here is his relationship with his boss, who you assume is really out to screw him. His wife implies as much, asking why he keeps a gun under the table if they're partners. But in fact parties' claims of respect and loyalty to each other are genuine.
Well, I guess Big Doug does betray him in the way that Lando betrayed Han. But, like Lando, he tries to make up for it with his later actions. I like when Tommy calls Doug to try to get out of the job, Doug sort of shuts him down but instead of getting mad Tommy agrees to do what he wants and just says, "Thanks Doug." That's a Stone Cold thing, a kind of matter of fact acceptance of the way shit is, instead of whining or yelling at somebody.
Lando and Han are from "STAR WARS" by the way.
Tommy has other moments of vulnerability besides trying to get out of the job. There's a scene where he's waiting for a doctor, looks at himself shirtless in the mirror and says "Still here, old man. Still here." He's a survivor, but he seems to think his luck will run out eventually. Before calling Doug to try to get out of the job he calls his wife. He pretends it's to say hi but you know it's to hear her voice one more time in case he gets his ass killed real soon.
In a more standard Stone Cold moment he calls Shahlavi "sunshine." And he trades a Mercedes for a big pickup truck. I mean, this is a guy who is not gonna feel comfortable driving anything that is not a big pickup truck.
His "just how badass is his?" moment is when he's tied to a chair, headbutts the boss man one time and kills him. "Killed him with one hit," says one of the mercs. "I never seen anything like it, chief!"
This one starts in fake Seattle, but he's traveling to The German in Vancouver, so parts of it are the rare Vancouver-as-Vancouver. One question: how is he hitchhiking and suddenly he's in Canada? Do they really let you bring a hitchhiker over the border with you?
The director is stuntman Jesse V. Johnson. I enjoyed his aging-hitman-Eric-Roberts movie THE BUTCHER, although it could've used a whole lot of streamlining. THE PACKAGE is much tighter though some of the scenes with his wife and stuff seem too long and slow. I wish the whole movie was as confident as the opening sequence where footage of bowling alley machinery gives way to a mini-story about Tommy coming to collect money from an obnoxious bowler. My two favorite touches in this scene: the way they communicate which friend sold him out and the manager who pulls a shotgun on him and won't let him leave, saying it's because he has his shoes.
Every once in a while there's a good laugh, always intentional. When Austin and Lundgren finally meet up Lundgren says, "Hello, Tommy."
"Hey, The German," he replies.
Writer Derek Kolstad also did ONE IN THE CHAMBER, which is arguably slightly more inspired, but they're both pretty solid. Jesse V. Johnson trivia: the same year he made this he did stunts in LINCOLN and THE MASTER.