Man, I hadn't seen GAME OF DEATH in a long time. I forgot it was this ridiculous. It's known for the yellow jumpsuit (homaged in BERRY GORDY'S THE LAST DRAGON, SHAOLIN SOCCER, KILL BILL VOLUME 1, etc.) and his fight against Kareem Abdul Jabbar while wearing it. But that's only 11 minutes at the end, taken from the unfinished movie Bruce started directing before he took the opportunity to star in ENTER THE DRAGON. The other 90% is a bunch of filler bullshit trying to stretch those scenes out to feature length, with an entirely different plot that sleazily exploits the mystery surrounding Lee's death.
But you know what, some of Lee's friends and students are in it, so they must've approved. For example, Chuck Norris. Oh wait, that's just clips from WAY OF THE DRAGON. Well, what about Kareem Abdul Jabbar? Oh wait, that's some other tall black dude in sunglasses, because Kareem didn't want to take part in the new scenes.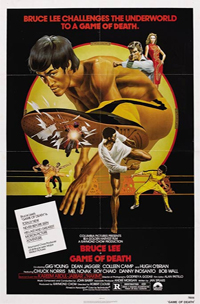 Well, they did get some of the ENTER THE DRAGON crew on board. They got director Robert Clouse and co-stars Bob Wall (as champion Carl "Killer" Miller) and Sammo Hung (as one of Miller's opponents – the only real solid non-Bruce fight in the movie). Also there's a real fancy credits sequence and cool theme song by John Barry, so you know it's legit.
But just to be safe they also filled the cast with famous American actors in useless bit parts as villains and shit. They got two Oscar winners in there, Dean Jagger and Gig Young. It was a posthumous release for Gig Young too, because he committed suicide before it was released. I don't know if there was a better more philosophical version of his scenes that got cut out and will be revealed in a separate documentary, like what happened with Bruce's scenes. But at least they don't have a guy wearing sunglasses pretending to be Gig Young.
The main character is Billy Lo, a famous martial arts star seen filming Bruce Lee's movies (specifically the endings of WAY OF THE DRAGON and FIST OF FURY). But so-called accidents on set (including a gunshot that will forever be linked to poor Brandon Lee's real life accident) keep almost killing him. Some sleazy businessmen/criminals are trying to get a cut of his earnings, but he refuses to sign the contract, so they're going after him and his famous singer girlfriend. He fakes his death (with a dummy in the coffin) then re-emerges to have a series of great Bruce Lee fights against the henchmen, then the fat cats. It's funny to see him chasing after an old guy who looks about 80. It might be embarrassing if they actually dueled, even if it's switched back to fake Bruce Lee by this point. So it's for the best that the old man doesn't have to put 'em up. He just has a spectacular plummet down the side of a building, bouncing off all kinds of neon lights.
Clouse couldn't use digital face replacement like in THE CROW, and Johnny Depp/Jude Law/Colin Farrell were too young to take over at that point. So he chose the PLAN 9 FROM OUTER SPACE method of replacing a deceased actor: use a guy who looks kind of like him when he has something covering most of his face.
For most of the movie Billy Lo is played by Tai Chung Kim, who later played Lee's ghost in NO RETREAT, NO SURRENDER. But alot of the stunts are apparently done by Jackie Chan's buddy Yuen Biao. I would be happy to accept this lookalike in sunglasses as Billy Lo since I know what happened to Bruce. It could be like that Bunuel movie where two different women play the same character. But instead the filmatists keep insulting my intelligence with pathetic tricks they seem to think I might fall for, for example cutting to closeups of Lee's face from other movies. It never matches up, and the film quality is totally different. Then he'll walk onto a movie set and they'll use clips from that movie. A great way to get Chuck Noriss's name in the credits.
The most tasteless part is when Billy fakes his death and they have a bunch of actual footage of Bruce's real coffin being paraded through Hong Kong. They didn't have enough footage of him alive so they used some of him dead!
And it keeps getting funnier the more excuses they come up with to not show his face clearly. I couldn't believe it when they actually had him get shot in the face and have to wrap his whole head in bandages. I was disappointed that there were no Halloween, masquerade ball, lucha libre or bondage convention sequences. But at least there's a part where he looks in the mirror and a picture of the real Bruce's face is taped over his reflection. That's some funny shit.
I mean, before he puts on the fake beard they have him draw sunglasses and a beard on a photo of the real Bruce Lee. And you have to wonder if anybody involved in this really had faith in that psychology there. They really thought drawing a beard on a photo of Bruce Lee and then putting a fake beard on a guy who's not Bruce Lee would create an optical illusion. And also they thought a guy would want to sketch out his plan for wearing a fake beard before trying it out. Must be a boy scout.
The plot is pretty dumb, and how are we supposed to become attached to a character that they're constantly trying to hide from us? The fights are choreographed by Hung and there are some motorcycle crashes and shit, but they're clearly not up to the Lee standard. The moves aren't as impressive, the fights don't have the same kind of attention to visual storytelling, and alot of Bruce Lee's power is in his facial expressions – his crazed eyes, his cockiness, his anger – so this back-of-the-head business is no substitute.
About the only good character moment for the non-Bruce Billy Lo is when his girlfriend, thinking he's dead, pulls a gun out of her purse at the big fight to assassinate the culprit. Suddenly Billy appears behind her in old man makeup and tells her not to worry, it's being taken care of. I always enjoy a guy faking his death and then sneaking around looking after his girl, especially if he's wearing old man makeup as a disguise.
When the real honest-to-God Bruce Lee finally shows up late in the movie it's a total transformation. Suddenly the character not only looks different but has so much more personality in his expressions and movements. And his shoes morph from Adidas to Onitsuka Tigers. At last the fights are Bruce Lee fights – each one a little story. It's like a real movie just punched its way out of the stomach of the bullshit one it had been swallowed by.
He fights a couple guys, but the best of course is the Kareem fight. Bruce walks in the room and this motherfucker is standing there, a couple feet taller than him, wearing shades. He looks like a giraffe wearing shorts. Bruce looks at Kareem like "Oh shit" but then Kareem sits down in a chair, and you sense a bit of relief. Like oh good, he's gonna give me a chance at least. Bruce runs and tries to kick the giant but from his casual position Kareem extends his giant leg and sends Bruce flying with a giant footprint across his chest (the Size 16 Mark of Shame).
This fight is like an ant taking on a beetle. He has to be tenacious. He has to break this guy down, hurt him in different spots, until he gets him on the ground, then goes in for the kill.
These fights were Bruce's showcase for Jeet Kun Do, and they seem to predict (or inspire) the combined styles of today's "mixed martial arts." In particular he's using alot of wrestling moves – leg takedowns, throws, a backbreaker over his knee, grappling on the floor, and he even defeats Kareem by choking him out.
GAME OF DEATH is pretty much an abomination. They took the best, most personal thing Bruce Lee ever did and turned it into one of the most crass posthumous exploitations of all time. But he was so powerful he survived it even in death. His 11 minutes were so good that they kicked the ass of the rest of the movie and took charge. Those are the parts that survive in people's memories, that come to mind when they hear the title, that force me to "follow" Kareem on "Twitter" even though I really have no interest in his Lakers updates.
Yeah, it's an abomination, and a terrible, exploitative classic.
THINGS USED TO OBSCURE BILLY LO'S FACE CHECKLIST
[x] Large sunglasses
[x] Fake beard
[  ] Newspaper
[x] Shroud of darkness
[  ] William Shatner mask painted white with eyeholes enlarged and sideburns trimmed
[x] Bandages from bullet wound to face
[x] Motorcycle helmet with visor down
[  ] Humpty nose
[x] Old man makeup
[x] Cardboard cutout of Bruce Lee's face
This entry was posted on Tuesday, May 25th, 2010 at 3:31 am and is filed under
Martial Arts
,
Reviews
. You can follow any responses to this entry through the
RSS 2.0
feed. You can skip to the end and leave a response. Pinging is currently not allowed.