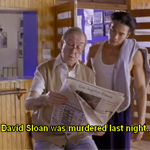 "He's a butcher. A madman. His charm and intelligence make him more dangerous than a cobra."
Life is cheap in the world of KICKBOXER. Every time the hero doesn't do a sequel, he gets unceremoniously murdered. It happened to Kurt Sloane (by way of a lookalike) in KICKBOXER 2, and now it happens to David Sloane (through the medium of silhouetted double) in KICKBOXER 5. David (offscreen) refuses to join a new South African kickboxing league, and they have him beaten to death. At least he manages to break the leg of one of his attackers (Tony Caprari, TARZAN AND THE LOST CITY), who will be on crutches for the rest of the movie.
Also worth very little in this series: subtitles. Maybe THE ROAD HOME has legitimate interpretations, and THE ART OF WAR could apply to pretty much anything, but THE AGGRESSOR was a headscratcher and THE REDEMPTION has no practical plot application. Maybe that's where the American distributors got the idea to rename THE RAID.
But if we follow my usual rule of going by what it says on the opening titles, it's just THE REDEMPTION, no KICKBOXER in the title at all. And for what it's worth, the fake David Sloane smashes that title with a flying kick.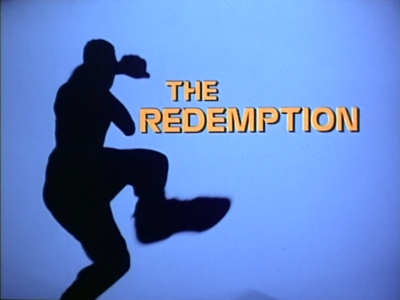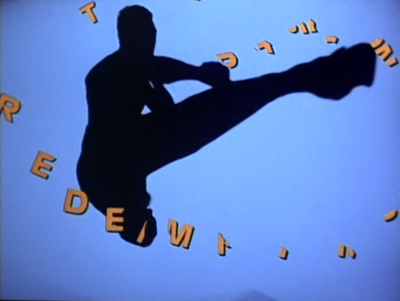 The only KICKBOXER to center on a non-Sloane, THE REDEMPTION tells the story of Matt Reeves, played by Mark Dacascos right before CRYING FREEMAN. If this is supposed to be the same Matt Reeves who would go on to direct CLOVERFIELD, LET ME IN, DAWN OF THE PLANET OF THE APES and WAR FOR THE PLANET OF THE APES then this would've been around the time of his career high of co-writing UNDER SIEGE 2: DARK TERRITORY. But as far as we see in the movie his day job is teaching kung fu to kids, and in his spare time he likes to cook. He was some sort of friend and colleague of David Sloane, and finds out about his death from his loyal old man employee Chalky (John Hussey, GET CARTER) showing him a newspaper article. He's close enough to send flowers, but not attend the funeral.
The villain in this one is Mr. Negaal (James Ryan, KARATE KILLER, KILL AND KILL AGAIN), who has been banned from professional kickboxing and is such a stubborn egomaniac that he thinks he has to rebuild the entire sport around himself. He plans "to bring order out of chaos. One organization. One set of rules. One leader."
I always enjoy when somebody who runs an international crime syndicate cares mostly about martial arts, but it's kinda cool that this one points out the absurdity of it. A Patrick-Bateman-looking money man (fight choreographer Burton Richardson) tells Negaal he could make more money laundering through parking lots, and therefore "kickboxing just doesn't make sense."
"Doesn't make sense!?," Negaal asks bitterly. "The World Kickboxing Council accused me of unsportsmanlike conduct when I killed the Dutch champion in the ring. And just so as you know it, Jack, it was a legitimate strike. I formed the Negaal Kickboxing Federation to protect the art and the sport against small minds. And now you have a problem with this? What doesn't make sense?"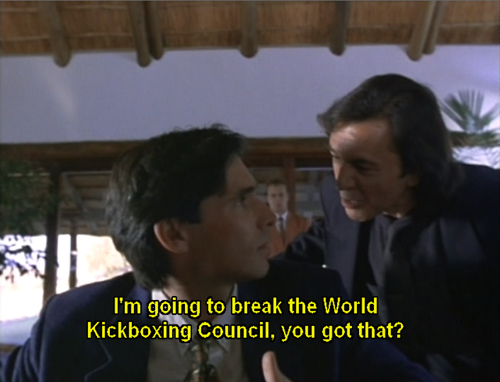 Having Negaal as a boss is kind of like having Darth Vader as a boss, except he doesn't know how to Force strangle. Just look out for his double neck chop thing.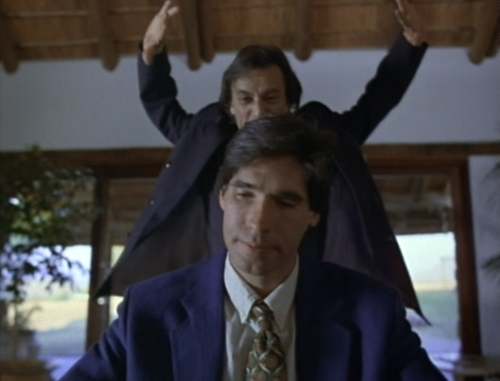 But you know what, he's also nitpicky about the drinks his butler makes him, which makes him a worse boss than Darth Vader. I don't think the Dark Lord of the Sith would be petty enough to send a drink back.
He does most of his scheming from a long table of business men and lackeys at his estate in Johannesburg. The walls are decorated with animal skins and other hunting trophies, so I didn't realize at first that the cheetah on the table was alive! In one scene he shoots a giraffe from his wooden deck overseeing the plains and then says "Beautiful animal." So yeah, he's an asshole. The other type of trophy he collects is the championship belts of the fighters he kills and/or compromises.
With no more Sloanes he wants his stooges to find another American champion, and they choose Johnny Styles (Denney Pierce, stuntman from part 4, and additional second unit director for FURIOUS 6), who Matt is close enough with to visit backstage before his championship match (Johnny later calls him his trainer). When the negotiations break down they beat Johnny to death, but at least Matt kicks a guy (George Moolman, STANDER) off the roof of the hotel onto their limo and they have to drive off with his body on top.
I love the way it's staged so that we don't see him hit, we just see the damage he causes from inside the vehicle.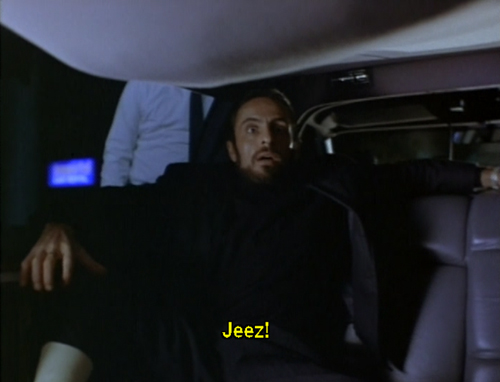 In a twist on the plot of part 4, in which the D.E.A. gets David released from prison to "eliminate" Tong Po, Negaal is able to release South African tough guy Croft (Geoff Meed, LEPRECHAUN 4: IN SPACE, BROTHER, RESIDENT EVIL: EXTINCTION, FAST FIVE) from a prison in L.A. to kill Matt. Instead, Croft ambushes and insults Matt, warns him they're trying to kill him, and heads home. But coincidentally he's on the plane next to Matt, who's headed to track down Negaal. They hate each other at first, but when Matt decides to help Croft escape from Negaal's thugs after a DIE HARD 2 style chase through the airport luggage system it begins a reluctant alliance.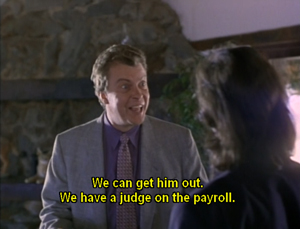 Negaal's main henchmen are not very intimidating, but they do a good job of making us hate them. The character Bollen (Greg Latter, HOWLING IV, CRY THE BELOVED COUNTRY, also writer of DELTA FORCE 3, AMERICAN NINJA 5 and many other films) is really funny in how much he smiles about things, usually with perverse excitement about somebody being humiliated.
The final showdown starts at a black tie gambling party on Negaal's property. For some reason they use that movie rule that heroes always have incredible luck at gambling, even though the plot's not about needing money for anything. My favorite bit here is when various partygoers are taking turns trying to fight Matt, and a woman who I think is on the catering staff stops one of them with a series of punches and kicks. I can't tell from the credits who she is, but here's the brief glimpse we get of her face, in case anybody recognizes her: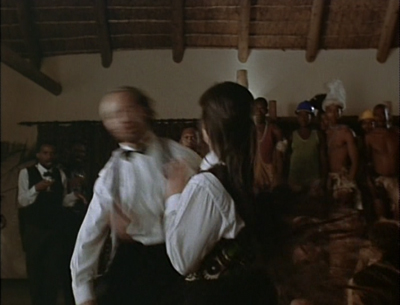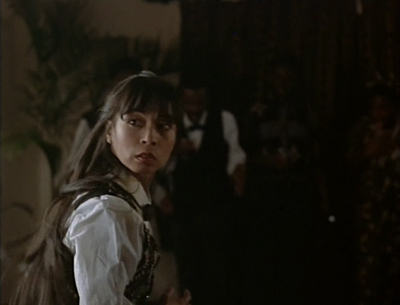 This random worker siding with them is never explained or commented on, but I'll take it as a bit of stick-it-to-The-Man class uprising, along with the moment where one of the performing stick fighters (Sammy Thekiso and George Sibersang) provide a weapon as a result of having previously met and been impressed by Matt. (Too bad they don't get in on the fight, though.)
I like the movie's justification for moving the climactic duel away from all these extras: Negaal heads back to the house to test if Matt will follow. "If he's worthy of me, he'll come." When Matt does suddenly appear inside the house it's like that moment in a romantic comedy when the person who supposedly left town actually couldn't bring themselves to do it and had to come back and confess their true feelings.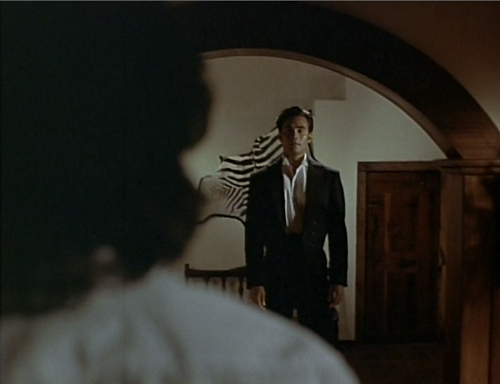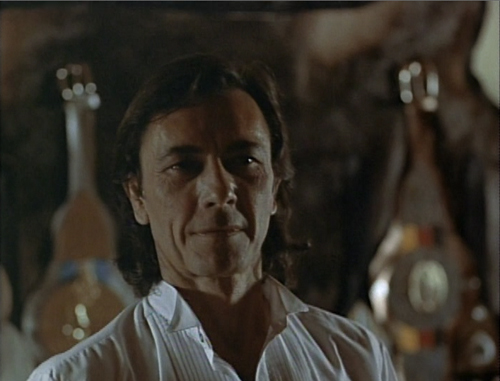 Also the staging kinda reminded me of Beatrix and Bill finally meeting up in KILL BILL VOLUME 2 and making small-talk before they get to it.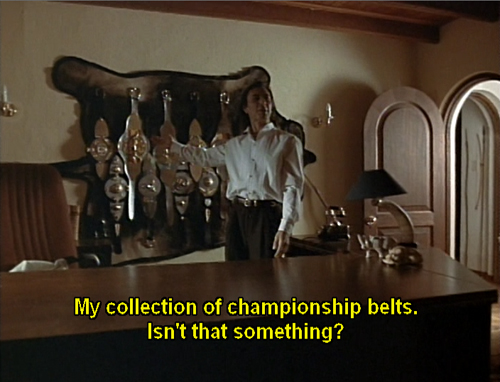 The bad news is that they fight around the house without ever smashing anything. This is definitely the type of house full of shitty status symbols that you want to see get fucked up along with the asshole that it belongs to and represents. The good news is that when Negaal takes it outside he runs and does a series of competitive-gymnastics-worthy handsprings for no reason, and then Mark gives in to peer pressure and does the same thing.
What happens at the end is a little unclear to me. (WHAT HAPPENS AT THE END SPOILERS.) Negaal has a spear at Matt's throat then suddenly spits up blood and dies. My best guess is that it's a delayed reaction to Matt's previous palm strike, which would be another KILL BILL VOLUME 2 similarity.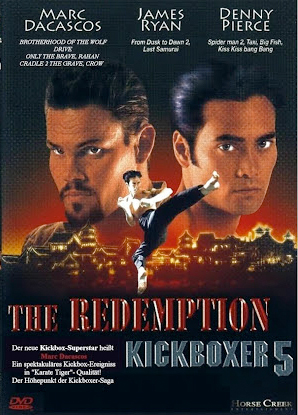 The South African setting is interesting. Unlike the AMERICAN NINJA sequels that were filmed there, this was after the official end of apartheid. We see very little integration – I think Negaal has one black businessman working for him, plus the entertainers at his party. But when Matt goes into the city it's an entirely black population, and not at all the slums we usually see in films about South Africa.
Writer Rick Filon had previously done TO DIE, TO SLEEP (1994) and STRANGER BY NIGHT (1994), and later did another Dacascos movie, SABOTAGE (1996). Geoff Meed (the guy who plays Croft) is still acting, but interestingly since 2007 he's also been a screenwriter of Asylum mockbusters including UNIVERSAL SOLDIERS, THE AMITYVILLE HAUNTING (also director), INDEPENDENTS' DAY, OPERATION DUNKIRK, ATLANTIC RIM: RESURRECTION and SAN ANDREAS MEGA QUAKE. Best of all, he wrote and co-stars in I AM OMEGA with Dacascos. He even did some fight choreography there.
THE REDEMPTION is the only KICKBOXER directed by a woman. Kristine Peterson started at Francis Ford Coppola's Zoetrope Studios, but made her bones as an assistant director on movies including EXTERMINATOR 2, CHOPPING MALL, BILL & TED'S EXCELLENT ADVENTURE, A NIGHTMARE ON ELM STREET 5: THE DREAM CHILD and TREMORS. Her first film as a director was the horror movie DEADLY DREAMS, followed by BODY CHEMISTRY. Since she directed CRITTERS 3 it is definitely absolutely true that she is 100% responsible for Leonardo Dicaprio's success, talent and contributions to philanthropy. Or at least that she's the first person to direct him in a movie. After THE REDEMPTION she only directed one other film, SLAVES TO THE UNDERGROUND (1997), a lesbian/rock 'n roll dramedy that I should probly see because it takes place in Seattle.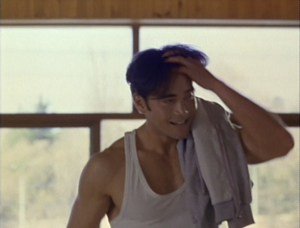 Though I'm not sure Peterson directed this much different than a man would, it does lack the sex scenes and topless women of the last installment, and never subjects its major female character (Croft's sister Angie, played by one-timer Rulan Booth) to objectification or threats of sexual assault. It definitely gets Dacasco shirtless and flexing his muscles as much as possible, but that's standard for the series. And it's probly more due to the casting than the direction that he comes off less macho and more dreamy than the Sloanes, what with his droopy bangs and everything.
THE REDEMPTION proves that Dacascos is much more than just the guy who replaced the guy who replaced Van Damme. He gives a solid, non-dorky performance as a regular-ish guy pushed too far. More importantly it's a good showcase for his skills, not just in the fights but in the scenes where he's practicing acrobatics and distinct fighting styles that seem to be inspired by ballet and other forms of dance. He also gets a co-choreography credit for his fights.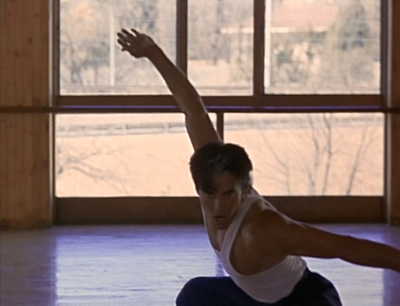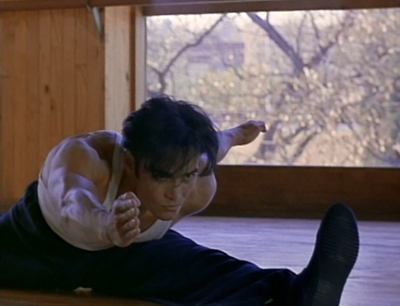 Though I'd say the middle drags a little more than part 4, it is superior in the crucial area of training montages. It takes advantage of the unusual location by having him practice in front of a herd of sheep.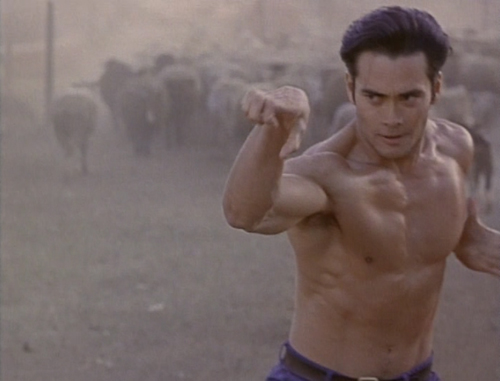 (I only noticed from these screengrabs how weird the compositions are, often cutting him off. Didn't distract me during the movie.)
One sign of a good training montage is when there's a weird-ass technique you've never seen before. In this one it's pushing his throat against the tip of an arrow until the arrow snaps.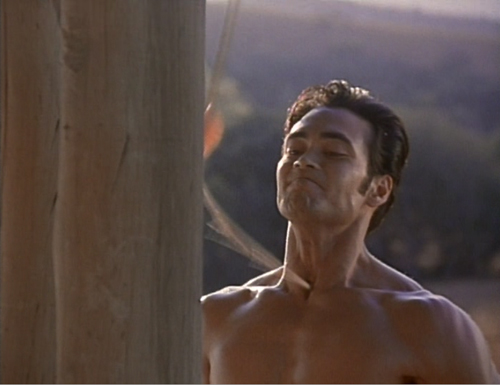 I don't know how he knew, but that ends up being crucial when he defeats Negaal in a choking battle.
Having finally seen all the KICKBOXER movies has really cemented for me that being a completist about action franchises is just as fun for me as it is for horror ones. That could apply to the A-list ones like LETHAL WEAPON and RAMBO, but I'm really thinking of these b-movie series like this one, AMERICAN NINJA and BEST OF THE BEST. Similar to FRIDAY THE 13TH, HALLOWEEN, A NIGHTMARE ON ELM STREET and CHILD'S PLAY, the lack of planning and realities of low budget production lead to twisting, convoluted continuity, and just as I enjoy watching the next variation of a particular slasher formula I like seeing what new spin they can put on a fighting tournament or a ninja mission, or what new subgenre they can throw an existing character into. I think these are worthy of the same box set and viewing marathon treatment we give to horror.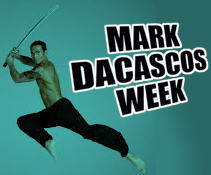 (This week will be Mark Dacascos Week, preparing for JOHN WICK 3 by checking out a few of the Dacascos movies I haven't seen. And I've been preparing some heavy duty themed programming for after that. But yes, this reminds me that soon I need to finish off the BLOODSPORT and NO RETREAT, NO SURRENDER sagas, and I welcome other franchise suggestions in the comments.)
I enjoyed all of the KICKBOXER installments, including the remake series, something I can't say about most horror franchises. So thank you to King's Road Entertainment, the Sloane family and Matt Reeves for all your kicking gourds and doing flips and stuff.
This entry was posted on Monday, May 13th, 2019 at 8:49 am and is filed under
Action
,
Martial Arts
,
Reviews
. You can follow any responses to this entry through the
RSS 2.0
feed. You can skip to the end and leave a response. Pinging is currently not allowed.