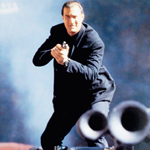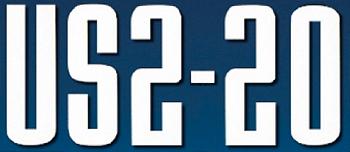 I know the internet reminds us that every day is the 20th anniversary of something or other, and that's not always a good thing. There is too much nostalgia, and too many factoids. We need to learn how to live in the present, otherwise what the hell anniversary are we gonna celebrate 20 years from today? But today, my friends, is an important one: July 14th, 1995 was the day the world was gifted UNDER SIEGE 2: DARK TERRITORY.
I think you know how I feel about this movie. It stands as one of Seagal's best big studio movies, one of the great sequels in the history of action, and one of the best DIE HARD rip offs. It's a cool, accessible Seagal with a great supporting cast (especially the villains) doing enjoyable special-effects-based spectacle action while also spreading the gospel of choking and wrist-snapping. I'm not sure I can write a new review of it, since of course I wrote a whole chapter about it for my book Seagalogy: The Ass-Kicking Films of Steven Seagal and talked a little more about it in my Cinefamily Journal last year. So instead, to honor the occasion, let's take a look at some of the key players and consider how much they've accomplished in the two decades since.
THE CREW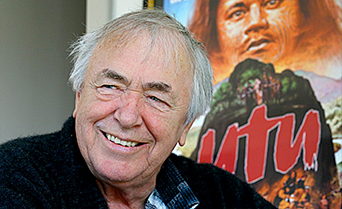 Director Geoff Murphy was a strong choice to replace part 1's Andrew Davis. He brought a solid action foundation that meshed well with the pioneering green screen work used to create the illusion of movement outside of the train. He also worked well with the actors. It's easy to see another director shunning the sort of fun performance that Eric Bogosian gave as the villainous Travis Dane.
Unfortunately Murphy pretty much disavows the movie and his time in America. After making such legendary New Zealand films as GOODBYE PORK PIE, UTU and THE QUIET EARTH in the '80s, he found he owed $90,000 in back taxes with little opportunity for New Zealand work to pay it off. "It was desperation," he told one interviewer when describing the reason he came to Hollywood and made movies like YOUNG GUNS 2 and FREEJACK. "I had no choices. I didn't want to make American films and don't have much regard for what I made over there. My spirit wasn't in it really."
DARK TERRITORY was pretty much the climax and highlight of that, uh, dark territory of his career. He followed it up with some TV work and, five years later, FORTRESS 2, a reasonably fun part 2, but chintzy in comparison to this one. His widest seen work since then has been back in New Zealand doing second unit on the LORD OF THE RINGS trilogy, "shooting action scenes" according to the New Zealand Herald. He did the same for Lee Tamahori's xXx: STATE OF THE UNION, another part 2 that's fun but no DARK TERRITORY. Of that film Murphy said, "These people must despise the audience to put this kind of stuff out, they must think the audience is utterly stupid and I don't believe they are".
Now 76 and seemingly retired, Murphy gives very few fucks. Receiving an honorary degree from Massey University last summer he compared Peter Jackson to the Grinch (because he "stole the film industry off us") and hoped Kiwi directors would come back to making movies specifically about New Zealand culture. To which I say, I bet you fucking anything Seagal would be into playing a Maori tracker or gangster. Give him a call.
For co-writer Richard Hatem, who was a guest at our Cinefamily event last summer and seemed like a really nice guy, the DARK TERRITORY spec script was IMDb credit #1. He followed it with THE MOTHMAN PROPHECIES in 2002 before becoming a prolific television writer and producer (Miracles, Supernatural, The Dead Zone, Grimm, etc.) He co-created The Gates for ABC and most recently he's been working on Witches of East End.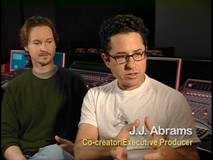 The other credited writer, Matt Reeves, may be the top Class of Under Siege 2 achiever. Sure, his directorial debut, the Schwimmer/Paltrow joint THE PALLBEARER, didn't get the best reviews. But then he went into TV, directed an episode of Homicide: Life On the Street and some other shows here and there, including one he co-created with J.J. Abrams (something called "Felicity"). His association with Abrams led him to directing CLOVERFIELD and the next thing you know he's knocking the American remake of LET THE RIGHT ONE IN out of the park and then it's the second great part 2 of his career, DAWN OF THE PLANET OF THE APES. I'm honestly wondering why this isn't the guy directing the new STAR WARS. He has some serious filmatistic chops and I think he would be the first to tell you that Steven Seagal taught him everything he needed to know to achieve all those things and untaught him everything he needed to not know as well as gave him relationship advice (details only on IMDbPro).
Of course, Brian Helgeland, who we learned from Richard Hatem was one of the uncredited script doctors who turned their original screenplay into a Steven Seagal/Casey Ryback movie, has done pretty well for himself. In 1997 he won the best adapted screenplay Oscar for L.A. CONFIDENTIAL, widely known to have been a "makeup Oscar" to hide the Academy's shame for not honoring DARK TERRITORY. Since then he's written and directed many works in the badass realm, including Clint's BLOOD WORK and Denzel's MAN ON FIRE. My favorite thing by him is still 1999's Richard Stark adaptation PAYBACK starring Mel Gibson. Most recently he directed LEGEND, the untitled movie with Tom Hardy playing the Krays.
The great composer Basil Pouledouris continued to compose for a wide variety of films up until his death in 2006. In my opinion DARK TERRITORY is one of his last scores that captures that triumphant sound I love from him, with the obvious exception of STARSHIP TROOPERS.
THE CAST

Katherine Heigl (sullen niece Sarah Ryback) was just 16 when she filmed DARK TERRITORY, which she chose to do instead of what became the Angelina Jolie role in HACKERS. In the late '90s the former child actor starred in the sci-fi series Roswell, and starting in 2005 the hospital drama Grey's Anatomy. TV stardom allowed her the opportunity to be a leading lady in romantic comedies like 27 DRESSES and THE UGLY TRUTH, as well as Judd Apatow's KNOCKED UP, though an interview she gave about that movie created somewhat of a public backlash against her. She's been labelled "difficult to work with" and is now playing a CIA agent on a show called State of Affairs, so obviously she learned a few things from Seagal.
My favorite post-UNDER SIEGE role by Heigl was as the female lead in the best CHILD'S PLAY sequel, BRIDE OF CHUCKY.

The M.V.P. and most unlikely name in the DARK TERRITORY cast is of course monologist Eric Bogosian (genius villain Travis Dane). Many who admire Bogosian for his plays, one man shows and novels would prefer to turn their noses up to a movie like this. A Backstage review of his 2002 show The Worst of Eric Bogosian began with the sentence "How do you critique the inherent evils of capitalist America after co-starring in the action blockbuster UNDER SIEGE II?," as if the movie itself couldn't serve a similar purpose. And in 2013 Grantland included Bogosian's role on a smarmy list of "most blatant paycheck movies" along with Orson Welles in TRANSFORMERS: THE MOVIE.
But the Guggenheim and National Endowment for the Arts fellow does not seem embarrassed by his turn as one of the all time great Seagalogical villains (or possibly the greatest). In a 2007 interview with bullz-eye.com Bogosian said "I wanted to play…after I saw DIE HARD, and I saw Alan Rickman in DIE HARD, I really wanted to play a big, old fat villain in a big action movie, and I was very happy to be able to do that in UNDER SIEGE 2. In the long run, it turned out that what I was doing had nothing to do with what Alan Rickman did…or any other villain has done…but that was because the director, Geoff Murphy, really encouraged me to get silly with the role. And it really fit me really well."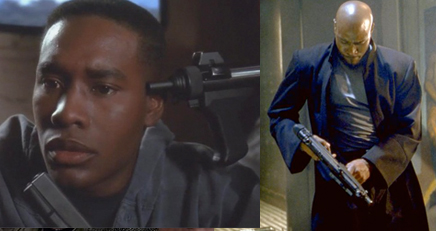 Morris Chestnut (comic relief sidekick Bobby Zachs) has also gone on to a prolific career in film and television, starring in the BEST MAN movies and appearing on American Horror Story, Nurse Jackie and Legends. And as far as part 2s go, he was also in ANACONDAS: THE HUNT FOR THE BLOOD ORCHID. Our friend Franchise Fred Topel interviewed him last year and asked about DARK TERRITORY. Chestnut seemed to recall the experience with a weird fascination, and confirmed that his scenes were more based on what Seagal told him to do than on the frequently revised script:
"A lot of the stuff that we did on that movie was 'Okay, this is what's going to happen. You're going to say this, I'm going to say this, then I'm going to do that and then you're going to do that.' The only time that really stuck to the script or had ad libs was the stuff when he really wasn't there. It was a lot of stuff, because at that time I think he was flying a helicopter, he was doing something. So that's what happened."
Chestnut probly has the most embarrassing role in the movie, so it's nice that 7 years later he was able to graduate to lead villain in (the unfortunately not as good) HALF PAST DEAD. Peter Greene (Mercenary #1) also worked with Seagal again in TICKER, as did Nick Mancuso (CIA sleaze Tom Breaker) in TODAY YOU DIE.
Everett McGill (menacing lead henchman Penn), who had already been known from SILVER BULLET, Twin Peaks and THE PEOPLE UNDER THE STAIRS, among other things, has sadly gone off the radar in the years since. His last credits were THE STRAIGHT STORY and an episode of JAG in 1999. Maybe he was mad that George Clooney's character in O BROTHER WHERE ART THOU had the same name as him.
Though we all knew him from ROBOCOP, RAMBO III and FORTRESS, Kurtwood Smith (General Stanley Cooper) took on a different type of identifiability – that of the sitcom dad – when he began That '70s Show a few years after DARK TERRITORY.

Jonathan Banks, (mercenary Scotty), is a veteran character actor who suddenly got a much higher profile by appearing on Breaking Bad and now continuing onto its spinoff Better Call Saul. He was also on a season of Community and I guess he's always been popping up in different action movies, but I actually notice him now (most recently in the Danny Trejo movie BULLET).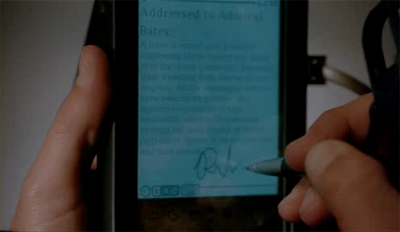 The Newton MessagePad 2000, which Casey Ryback used to write his memoirs Ryback's Tactics and to send a message to Admiral Bates, was discontinued in 1998 along with its final upgrade, the MP 2100. In 2009, CNET pitted an MP 2000 against its descendent, the iPhone 3GS, and found it superior in the areas of design, reliability, connectivity, and "Special Powers" (though not screen or apps). The comparison concludes, "The Newton may be old and dusty, but it still shows the young pretenders a thing or too [sic]. The iPhone is a superior device in many ways, we'll admit, but when it comes to sheer innovation, the Apple Newton MessagePad is a true pioneer. Long live the king. "
After DARK TERRITORY, Newtons appeared in such movies as RANSOM, PANDORA'S CLOCK, FEAR and THE LOVE BUG.
One of the locomotives in the film, GP7 1804, was still interested in action sequels, and made a memorable appearance in LETHAL WEAPON 4.
In 2002 she retired to Miami where she currently resides in the Gold Coast Railroad Museum. I have found conflicting reports about whether the other locomotive was No. 1812, 1810 or 1801. If it was one of the last two, it had been in RUNAWAY TRAIN. Most likely it is 1810 and resides in Kansas.
THE LEGACY
I'm not saying DARK TERRITORY is DIE HARD, but like DIE HARD it exceeds by combining the small with the huge. It has great, colorful characters, but also great spectacle. It's in a confined space, but it has an epic feel. It is intimate…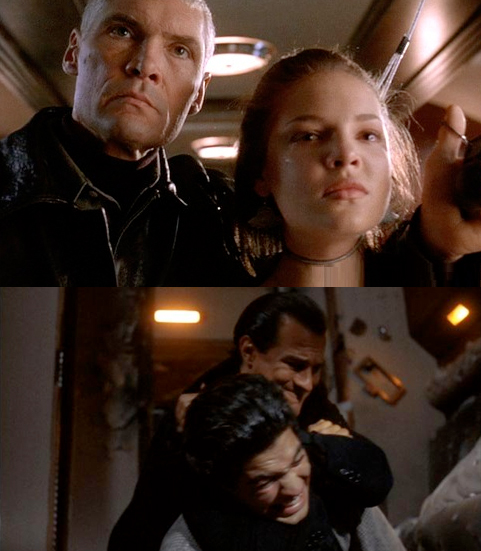 But also not.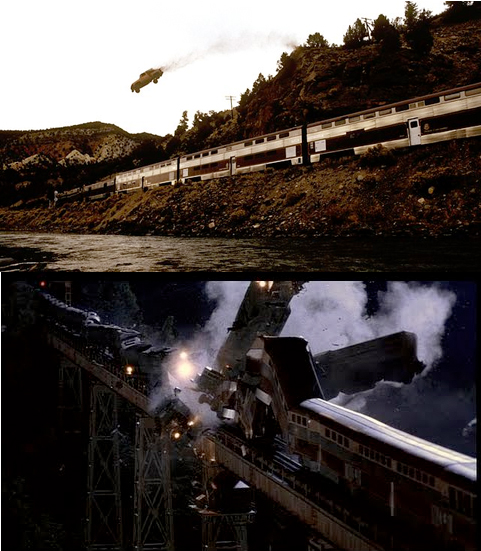 Every once in a while another story pops up about alleged plans or screenplays or discussion of an UNDER SIEGE 3. I don't think it will or should happen. The days when studios would do these type of big expensive movies starring martial artists seem to have passed, and when they do bother to make a DIE HARD type movie (OLYMPUS DOWN, WHITE HOUSE HAS FALLEN, A DIE HARD TO GOOD DAY) starring a mere actor, there's a good chance none of the action scenes will be visible to human eyes. Fortunately we still and forever have UNDER SIEGE 2: DARK TERRITORY, a two-decades old monument to the power of Seagal in a black coat on top of a moving train aiming a gun accompanied by a soaring Pouledoris theme. That's just how it's supposed to be done.
This entry was posted on Tuesday, July 14th, 2015 at 12:51 pm and is filed under
Blog Post (short for weblog)
,
Seagal
. You can follow any responses to this entry through the
RSS 2.0
feed. You can skip to the end and leave a response. Pinging is currently not allowed.