Note: Nothing against this old review, but 14 years later I recorded a commentary track as a Patreon exclusive and that's much better in my opinion
NO RETREAT, NO SURRENDER is easily one of the best "bad" martial arts movies I know of. In the U.S. it's only on VHS, and the import DVD cover shows a shirtless Jean-Claude Van Damme, like it's KICKBOXER or BLOODSPORT. Actually, Van Damme only appears in the beginning and at the end as "Ivan the Russian," the Ivan Drago of kickboxing, the villain who the hero has to beat. He doesn't talk, but does a good robotic bad guy performance. He even wears a white suit, and if you wear a white suit you're either a rapper, a Love Boat captain or a villain. In this case he's mostly the latter.
The actual star of the movie is Kurt McKinney as Jason Stillwell, a dorky white guy but an actual martial artist at least. Something about his squareness kind of reminds me of Brandon Lee for some reason. His dad runs an L.A. karate school, but shuts it down and flees to Seattle after organized crime figures (with Van Damme as henchman) threaten him.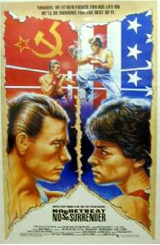 Jason immediately sets up a practice space in the new garage, visits Bruce Lee's grave and checks out a Seattle karate school. (I think only the grave is actually filmed in Seattle. I didn't recognize any other locations, but did spot some palm trees.) Unfortunately a lying fat kid (Kent Lipham, EXTREME PREJUDICE) claims that Jason said L.A. karate was better than Seattle karate, so the assistant sensei humiliates Jason in front of the class. Then Jason runs into the same assistant at a birthday party and gets beat up again, so he goes to Bruce Lee's grave and cries for help. Next thing you know Bruce Lee's ghost appears to him for one-on-one Jeet Kune Do training. The ghost looks nothing like Bruce Lee to me, but he's played by Kim Tai Chong, who filled in for Bruce when they finished up GAME OF DEATH. He does a pretty good imitation of the "(slap) What was that!?" asshole teaching method seen in ENTER THE DRAGON. He also uses a can of Diet Coke as a symbol for knowledge when illustrating a concept to Jason. Diet Coke: the choice of Bruce Lee's ghost.
The training/fighting over a girl/getting in trouble for fighting/standing up to bullies/winning the competition plot chugs along as usual (like KARATE KID before it or NEVER BACK DOWN after). But part of what makes it fun is the inept way it's acted and put together. It's so awkward and full of bad comedy that I guess if it was a dubbed '70s Jackie Chan movie or something you would think that's just how these movies are, but when it's set in the U.S. it makes it more hilarious.
The fat kid is a good example. He's this frowning asshole always beating up on people for no reason, spraying people with hoses, making up bullshit to get innocent people in trouble, making fun of Jason's kung fu dummy saying he's "playing with wooden dollies," even though he's a karate student himself and has probly seen one of those before. But then the movie seems to bully him back, always making fun of him by having him standing on the street eating an entire chocolate cake by himself, smearing it all over his face, or eating a stack of like ten hamburgers. And despite all this he has an entourage of fighters who he can send to beat somebody up, no questions asked. And the implication is that they do this just because he buys them all hamburgers, not because he's a natural born leader or anything like that.
My favortie part of the movie is J.W. Fail as R.J. He's a neighbor kid who meets Jason minutes after he arrives in Seattle and becomes his best friend. He doesn't do martial arts, but he's so loyal he goes to the karate school to help Jason sign up, and rides his bike next to him when he's jogging. He has jheri curls, he breakdances, does basketball tricks, skateboards and dresses up as Michael Jackson. So you got your KARATE KID, your ROCKY IV, your BREAKIN' – this is the ultimate '80s ripoff movie. I only wish there was a lovable alien involved somewhere. Or at least Jason should have to dress up Bruce Lee's ghost as a doll and hide him in the closet.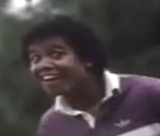 Anyway all that would be enough to make R.J. funny but it's Fail's performance I really love. I don't know if I can describe what it is, but it's a hilarious acting style. It's not the same kind of stiff acting you get from some of these movies – it's the opposite. He's always got something on his face: confused face, watching anxiously face, most often puppy dog happy face (right). He just seems like such a happy and positive person. But he does get to be the guy who introduces the titular line and repeats it again to encourage Jason during the fight.
That's another funny thing, actually. A huge deal is made about Jason trying and trying and eventually finally pulling off a move where his right leg is up, tied to a rope, and he jumps up and kicks a sandbag with his left. You expect that to relate to the winning move in the fight, but it never comes up. Instead the secret seems to be for R.J. to yell out the title of the movie. It powers him like spinach.
There's something kind of sweet about the Jason/R.J. relationship. Racial difference is never an issue, never even mentioned, not even by any of the many bullies (unless that's what Scott the fat kid means when he says "I have my reasons" for hating R.J.). And their different interests are not an issue, they just immediately like each other and accept and support each other unconditionally after 20 seconds of bonding over basketball tricks.
Of course, there's also something kind of homoerotic about it. You will not believe the scene where R.J. eats an ice cream bar while sitting on Jason's thrusting crotch.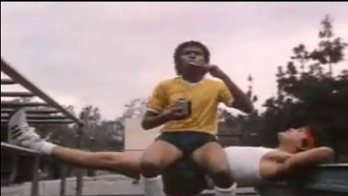 That's kind of sweet too, that they didn't worry about what that would look like. So naive. Hopefully neither of them went back to school ever again after that movie came out.
The Bruce Lee aspect is pretty questionable in my opinion. I mean, do you think Bruce Lee would really fight back from beyond the grave to help some kid because he got kicked at a party and it was embarrassing? I just think it's a poor use of his ghost powers. I've been to his grave, but I've never asked for help. If I did I'd ask for help with something more constructive, like getting a statue of Bruce put up in Seattle somewhere. Or something general like "help me to be a better person" or if it was gonna be "train me to fight" I'd wait until I had a stronger motivation like somebody killed a relative and I had to get revenge or something like that. This is just an irresponsible waste of our precious local resources, in this case Bruce Lee's ghost.
Unlike THE KARATE KID this one's from an accomplished martial arts director – Corey Yuen, who went on to direct FONG SAI YUK, MY FATHER IS A HERO, also THE TRANSPORTER and D.O.A.: DEAD OR ALIVE. (He also choreographed pretty much every American Jet Li movie and appears in tons of movies from FIST OF FURY to OILY MANIAC to THE MAN FROM HONG KONG to HERO.) So the fights are legit, but not as good as most of those other ones I just listed, so the reason to watch it is for all the goofy shit. I cannot claim this is a good action movie, that would be ludicrous. But I highly recommend it. It's just full of ridiculous touches, like the dad who looks only a few years older than the son, the mom who moves to Seattle with them and then is barely seen or mentioned again, or the part where Van Damme does the splits on the ropes in the ring and then folds his arms and smiles proudly. And why shouldn't he? He's in NO RETREAT SURRENDER.
This entry was posted on Sunday, December 13th, 2009 at 11:48 pm and is filed under
Action
,
Martial Arts
,
Reviews
. You can follow any responses to this entry through the
RSS 2.0
feed. You can skip to the end and leave a response. Pinging is currently not allowed.