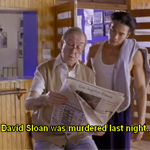 "He's a butcher. A madman. His charm and intelligence make him more dangerous than a cobra."
Life is cheap in the world of KICKBOXER. Every time the hero doesn't do a sequel, he gets unceremoniously murdered. It happened to Kurt Sloane (by way of a lookalike) in KICKBOXER 2, and now it happens to David Sloane (through the medium of silhouetted double) in KICKBOXER 5. David (offscreen) refuses to join a new South African kickboxing league, and they have him beaten to death. At least he manages to break the leg of one of his attackers (Tony Caprari, TARZAN AND THE LOST CITY), who will be on crutches for the rest of the movie.
Also worth very little in this series: subtitles. Maybe THE ROAD HOME has legitimate interpretations, and THE ART OF WAR could apply to pretty much anything, but THE AGGRESSOR was a headscratcher and THE REDEMPTION has no practical plot application. Maybe that's where the American distributors got the idea to rename THE RAID.
But if we follow my usual rule of going by what it says on the opening titles, it's just THE REDEMPTION, no KICKBOXER in the title at all. And for what it's worth, the fake David Sloane smashes that title with a flying kick. (read the rest of this shit…)