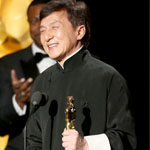 Okay, time for my traditional pre-Oscars post. As you have probly gathered by now, I enjoy watching awards shows, I do not think they are too long, I do understand that they don't represent the best of cinema, and that it doesn't really matter that much, and I'm not offended if you don't care about the Oscars. It's fine, we all do what we want to do. And here's my piece about my favorite movies of 2018, which only slightly overlap with the things that were nominated.
For those who are interested though I wanted to gather links of my reviews to the nominated movies along with who I'm rooting for in some (not all) of the categories and some other related thoughts.
Visual Effects:
AVENGERS: INFINITY WAR
"Christopher Robin"
FIRST MAN
READY PLAYER ONE
SOLO: A STAR WARS STORY
I don't really have an opinion on which deserves to win in this category, but I think it's kinda funny that READY PLAYER ONE is an Oscar nominee. To be fair, SUICIDE SQUAD was a more hated movie nominated for an Oscar, and neither of these examples were undeserving. In this case, I think about all the detail in those VR scenes, and I still don't know how they did that THE SHINING sequence. Was it on a set? I have no idea.
Costume Design:
"The Ballad of Buster Scruggs," Mary Zophres
BLACK PANTHER, Ruth E. Carter
THE FAVOURITE, Sandy Powell
MARY POPPINS RETURNS, Sandy Powell
"Mary Queen of Scots," Alexandra Byrne
I have felt since last February, and have not budged, that BLACK PANTHER better fuckin win this one. The gorgeous colors, the mix of influences from modern super hero to sci-fi futurism to Jack Kirby to African clothing and prints is a big part of what makes the movie special. To write it off as just normal super hero costuming would be incorrect, but also what is the fuckin deal that re-creating period clothing is always considered the highest achievement in costuming? With all due respect, doesn't designing and constructing great super hero costumes involve more creativity and innovation with materials than those fancy gowns?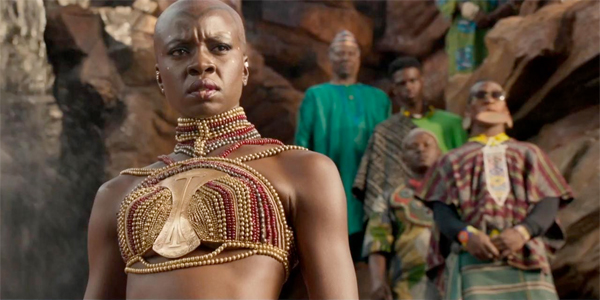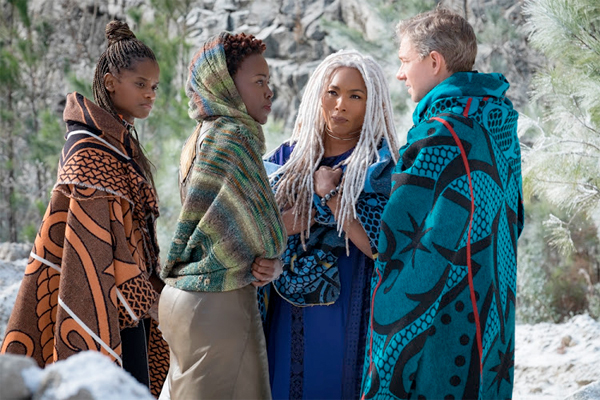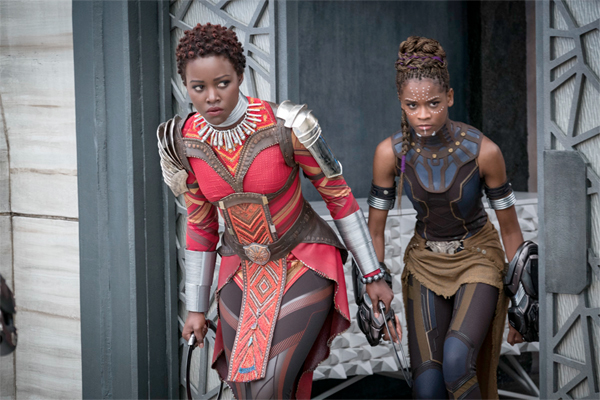 For that reason, I will be bummed if THE FAVOURITE wins, even though it's a good movie. That would be some bullshit. In another year I would happily root for MARY POPPINS RETURNS. I'm thinking in particular of the sequence inside the China bowl, where their outfits have drawn-on details to make them fit the partially animated world.
Original Song:
"All The Stars" from BLACK PANTHER by Kendrick Lamar, SZA
"I'll Fight" from "RBG" by Diane Warren, Jennifer Hudson
"The Place Where Lost Things Go" from MARY POPPINS RETURNS by Marc Shaiman, Scott Wittman
"Shallow" from A STAR IS BORN by Lady Gaga, Mark Ronson, Anthony Rossomando, Andrew Wyatt and Benjamin Rice
"When A Cowboy Trades His Spurs For Wings" from "The Ballad of Buster Scruggs" by David Rawlings and Gillian Welch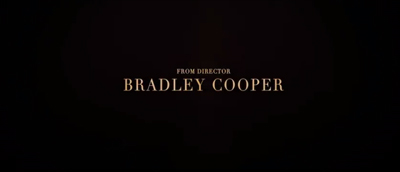 The Kendrick song is pretty good. The MARY POPPINS one made me cry. The BUSTER SCRUGGS one is great, and the one I most look forward to seeing performed live. But obviously "Shallow" is gonna win and it's gonna deserve it. I love when a best original song is not only a good song on its own but a powerful part of the movie. There were many things I loved in A STAR IS BORN but every single time I think of it my mind first goes to that scene of triumph as she gets the unexpected chance to perform in a stadium and she overcomes her terror and knocks it out of the park. The song is integral to the movie, much like "Hard Out Here for a Pimp" from HUSTLE & FLOW, a great Oscar winner that is still sometimes ridiculed by members of the incorrectness community.
Original Score:
BLACKKKLANSMAN, Terence Blanchard
BLACK PANTHER, Ludwig Göransson
IF BEALE STREET COULD TALK, Nicholas Britell
"Isle of Dogs," Alexandre Desplat
MARY POPPINS RETURNS, Marc Shaiman, Scott Wittman
These are all worthy nominees, and I was very impressed by the retro-Disney sound of the MARY POPPINS RETURNS score. But I'm rooting for BLACK PANTHER. I have been a fan of Göransson's scores since CREED, and this is a really interesting one that adds African percussion and instruments to his other textures, including some hip hop beats representing Killmonger's Oakland upbringing. He toured Africa with Senegalese musician Baaba Maal, recording him and others to later combine with an orchestra and a choir singing in Xhosa. Whatever you think of a young Swedish film composer turned Grammy winning hip hop producer doing something like that, it sure makes for a distinct score that really works for the movie.
Sound Mixing:
BLACK PANTHER
BOHEMIAN RHAPSODY
FIRST MAN
ROMA
A STAR IS BORN
I don't usually feel equipped to judge this, and these all seem to make sense, but I will say that having been lucky enough to see ROMA at the Cinerama, the sound design was next-level. I particularly remember during the chaos of the riots and the hospital sequence there were always sounds of things going on outside the frame that really added to the stress. You felt like you were in the middle of something huge focusing on only one part of it. A whole lot of work for a movie they knew most people would just watch on their shitty TVs and laptops.
Best Foreign Language Film:
"Capernaum" (Lebanon)
"Cold War" (Poland)
"Never Look Away" (Germany)
ROMA (Mexico)
"Shoplifters" (Japan)
This is hardly an impressive feat by normal critic's standards, but this may be the first year I ever saw 3/5 of the Best Foreign Language Film nominees. Give me a sticker. I can't imagine ROMA not winning, but COLD WAR and SHOPLIFTERS are both very good as well. Hopefully I will manage to review them before they leave my mind, but if not let it be known that expanding my horizons a little was worthwhile for me. I recommend it.
Cinematography:
"Cold War," Lukasz Zal
THE FAVOURITE, Robbie Ryan
"Never Look Away," Caleb Deschanel
ROMA, Alfonso Cuarón
A STAR IS BORN, Matthew Libatique
I expect ROMA to win. It would be deserving, and also kinda funny because genius d.p. Emmanuel Lubezki was supposed to do it but had to drop out and Cuaron, with no personal experience in that job, decided to do it himself. The emperor has no clothes! Nobody should hire cinematographers anymore.
It's cool that THE FAVOURITE was nominated because 1) weird fish eye lenses and 2) I read that director Yorgos Lanthimos's main point of reference to Ryan was the fucked up Austrian serial killer movie ANGST.
I believe Libatique was nominated once before (for BLACK SWAN), but it's nice to see more acclaim for the guy who started on PI, continued working with Darren Aranofsky, but also Spike Lee (INSIDE MAN, MIRACLE AT ST. ANNA, CHI-RAQ) and comic book movies including IRON MAN, VENOM and of course JOSIE AND THE PUSSYCATS.
I think it's cool that two of this year's nominees are black and white. But IF BEALE STREET COULD TALK was robbed.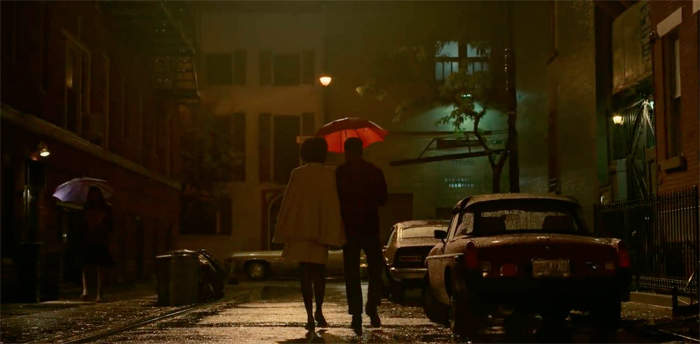 Original Screenplay:
THE FAVOURITE, Deborah Davis, Tony McNamara
"First Reformed," Paul Schrader
GREEN BOOK, Nick Vallelonga, Brian Currie, Peter Farrelly
ROMA, Alfonso Cuarón
VICE, Adam McKay
I don't have a strong opinion on this, but FIRST REFORMED is great, and I will be reviewing it soon. Also, if THE FAVOURITE ends up winning that would be so cool for Davis, because it's her first movie even though she wrote it twenty years ago!
Animated Feature:
"Incredibles 2," Brad Bird
"Isle of Dogs," Wes Anderson
"Mirai," Mamoru Hosoda
RALPH BREAKS [sic] THE INTERNET, Rich Moore, Phil Johnston
SPIDER-MAN: INTO THE SPIDER-VERSE, Bob Persichetti, Peter Ramsey, Rodney Rothman
I saw all of these except MIRAI. I don't even know what that's about, and wouldn't have heard of it if it wasn't nominated, which is why I respect this category. There's always one or two of those. I really enjoyed INCREDIBLES 2, and I love the stop motion animation of ISLE OF DOGS, but if SPIDER-VERSE doesn't win that would probly be the biggest outrage of this year's awards. It's funny and inspiring and it speaks to many things going on in our contemporary pop culture and regular culture, but mostly I just think it's an explosively innovative work of animation craftsmanship. One of the best movies of the year, regardless of medium.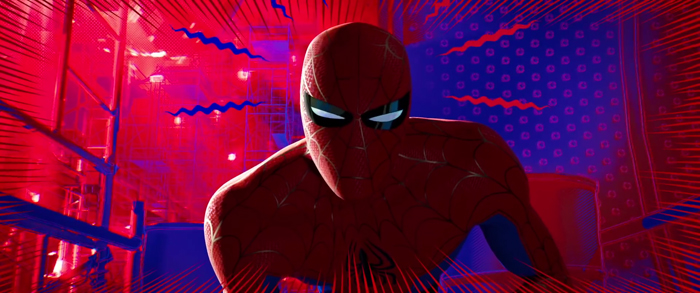 Director:
Spike Lee, BLACKKKLANSMAN
Pawel Pawlikowski, "Cold War"
Yorgos Lanthimos, THE FAVOURITE
Alfonso Cuarón, ROMA
Adam McKay, VICE
I'm assuming Cuaron will deservingly/anti-climactically win. I think McKay being nominated is straight up malpractice, as this category should be judged on the quality of directing, not the quantity. I feel weird about Lee's nomination because I'm such a fan of his work since the beginning, spent years arguing with dumbfuck talkbackers about him, and still believe that even his worst movies are interesting, but also I think BLACKKKLANSMAN's probly not even in his top half of movies. It kind of bums me out that the one where he finally gets credit for the first time in so many years is one with less of his style than usual and that consists largely of white actors saying racist shit to each other. I like the movie but I suspect it's being honored more for timeliness and for the gutpunching real footage at the end than for the work as a whole. But also Spike is a unique genius and deserving of the career award, so what am I complaining about?
Lead Actor:
Christian Bale, VICE
Bradley Cooper (THE MIDNIGHT MEAT TRAIN), A STAR IS BORN
Willem Dafoe, "At Eternity's Gate"
Rami Malek, BOHEMIAN RHAPSODY
Viggo Mortensen, GREEN BOOK
This should actually be called best adapted actor, since they're all playing real people if you consider Bradley Cooper (THE MIDNIGHT MEAT TRAIN) to be playing Sam Elliott. It's interesting that four three of the five are playing famous artists, three two of them musicians. [correction: sorry, I got mixed up thinking the musician character from GREEN BOOK was nominated in this category]. I have heard some say Malek is the favo(u)rite to win. I admire his effort, but as you know if you've seen my review of the movie, I find much of it laughable, in part because he spends almost the entire movie distracted by the fake teeth he's wearing that are in constant danger of falling out and ruining a take. It's comical at times, and it goes to show that having a director on set can improve a movie. Hopefully they will do that next time.
I'm obviously rooting for Bale in what I have labelled a "supernaturally good" performance in a pretty terrible movie. If he doesn't win that's okay, because the movie doesn't need to be remembered, but jesus christ is he good. We as a civilization are very lucky that he didn't get stuck like that. We don't need two Dick Cheneys.
Best Picture:
BLACK PANTHER
BLACKKKLANSMAN
BOHEMIAN RHAPSODY
THE FAVOURITE
GREEN BOOK
ROMA
A STAR IS BORN
VICE
Several years ago I started making it a point to see every best picture nominee before the ceremony. It makes it more fun to watch and most importantly it has caused me to see movies I enjoyed that I never would've seen otherwise, most notably LES MISERABLES (French for THE MISERABLES). This is the first year ever where I had already seen all the nominees when they were announced. Yes, thank you, thank you. I know. It is a great achievement. Thank you. Please be seated.
First of all, we should note that there are two best picture nominees from black directors. And with "Black" in the title even. I haven't seen anyone mention that. That's a little progress there.
But I believe nominating BOHEMIAN RHAPSODY and VICE is an embarrassment. The former, if it were to have had a director, would've been directed by an accused rapist who was fired for truancy. And I'm against that, but the real problem with it being nominated is that it's the dumbest, most full of shit example of bottom-of-the-barrel cliche musician biopic crap. Sure, Queen is a good band and it's fun to watch their songs, I don't mean to offend the many people who enjoyed the movie, but I think most of them would agree that it doesn't belong here.
The latter is not typical or formulaic, it is attempting to do something bold, so I rate it a little higher. But I feel like it takes so many swings, misses almost all of them, and often throws the bat and randomly hits a dude in the face and breaks his nose and the blood gets on somebody else's shirt and it's just a fuckin fiasco.
If A STAR IS BORN were to win that would be kinda cool, because it's a high level of mainstream wide-audience filmmaking and literally every single person I know who's seen it liked it alot, including grumps. It's so very Hollywood, being the third remake of a movie about Hollywood, and the directorial debut of a movie star and all that. But it's a good example of what Hollywood does well.
I've had a feeling for a while that ROMA would win, and that seems to be the conventional wisdom now, but part of me wonders if it can really overcome the amount of people who will think "well, it's gonna win best foreign language, I can vote for a different one for best picture." I looked it up and not only has a movie never won both categories, there has never been a foreign language film period that won best picture. So this would be quite a feat. It's cool that a black and white, subtitled film not given a wide theatrical release has been able to break through and get as much attention as it has. And it is masterpiece level filmmaking, so it would be a well earned award.
But since seeing it win at the SAG awards I realized I really want to see BLACK PANTHER somehow pull off a win. Part of what I think is interesting about the Oscars is what they say about the aspirations of the industry and the culture at the time. After years of controversy about inclusion in front of and behind the camera, after decades of conventional wisdom about who can carry a big budget franchise or make money overseas, here is a movie with an incredible cast of black actors, a genius black director, writer, costumer, a woman cinematographer, all working in the ultimate 2018 popular idiom of the Marvel Super Hero Movie, and they made a movie that that stands out from its genre and that connected with audiences in a way that others haven't.
I saw Matt Zoeller-Seitz compare its cultural impact to previous best picture winner TITANIC. We could also bring up RETURN OF THE KING. I think if it won it would represent both the cultural obsessions and the hopes of its year more than any of the other nominees.
Also, I agree that GREEN BOOK shouldn't have been nominated, but if BLACK PANTHER were to win over it, the symbolism there would completely justify having nominated it.
But ROMA is a great movie. Congratulations ROMA.
This entry was posted on Friday, February 22nd, 2019 at 3:01 pm and is filed under
Blog Post (short for weblog)
. You can follow any responses to this entry through the
RSS 2.0
feed. You can skip to the end and leave a response. Pinging is currently not allowed.