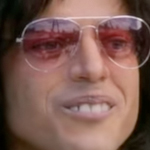 NOTE: This movie's win for Best Picture – Drama last night at the Golden Globes has been received with controversy, mostly involving the morality of rewarding a director who is awash in allegations of sexual assault. I barely mention that aspect in this review because I was able to separate the art from the artist and completely reject the movie on its own merits. It would be an embarrassing choice even if it was made by saints.
You know I'm a positive guy and I don't do negative reviews that often, and also I tend to think even movies like ROBIN HOOD are okay. Lately though I've been watching last year's awards-nominated type movies to prepare for the season and now I'm finally seeing movies I really don't like.
I'm afraid I must report that BOHEMIAN RHAPSODY is the new gold standard for horse shit musician biopics. It feels simultaneously adapted from Wikipedia and fudging every single detail for pandering dramatic license.
Rami Malek (NEED FOR SPEED) thankfully abandons his one bug-eyed expression of intensity I decided I was done with after the first season of Mr. Robot. Instead he throws every actorly actor thing he's got at playing Freddie Mercury, frontman of Queen, essayers of the HIGHLANDER theme (not pictured). Many have said he's great in the role, and I don't entirely disagree, but it is a fact that I spent the early scenes wondering why Malek believed Mercury should always look like he was sucking on a lemon.

Then they started talking about him having extra teeth and I remembered hearing something about Malek's special dentures for the role. And pretty much for the entire rest of the movie I couldn't stop thinking he was struggling to keep those things in. You see the mouthpiece poking out of his cheeks, his lips frequently moving over it, preventing it from popping out. I kept thinking how sore his face must've been.
But he definitely did a good job strutting and doing his rock star moves. Can't deny that. And there's an accent involved and he acts cocky and stuff, it's clearly a stretch from what I've seen him do in other things, and mostly works.
Young unknown Farrokh Bulsara, living with his parents but already dressing like he thinks he's a rock god (like Prince in PURPLE RAIN, minus the motorcycle), pushes his way into a small time local rock outfit. He wins over some crowds, gets his bandmates to sell their van so they can buy some studio time, pushes the band and engineers to do adventurous recording techniques and stereo effects, everyone skeptical of and scoffing at what we at home know is THE UNPARALLELED GENIUS OF A TRUE CHAMPION.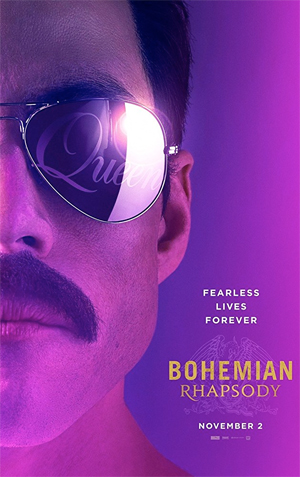 Probly 20 minutes into the movie they're already a signed band with a hit single and big U.S. tour, and they're rebelling against the limited artistic perspective of some executive at EMI (Mike Myers [INGLOURIOUS BASTERDS] – DO YOU GET IT, BECAUSE THEY DID THAT SCENE IN WAYNE'S WORLD! THAT IS WHY HE IS IN BOHEMIAN RHAPSODY!!!). He seems unimpressed with their work, so Freddie puts an opera record on a conveniently located record player and acts like he just blew everybody's fuckin minds. Seeming to brainstorm out loud, Freddie says they'll call their next album A Night At the Opera and fancifully pitches a rock record with "the intensity of opera," never really explaining what that's supposed to mean exactly. Later the band goes and stays on a farm to record the album and they keep being pouty and confused as Freddie makes them record more and more overdubs singing "Galileo!" and all that. From what I've read he really did have the song all in his head and direct the band as they painstakingly recorded separate pieces for weeks. But this acts like they had no idea what the overall plan was and that they thought he was off his rocker.
I don't know, I guess Brian May and Roger Taylor were producers, and reportedly were kind of a pain in the ass about trying to make the band look good. So maybe this is what really happened or they wouldn't have let it by. But it seems insulting to me to imply that these musicians who you'd assume were creative collaborators working together to create a sound they loved were short-sighted dummies reluctantly being puppeteered by the true genius, who they didn't believe in.
Anyway, I swear to you I am not lying that they put Myers in this movie (under makeup, wig and sunglasses) so that he could have a line where he says that "I'm in Love with My Car" should be the single because "That's the kind of song teenagers can crank up the volume in their car and bang their heads to. 'Bohemian Rhapsody' will never be that song." It's the worst moment of any movie I saw last year. I can't believe they all agreed that was something that they should do, and then they did it, and then they went on living their lives and as far as I can tell nobody called in a panic late at night and said "I'm worried that the scene we did with Mike Meyers will be put into the actual movie, we need to erase the files immediately because there are mirrors in my house and I might look into one at some point."
It's like a self-referential take on the ol' "Mark my words, this Picasso won't amount to anything." And he pretty much has that line too: "Mark these words: NO ONE will play Queen!" How did this movie play in theaters without somebody banging a gong?
I've heard many people say that the best part is the climax that re-creates much of the band's famous 21 minute performance for Live Aid at Wembley Stadium. I suppose that's true. But didn't they, like, film the real thing? Shouldn't I just watch that instead of Malek green-screened in front of a creepily digital crowd?
By the way did you know Michael Jackson couldn't do Live Aid because he was filming CAPTAIN EO? I just learned that.
When they showed footage of the real Mercury at the end, I immediately thought "wow, Sasha Baron Cohen really does look exactly like him." Cohen, of course, was attached to the movie for years, but left due to artistic differences with the producers. He says the band wanted a more sanitized portrait of Mercury than he did, and that they didn't agree with the director he had interested in doing it – David Fincher! Instead they chose Bryan Singer (X-MEN), and then months into filming they fired him because he kept not showing up for filming and cinematographer Newton Thomas Sigel (Cop Rock pilot, THE USUAL SUSPECTS, CROUCHING TIGER HIDDEN DRAGON: SWORD OF DESTINY) kept having to fill in for him. Malek was reportedly pissed at the director's behavior and I bet they were also wondering if maybe in this day and age it might be worth worrying about if some of those accusations against him over the years were not for nothin. So the last third of filming and the post-production were taken up by Dexter Fletcher (credited as executive producer), the guy from LOCK, STOCK AND TWO SMOKING BARRELS who directed EDDIE THE EAGLE and the upcoming Elton John biopic.
But I definitely think the real crime is the script. Cohen brought on screenwriter Peter Morgan (THE QUEEN, FROST/NIXON, HEREAFTER, RUSH), who gets a story credit. The main credit went to Anthony McCarten, who did the similarly contrived DARKEST HOUR as well as THE THEORY OF EVERYTHING, which I liked better. I will be wary of his upcoming projects THE POPE and UNTITLED JOHN LENNON YOKO ONO FILM.
I've heard some criticism of the movie for playing down Mercury's bisexuality. (Singer is gay, Fletcher is straight.) They don't erase it – it's an important part of the movie, but it's one of those things where, like, they show him leaving with a dude and it cuts to later on. Definitely more time is spent on his relationship with Mary Austin (Lucy Boynton, THE BLACKCOAT'S DAUGHTER), which does have some interesting aspects to it. Although he needs to sleep with men he tries to keep her in his life. They definitely could go more into it. Geez, this is a PG-13 movie! About Freddie Mercury!
But to me, fixing that wouldn't fix the movie. Knowing nothing about Queen, this still smells phony from top to bottom. Even the title seems kinda full of shit – does it describe this story at all? Nobody seems to agree if the song is about anything in particular. I guess there are some interpretations of it being about his sexuality, but I doubt that's what they were thinking. They were just thinking "That is a title that people recognize! It was in WAYNE'S WORLD!"
Reading about the real Queen afterwards confirmed that many of the big dramatic moments are completely made up. They have the band breaking up in anger over Mercury's solo album. He goes into a downward spiral, has to come to them and apologize, convince them to reunite to do Live Aid because he's dying of AIDS. And then they get added onto the bill at the last minute and struggle to learn how to play together again. In reality they all had solo albums before him, nobody was mad, they never broke up, they had toured recently, they were on the bill from the beginning, and he was not diagnosed until two years later, and didn't tell them until two years after that. So… a little different.
The meanest fictionalization I read about involves manager John Reid (Aidan Gillen, KING ARTHUR: LEGEND OF THE SWORD). In the movie he tries to get Mercury to go solo, and the singer sees it as a betrayal of the band and fires him on the spot, making him get out of a limo in the middle of traffic. In reality the band decided to manage themselves because Reid was busy with Elton John and they paid him off well and remained friends for years. Reid is still alive. I wonder if he's seen the movie?
It's not the not-being-true that's the problem. It's the not even feeling true. Sure, make some shit up, but make it interesting. Don't change real life to fit the generic music biopic template. Check out MILES AHEAD. Don't go out and get an artistic license just to leave it in your wallet the whole time. You know the saying "you can't make this shit up"? This is the shit you can make up. So you shouldn't.