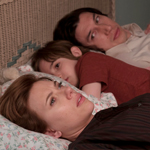 MARRIAGE STORY seems like kind of a cheeky name for a movie about a divorce. I first learned of writer-director Noah Baumbach by seeing his fourth movie as a director, THE SQUID AND THE WHALE. That was a movie clearly based on his childhood during his parents' divorce, and here's one clearly based on a divorce he himself had years after making that movie. The circle of life. Hakuna matata. Did you know he was a writer on MADAGASCAR 3?
The best-picture-nominated-straight-to-Netflix-but-it's-coming-to-Criterion MARRIAGE STORY has all the dry humor, smart dialogue and outstanding, emotional performances his movies are known for (three of them also Oscar nominated), and the heartache and discomfort the topic demands, but somehow it feels kind of… warm for Baumbach? And even kind of romantic?
Part of that comes down to our Noah Baumbach character — I mean our male lead — not coming across as as much of a self-regarding dickbag as some of the others. Charlie (Adam Driver, one episode of Law & Order, WHILE WE'RE YOUNG) runs a small New York theater company, directing plays that often star his wife Nicole (Scarlett Johansson, THE SPIRIT), a former teen movie star. Charlie is entirely at fault for the dissolution of the marriage, he has the least excusable behavior and turns out to have serious emotional issues he's left unaddressed. But he seems to be going at this divorce thing in good faith, trying to do it as amicably as possible, even trying to stay friends.
That's sort of the unusual hook here. They're not at war. They think they're not like those other divorces. They want a more laidback, enlightened one. They start out with a mediator (Robert Smigel, writer, A Comedy Salute to Michael Jordan), neither worrying too much about how they'll divide up their money and property. But while in her home town of L.A. to film a TV pilot and staying with her mom (Julie Hagerty, U TURN) and sister (Merritt Wever, three episodes of Law & Order playing different characters, one of Law & Order: Criminal Intent, GREENBERG) she's convinced to go to highly recommended divorce lawyer Nora (Laura Dern, A PERFECT WORLD, JAY-Z: MADE IN AMERICA, COLD PURSUIT), and everything escalates.
Baumbach is clearly not fond of California divorce law, but it's not the usual "she got half" stuff. He just illustrates numerous ways two people who still have love for each other and have a son together are pushed into being cutthroats to protect themselves from outcomes they don't believe the other wants anyway.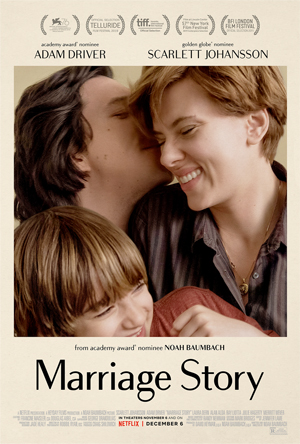 I think these are relatable characters despite traveling in worlds I don't occupy: New York and Los Angeles, theater and film/television. Nicole and Charlie each have a scene where they sing a number from a Sondheim musical for/with friends and family, and I feel like there must be meaning to the song choices that are beyond me. (I was impressed that Driver could sing, though!) I know there are people who don't like Baumbach, Hal Hartley or Sofia Coppola because they don't share the privileged background those filmmakers draw from, but I don't have that problem. Good characters are good characters.
It seems to me Dern might've gotten her Oscar nomination more from burgeoning recognition of her overall wonderfulness, and for Baumbach's scripting of a memorable speech she makes, than for the specific performance. Then again it's hard to picture who else could so perfectly inhabit this character who is basically despicable in her job but still comes off pretty likable because she's genuinely supportive and even empowering to her clients. The mediator was way nicer but he couldn't even get Nicole to read out loud something she'd already written about Charlie's good qualities. Nora, just in conversations, inspires Nicole to open up about the marriage in such a way that she seems to be putting together what exactly she feels about it as she says it.
I already wrote that Johansson's performance in JOJO RABBIT was a new high for her, and here's another one. She jumps a couple levels as an actress in that scene alone. Even setting aside the control she has over a slow burn of emotions as she explains what made her decide she had to leave Charlie, it's rare to see such an authentic sense of thinking and coming up with words in such a scripted scene. And I believe she does it mostly in a long take, doesn't she? Her version of Tony Jaa fighting his way up the stairway in TOM YUM GOONG.
Another straight up bravura sequence is when she's at her mom's house waiting for Charlie to arrive in town and needs her sister Cassie to serve him the divorce papers. It's a total ambush, because he still thinks they're mediating, and remains on great terms with Cassie and mother-in-law Sandra. Sandra doesn't even want the divorce to happen, Cassie is nervous about confrontation, and Nicole doesn't want it to be hurtful to Charlie. And they end up in this horribly awkward situation where he comes in and everybody's in the wrong place and he's hugging and joking around with the family with the envelope sitting on the counter, a ticking time bomb. I was literally squirming (ls).
After that the movie seems to lean heavier on Charlie's point of view. He goes through a couple different lawyers, more of these great Baumbach characters who somehow feel simultaneously dead-on and humorously exaggerated. Bert (Alan Alda, MURDER AT 1600) is an unbelievably nice and sensitive divorce lawyer, and not coincidentally has a much more rinky-dink office than the very successful Nora. On the hand there's Jay (Ray Liotta, COP LAND), sort of the macho, woman-fearing equivalent of Nora. His only redeeming quality is his apparent sincerity in wanting to protect his client. As Charlie tells him honestly that Nicole's not out to get him Jay's eyes bulge with panic like he's saying he left all his money stacked up on the sidewalk but it's okay because it's a good neighborhood. Get Jay and Nora facing off in court and they pull out every dirty trick in the book, weaponizing every petty detail they know (she logged into his email, he didn't know the rental car wouldn't have the car seat already strapped in) while Charlie and Nicole sit mortified and helpless.
Meanwhile, they have a son, Henry (Azhy Robertson, one episode of Law & Order: SVU, JULIET, NAKED), who they want to share custody with, but that won't happen if Henry doesn't rent a place in California and be in town often enough, while running his theater company on the other side of the country. He has to fight for it even though Nicole wants him to have it and Henry doesn't seem to give that much of a shit. One of the most potent scenes to me is when Charlie comes into town to spend Halloween with Henry. They have a plan for trick-or-treating in Universal Monster costumes that changes while Charlie is out of town. He ends up waiting at a hotel, then driving the kid around for a second round of trick-or-treating while he's tired and wants to go home. It's not the magical holiday either wanted, but it's more of a disappointment for the parent than the kid.
The detail that trick-or-treating is important to Charlie comes up in a different way later when he's sadly left out of the family's themed costumes, but at least gets to go along. Since his costume is a sheet ghost we don't get to see how he's taking it.
For all the sadness in this – some with an edge of dark humor, some without – it does have the happiest realistic outcome you could hope for in this story. In the end they are divorced and have moved on, but they still like each other. It really is a story about marriage.
I haven't kept track of Baumbach's personal life other than that he's been with Greta Gerwig for a while, but a quick look at his Wikipedia page makes it obvious what inspired the movie: met Jennifer Jason Leigh while she was starring in a Broadway play, they got married, have a son together, she filed for divorce in Los Angeles. He says he also talked to many of his friends who had been through divorces, and that Leigh liked the script and the film.
I've only mentioned this in one review before, but it seems relevant to say that I'm married going on ten years. I have not been divorced and don't expect to. I think it's a good marriage, but she's sometimes less happy with it than I am. I was a little nervous to watch this together, unsure what feelings it would dig up. Since we don't have children or money there's so much that doesn't apply directly to our lives, but the lack of those things can sometimes be a sensitive issue. If I have a weakness in common with Charlie I think it's the stubborn dedication to my small time (smaller than his) artistic endeavors, sometimes oblivious to whether or not Mrs. Vern is satisfied with the lifestyle they require. But I'm sure there are other parallels. At the end of that scene I talked about before, when he's served the divorce papers, he's holding the envelope and he says, "So… what do I do?" and Nicole explains to him the next steps he has to take. I knew, watching that, that I would ask the same question, and my wife later said the same thing. An uncomfortable scenario to picture yourself in, but maybe it's best not to fear these things.
For me I think it had enough distance from my experiences that I could enjoy it in the normal way of watching a story about someone's lives, relating to small things, not necessarily being deeply personally invested. My wife had a much stronger reaction, I think mostly because her parents are divorced and don't speak to each other. Mine were still married when sickness separated them. So that Nicole and Charlie make it through peacefully warms my heart, but stabs at hers.
(Don't worry, I was given permission to include this in the review without redactions – Mrs. Vern says she trusts the outlawvern.com readers.)
I bring that up mainly as evidence that this is probly a good movie even for people who haven't ever been married, and not necessarily a drag for people who have. If you like Baumbach you should check it out – I think it's one of his best.