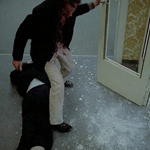 I write alot about how horror movies allow you to face down evil vicariously through their heroines and heroes. But there are also some that mess with you by making you follow the perspective of the killer – movies like PEEPING TOM, MANIAC (and its remake), DON'T GO IN THE HOUSE and HENRY: PORTRAIT OF A SERIAL KILLER come to mind.
The 1983 Austrian film ANGST is a masterwork of this type. It'll fuck you up. To give you an idea, the Blu-Ray comes with an intro from Gaspar Noe, who says it is one of the films that influenced him most. I think that goes for both the bleak subject matter and the inventive camerawork by cinematographer (also writer and editor) Zbigniew Rybczynski. The movie follows a killer as he's released from prison and then immediately starts killing again. He doesn't even try to find a place to live or anything. He does stop off at a coffee shop, but it's for stalking purposes more than for coffee. He's played by Erwin Leder (DAS BOOT), but the first person narration is read by Robert Hunger-Buhler (Noe prefers the French dub).
This guy, just called "K., the Psychopath" on IMDb, walks away from the prison and finds the nearest espresso shop, where he eyes two young women, and the camera involves us in his creeping with fetishistic closeups of the parts he focuses on. And it also cuts to disgusting closeups of him eating a sausage, either as a metaphor for his predatory behavior or just to gross us out.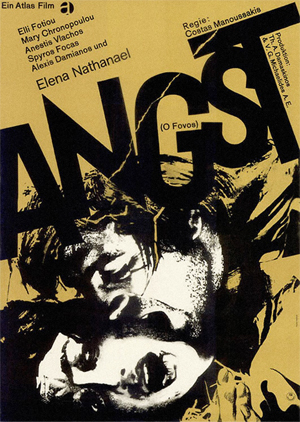 He decides the place is too public and too risky, so he leaves and hails a cab, but some guy very rudely snakes it from him and he has to take the next one, which has a woman driver. It's one of those little random butterfly effect kind of things. It could've gone either way, but in this case if that guy wouldn't have been such an asshole then this particular cab driver would not have the traumatic experience of a fare pulling out his shoelace intending to strangle her with it until she pulls over and confronts him and he gets spooked and runs off.
Also, if he would've taken the other cab, he wouldn't have fled through these particular woods, ending up at a random secluded house which he decides to break into and terrorize the occupants of. He first finds an adult man (Rudolf Gotz) in a wheelchair, who drools and calls him daddy. He waits until the man's mother (Edith Rosset) and sister (Silvia Ryder) come home and then attacks them.
Man, the way this guy manhandles them is gut-churning. I hope they were stunt women. He ties the younger woman to a door in a super-awkward position and then keeps walking past her like he forgets she's even there anymore. He drags the older lady around and the way her belly is sometimes showing is so degrading, because you can see how important it is to her to have a nice dress and makeup and everything, she does not want all her humanity to be exposed in that way.
It's very hard to watch, and then just when you think that at least it's not gonna be super gory, it goes there. And rather than giving you some sort of cathartic experience by shocking you and then cutting away, it sticks with him for a vomitously long, completely pathetic scene where he's laying on top of the horrifyingly dead corpse with his pants down and awkwardly pulls them up and then there's a very long sequence of him walking around the property, sweaty and breathing heavy and seemingly a little dazed, and he looks like a total ghoul. The way the camera cranes up and shows this all from above really emphasizes that there are other residences around here and if they just had that angle to see over that little wall then things would be different here. But they have no idea.
And an extra insult to injury is the family's weiner dog, who follows the psycho around not seeming to comprehend what he's doing. At one point the dog tries to get him to play with a ball.
Another upsettingly impressive aspect of the movie is the realistic corpses. They look and move too authentically to be dummies, as far as I can tell, but there's a long section where he drags two of them through broken glass, down stairs and then down a long tunnel, and they never seem to flinch. There's also a very long take where one lays in the foreground, her eyes open, and I was watching. I saw no breathing. It's fucked up.
For what it's worth, making you follow this psycho does not trick you into rooting for him or anything. I hated the fucking guy, and really felt for his victims, who we know very little about. His occasional stories about being abused as a child (also killing an animal as a child) make you think "yeah, that'll mess a kid up" but not "well, this guy isn't all bad!" So I don't see this as some kind of sympathy for the devil movie. It's just a more painful way to tell a painful story.
If ever there were a movie that you had to take a shower after, this is it. But stylistically it's clean. There are many how-the-fuck-did-they-do-that shots that seem to have a camera attached to him or otherwise move in unusual ways. There's a cool synth soundtrack by Klaus Schulze, who was the drummer for Tangerine Dream on their first album. I especially like it when the beats come in.
Director/co-writer Gerald Kargl did no other movies. He had done one documentary short before this, and nothing after. But the same year ANGST came out, cinematographer/co-writer/editor Rybczynski's animated short Tango won an Oscar, making him the first Polish artist to ever win one. He was also the first Polish artist to get arrested at the Oscars for starting a fight with security for not letting him back in after stepping outside for a smoke while holding his Oscar. He soon emigrated to the U.S. from Poland and became one of the early music video directors. In 1986 he won MTV's Video Vanguard Award, presented to him by The Pet Shop Boys.
Selected (by me) videography:
"Candy" by Cameo:
"Sex Machine" by Fat Boys:
"Dragnet" by Art of Noise:
In my opinion these videos are pretty different from ANGST, but that last one shows Rybczynski's interest in chromakey, which he developed his own improved version of, leading to a job in research and development at the Ultimatte Corporation.
Also in 1992 he did the curtain opening sequence for The Tonight Show. So I guess that's the connection between Jay Leno and the most fucked up movie I've seen in a long time.
At the time of ANGST, Leder was known for his role as the chief mechanic Johann in DAS BOOT. But ANGST was barely released due to its extreme content, and he didn't work again until 1993. The good news is that one of the movies he did that year was SCHINDLER'S LIST. But then he took another ten years off before playing Singe in UNDERWORLD. (He also had a cameo as Singe's dead body in UNDERWORLD: EVOLUTION).
Anyway, ANGST is a great movie of its type. Doesn't mean you should watch it, but it's true.