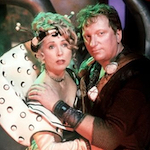 July 24, 1992
MOM AND DAD SAVE THE WORLD is a comedy-sci-fi-fantasy thing apparently released pretty wide (but viewed very narrowly) on July 24, 1992. I saw this one when it came out on video and I remember kind of liking it for all its crazy sets and costumes and puppets and shit. Unfortunately, this time I found it extremely hard to sit through. It's interesting that something could so clearly have so much work put into it and still turn out feeling like it's barely a movie.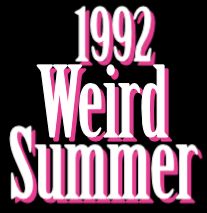 The cartoonish super villain who sets the plot in motion is played by Jon Lovitz, who we last saw in A LEAGUE OF THEIR OWN. He's the sleazy tyrannical ruler of the planet Spengo and his name is Emperor Todd Spengo. I don't know why it's funny for a character like that to be named Todd, but it is. It's one of I believe two things that made me laugh in this movie. The other is a couple minutes in when Emperor Todd Spengo decides to postpone destroying Earth with his "Super Death Ray Laser" because through his telescope he spots the most beautiful woman he's ever seen – Marge Nelson (Teri Garr, THE PLAYER) very awkwardly doing aerobics in an ugly sweatsuit.
It's kind of mildly funny that the object of his desire is this oblivious middle aged woman in a cat sweatshirt with giant glasses that now would be worn by some ironic hipster but then were correctly recognized as humorously ugly. A lady like that doesn't expect something like this to happen to her, you know. But she takes it in stride.
So that's the joke. Marge and her husband Dick (Jeffrey Jones, HOWARD THE DUCK) are a regular boring and seemingly somewhat loveless suburban couple about to celebrate their 20th anniversary when they and their shitty station wagon are magnetically pulled to the fantastical "planet of idiots." An over-enthusiastic score by Jerry Goldsmith (WARLOCK) whimsicals all over the place as they get marched around by silly soldiers called Destroyers, go down slides, get attacked by mushroom creatures, talk to people with animal faces, etc.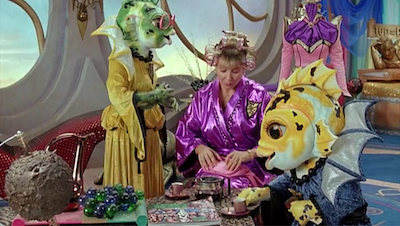 There are some people with fish heads, and in the tradition of TOXIC AVENGER II they are humanoids but with an entire fish body, fins and tail as a head. Weird. Also there are dog people. Tony Cox (BAD SANTA) and Ed Gale (HOWARD THE DUCK), who played Station in BILL & TED'S BOGUS JOURNEY, both play dog people.
Okay, actually a third part that made me chuckle was when Dick was being taken to a dungeon by bulldog people and he asked "Who is your supervisor?"
Marge is pampered and given a makeover to prepare for a forced royal wedding; Dick escapes and meets a tribe of outcasts in bird masks and tries to lead an uprising. Jones is an interesting choice to play Dick, but I don't think he really works, because the character is in his wheelhouse of these unlikable assholes but it seems like we're supposed to be invested in him realizing how much he loves Marge and becoming heroic to rescue her, bringing excitement to their marriage. Could you ever invest in and relate to Jeffrey Jones, even then, when we didn't know? It's a challenge.
Eric Idle (TRANSFORMERS: THE MOVIE) plays the former king Raff, chained to a wall in a dungeon with a long beard covered in cobwebs. One of those type of cameos. Also you got Wallace Shawn (STRANGE INVADERS) in a part. The model Kathy Ireland (THE PLAYER) plays his daughter. John Connor's pal Danny Cooksey is seen briefly (and sans spikey mullet) as one of Dick and Marge's kids. Thalmus Rasulala (BLACULA, FRIDAY FOSTER, BORN AMERICAN, ABOVE THE LAW), who plays the Emperor's long-suffering General, died of a heart attack shortly after completing filming, so the movie's dedicated to him.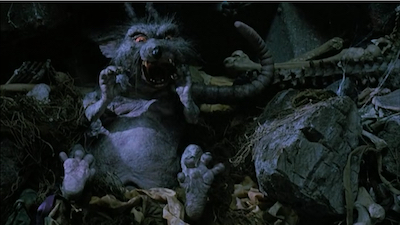 The effects are by Tony Gardner and his Alterian Studios, who also did SLEEPWALKERS and ARMY OF DARKNESS that year. I don't think this movie would've been releasable without their work here. For example there's a random part where Dick sees a huge rat in the dungeon and it mimics what he says. It's a nothing scene except the thing looks so great.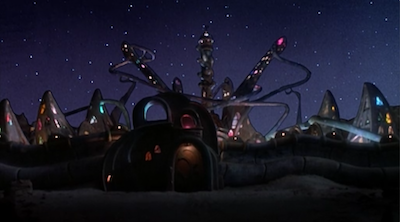 The creature work and the various designers probly deserve the most credit for making this pass for a real movie, what with all their Dr. Seuss inspired architecture, bulbous ray guns, cheesy space ship models, etc. Surprisingly, production designer Craig Stearns (BODY ROCK, DEAD HEAT, THE BLOB, SHOWDOWN IN LITTLE TOKYO) didn't really specialize in these kind of fantastical settings. He did later do THE MASK, I guess. And MIGHTY MORPHIN POWER RANGERS: THE MOVIE. And the live action THE YEAR WITHOUT A SANTA CLAUS. I guess he tried.
I noticed the cinematographer was Jacques Haitkin, whose name I know because he shot A NIGHTMARE ON ELM STREET 1 and 2. Around this time he also shot MANIAC COP 3: BADGE OF SILENCE, which personally I would be much more proud to have been involved in if I were him, but he can do what he wants.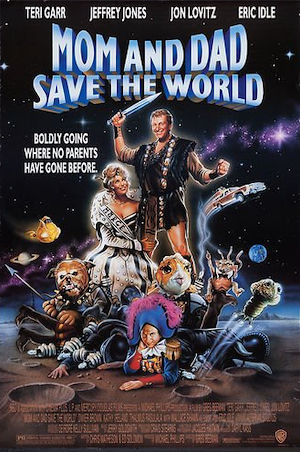 The script is credited to Chris Matheson, with a story credit for Ed Solomon. They are the team who wrote all the BILL & TED movies, and Solomon had separately had LEAVING NORMAL earlier in the summer. MOM AND DAD seems more like a BILL & TED type of movie since it's finding humor in an absurd fantasy concept, except it's not funny or good like BILL & TED. So it turns out I'm more of a LEAVING NORMAL guy than a MOM AND DAD SAVE THE WORLD guy. These are the things we learn as we get older.
Director Greg Beeman was mostly a TV director, having done episodes of The Wonder Years and Eerie, Indiana, and later some other fairly interesting ones like The Adventures of Brisco County Jr., Nowhere Man and Strange Luck. He directed the unused 2007 Aquaman pilot and episodes of some of the modern comic book shows that actually were released (Lucifer, Swamp Thing, Batwoman, Stargirl, The Flash). In the realm of feature films, though, he just had LICENSE TO DRIVE (1988), this, and BUSHWHACKED (1995). Well, and some TV movies, most notably PROBLEM CHILD 3: JUNIOR IN LOVE.
I'm not sure if I knew MOM AND DAD SAVE THE WORLD was a theatrical release. Reportedly it was released on over 900 screens but did horribly and was removed from most of them the next week, so it only made about $2 million on a $14 million budget. While I don't see a scenario where this movie is popular, I definitely didn't know it existed at the time, so I blame the advertising. There are better known movies I'm skipping in this series that are surely less tedious to watch, but at least this one supports my theory that '92 was a weird summer.
This entry was posted on Tuesday, September 6th, 2022 at 7:02 am and is filed under
Comedy/Laffs
,
Reviews
,
Science Fiction and Space Shit
. You can follow any responses to this entry through the
RSS 2.0
feed. You can skip to the end and leave a response. Pinging is currently not allowed.