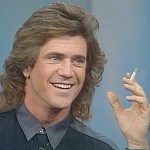 BEYOND THUNDERDOME has always been the red-headed stepchild of the MAD MAX series. Everybody loves ROAD WARRIOR, on account of it being one of the best movies everybody has ever seen. So if Miller just rehashed it but added a new Joe Pesci character or something then everybody probaly woulda been happy. Instead he expanded on the universe, he took the story in another entirely new direction and alot of people still aren't ready to follow.
I haven't seen this movie in years and I actually remembered it being more different than it really is. In fact, I was thinking there weren't even cars in this one. I just remembered planes and pig shit and that song by Tina Turner. I thought it wasn't as good as the other two but that it got a bum rap. Seeing it again – well, okay, it's my third favorite, and there is a section in the middle that I had a problem with, but it needs to be said that this is a great fucking movie.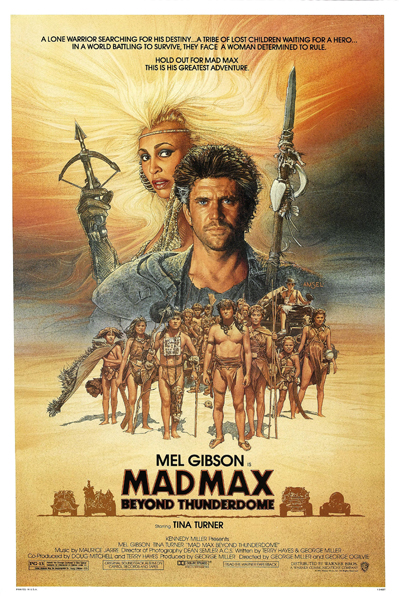 When you think of Mad Max you think of fast cars. Max lost his Interceptor in part 2 but you know he's gotta get himself a new ride, right? In the opening scene he is traveling through the desert but either his engine doesn't work or he's out of gas because his customized truck is being pulled by camels. Before we even know it's him though a pilot (Bruce Spence, not playing the gyro pilot from ROAD WARRIOR as far as I can tell, that's just what pilots always look like in the desert) flies down low, knocks him off the car, then jumps in and steals it from him. So we're just a couple shots into the new movie and Mad Max is a pedestrian. And he's gonna stay that way until the climax.
Also Max has a pet monkey. And long hair like Braveheart.
Max follows his vehicle and monkey into a gated post-apocalyptic community called Barter Town. This is like the city where Lord Humungus would go to bars if he was into that type of thing. It's an incredibly detailed society full of crazy individuals with mowhawks and feathered headdresses and armor made out of junk. This part sort of reminds me of STAR WARS in the way it shows you this fully inhabited world. Tina Turner is the boss (actually, the "Auntie"), she lives in an elevated house, and the place is run on methane that comes from pig shit shoveled by slaves in a subterranean pig farm. (Not one of the better vocations, in my opinion.) They won't let Max in to get his car because he has nothing to barter, but then they find out he's a badass so Auntie hires him to off somebody. And he goes undercover as a pig shit shoveler to scope out the target, a giant named Blaster who works in conjunction with a dwarf named Master who runs the pig shit factory and therefore thinks he's the cock of the walk.
This of course leads to the famous Thunderdome of the title. You know, it's like that one Tupac video. It's a cage where Max fights Blaster while suspended from ropes, they swing around and can grab different weapons from the dome. The only rule is "two men enter, one man leaves." There are crowds who chant this and lustily watch the violence, but it's not just gladiators to them, it's The People's Court. This is Auntie's system of law.
The way the crowd mindlessly chants the laws is pretty good satire. They keep chanting "two men enter, one man leaves!" until Auntie convinces them that Max can't leave because of another law, "bust a deal and face the wheel," so then they start chanting that. At that point Max has to spin a wheel of fortune which chooses his punishment as "gulag," so then they start chanting "Gulag! Gulag!" The whole thing reminded me of a stupid thing that came up recently where this 19 year old girl was busted for recording 20 seconds of TRANSFORMERS on her digital camera. A theater employee saw her doing it and told the manager, who instead of telling her to stop called the police, who instead of saying "fuck you, we have jobs to do" arrested the girl, and then Regal Cinemas instead of trying to do something positive for humanity such as finding a way to stop having so much god damn advertising at movies decided to press charges against the girl. ANd she said she was making a clip to show her little brother to get him excited to come see the horrible movie. (He'll have to get a ride from someone else; she's banned from the theater for life.)
When I read that story it made me mad to think some girl could get fined $2,500 and get a year in jail just because she did a dumb, harmless thing in front of some schmucks with no souls who work for a corporate monolith run by evil robots. But what made it worse was when for some reason I read themovieblog.com, where John Campea's story "Girl Could Go To Jail For Recording Transformers – Should She?" actually I swear to God begins with the sentence "This is a tough one."
NO IT'S NOT A FUCKING TOUGH ONE. Anybody with a human soul or an ounce of common sense does not have to struggle with whether or not a dumb 19 year old girl should get jail time for a blurry 20 second recording of a movie. (Even if it is one of the most evil movies ever made.) And then the worst part is that most of the people in the comments seemed to agree that she should at least get a hefty fine. Because "stealing is stealing" and "the law is the law."
"BUST A DEAL AND FACE THE WHEEL! BUST A DEAL AND FACE THE WHEEL!" The chanting at the Thunderdome is dead on. There are plenty of people in this pre-apocalyptic wasteland who do not use things like personal morals or ethics. They don't want to have to take time to think things through in a thoughtful manner. They want to have a simple, catchy phrase that turns all situations into easy black or white, yes or no type problems. And preferably something bad will happen to somebody at the end, such as a fine, jail time or GULAG! GULAG! GULAG!
I know I got way off topic here and this part will seem dated when people read this review down the line. But consider it the end credits song. The Tina Turner songs on the opening and closing credits were clearly made in the '80s, the rest of the movie is pretty timeless.
Anyway Max gets the gulag, so they tie him up and send him out in the desert on a horse. And because it's MAD MAX they put a big paper mache cartoon head on him. I think Rob Zombie is the only other director who would do a scene like that. But Miller was there first.
Post-thunderdome is the part that turned alot of people against the movie. Passed out in the middle of the wasteland Max is rescued by a tribe of children who believe he's their savior, "Captain Walker." I think these kids were refugees that the real Captain Walker was bringing somewhere on a jet, but it crashed. He must've been the only surviving adult, so he went to get help, but never came back. The kids have a good thing going at a hidden oasis and have survived by hunting for meat and furs. But they've built up this religious belief about Captain Walker and an oral storytelling tradition where they "tell the tell" every night so the history won't die.
The other two MAD MAXes, especially part 2, were much more about showing than talking. This section of the movie though is all about words and telling stories. The kids have a fucked up language because they don't have grownups to correct their grammar. So they talk about "the pocksy clips" that turned the world into a wasteland. They're in awe of "the video" and "the sonic" (a record player) and one kid has an old talking Bugs Bunny doll that still works, which is kind of like having a super rare Ferrari or something.
But even this part is about visual storytelling. Notice that as the storyteller "tells the tell" she has a pole with a big rectangle, like a movie screen, that she uses to frame cave drawings and other things she wants the audience to look at. Then they make Max look into a Viewmaster.
My only problem with the movie is the section where Max takes the kids into the pig shit farm, and they swing around on ropes and fight some guys. Some of that stuff is cool but what really kills it is the music. The score is by a new guy, Maurice Jarre instead of Brian May.
By the way, I always thought the score for MAD MAX was made by the dude from Queen until I looked it up just now and learned that it's a different Brian May. Just like there's that guy George S. Clinton that scored MORTAL KOMBAT, he's not the same George Clinton. But at least he has the courtesy of a middle initial. The guy from Queen should have to use a middle initial. He's been coasting off MAD MAX for decades now and he didn't even have anything to do with it. Asshole.
Anyway Maurice Jarre does fine for most of the movie, but he's a little more traditional than Australian film composer Brian May. And in this particular section of the movie he goes way overboard with trying to make the kids' activities seem triumphant and majestic and shit. If he would've just kept his pants on everything would be fine but with him trying to tell us how fun and adventurous it is for kids to fight slavedrivers in a pool of pigshit the whole thing just comes across too cheesy. I know some of you guys have that same problem with the Ewoks, but to me that's different. Because when Ewoks knock multi-million dollar government war machines over with rocks and logs it has a clear thematic purpose, it's kind of the whole point of the story. Asskicking lost boys does not have the same depth to it.
This by the way is an early case of PG-13 sequel to rated-R series, like ROBOCOP 3 and LIVE FREE OR DIE HARD. But it didn't even occur to me until I noticed the rating on IMDb. I guess it helps that you have the same director and you also have him intentionally not rehashing the type of story from the other ones. So it's not somebody watering down the old formula. It's a different thing entirely.
Anyway, the kids on ropes part of the movie is over fast and then we get on to the more ROAD WARRIOR part where Max and friends are on a jet-powered truck on train tracks being chased by Tina Turner and her posse in awesome souped-up dune buggies that show the advances in roll bar technology that have taken place in the years since part 2. Eventually they meet up with that pilot from the opening scene and Max says "You!"
And you think "A ha! So it is the gyro pilot! He recognizes him!"
and then "Wait, no, he just remembers it's the prick who stole his car!"
and then finally
"Oh, I guess he just meant 'You there! I'm talking to you! The guy with the funny hat. Yeah, you.'"
This is part of the playfulness of the movie and what confused people who wanted something more normal. If you pay attention I'm pretty sure they never refer to Max as Max in this movie. Even when he is introduced in the Thunderdome they call him "The Man With No Name." So that's the one part where it is openly acknowledged that they are trying to go a little Leone with these movies. Bruce Spence is part of that Dollars Trilogy tradition, where Lee Van Cleef is in part 2 and 3 but as different characters. Although Bruce Spence is obviously more of an Eli Wallach. At the end of ROAD WARRIOR they tell you that the gyro pilot became the leader of the Northern Tribe and that they never saw Max again, so they couldn't really put that character in this movie. But I'm sure George Miller wanted to work with him again so what the hell, there's another pilot that looks like Bruce Spence. And then he plays with you by having Max almost seem to recognize him.
One thing that's weird, George Miller actually co-directed this one with some dude named George Ogilvie. Apparently he was a theater director who Miller had co-directed with on a mini-series and they liked it so much they decided to do it on this movie too. Supposedly Miller concentrated on the stunts and action while Ogilvie was in charge of the performances. Probaly it was really a scam so Miller wouldn't have to deal with all these crowds of mud-covered kids and pigs. "Hey Ogilvie, shoot this part where the kids swing on ropes. I'll be in Thunderdome with the grown-ups."
The thing is, if you compare this to his other movies, even the pig and penguin movies, it's clear this is the work of the same mind. So it's not like he's letting Ogilvie take over. He's just freeing himself up to concentrate on the part where the car goes flying through the air and crashes through another car or whatever.
I'm praying they end up making that MAD MAX 4 that got cancelled because of the Iraq war (good one, Bush) but if not there's something nice about the way this wraps things up. In the first one there is still some society, but it's turning into the wild west, and Max loses his family and humanity. In the second one it's post-apocalypes, the whole world has gone to shit and he's this amoral wanderer, but he ultimately does something good to help some people. Now in this third one "civilization" is coming back but it's not exactly rebuilding, it's a new and even more corrupt alternate society. But he helps these children, because he believes the children are the future, teach them well and etc. etc.
It's kind of ironic and sad though because the kids actually start out in sort of a paradise, but because of their religious beliefs or folk tales or whatever you want to call Captain Walker they end up moving into the bombed out ruins of Sydney! I'm sure it's kind of cool to explore but that's no place to live. Who knows what they're breathing in there. Not to mention the radioactivity. They had some natural beauty and they traded it for the rotting remains of the man-made world.
At the end Max is on his own again, perfectly open to having another adventure, perhaps called FURY ROAD. But despite the magic of parenting he's doing worse than he was at the beginning of the movie. Tina Turner has kind of a bonding moment with him, or at least a "what the hell, I'm not gonna kill you" moment. So we last see Max out in the desert, a legendary hero, a messiah, a survivor… a guy with no car.
This entry was posted on Sunday, August 12th, 2007 at 3:35 pm and is filed under
Action
,
Reviews
,
Science Fiction and Space Shit
. You can follow any responses to this entry through the
RSS 2.0
feed. You can skip to the end and leave a response. Pinging is currently not allowed.