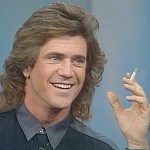 (or MAD MAX 2)
Man, I love MAD MAX. So raw with its low budget, so fierce with its ridiculous car stunts and harsh view of humanity. There's something about that one that nobody has really captured again. Still, in a way this amazing sequel takes it to a new level.
The world is further down the shitter now. Society is not just crumbling, it's in crumbs. Max is still hauling ass down Australia's highways in his Interceptor (the last one left), battling high speed maniacs and stealing any gas he can find. The opening scene is the most reminiscent of the first movie, a classic chase scene. It also introduces the gang that will be the villains in this one. Vernon Wells plays Wez, the dude with the mowhawk and shoulder pads, riding a motorcycle with his blond punk (or bitch, or desert life partner) on his back. On the other side a dude in a car tries to shoot Max with a crossbow, but Max hits the brakes and the arrow hits Wez in the arm.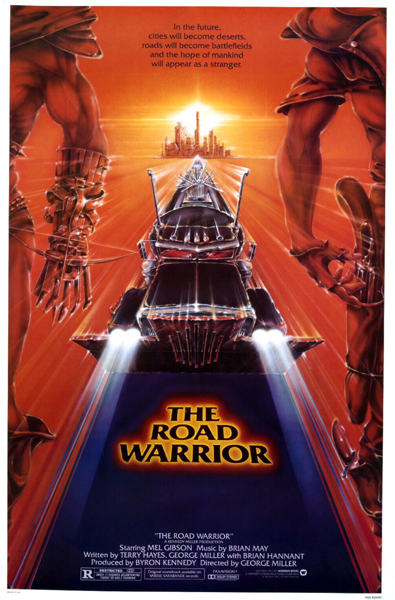 Although this chase is full of all kinds of great violence and vehicles catapulting through the air, my favorite part is the little exchange at the end, after the engines have all been turned off. As Max examines an abandoned truck he found Wez and his bitch pull up and stare him down. Wez still has the arrow in his arm. He screams and at first it seems like a battle cry but then you realize it's because he's pulling the arrow out. And then he puts it in a sheath with his other arrows and drives off.
This one is much more mythical than the first one. It's not a cop movie anymore because there's no police force left – in fact, the gangs drive stolen police cars and like playing with the sirens. So it's more influenced by spaghetti westerns and samurai movies. Max barely talks and there are long sections with no dialogue. Not only the two extended chase scenes, but the part where he spies on the oil refinery through binoculars. There are all these far away shots of this place with its machines pumping and all these crazy souped up jeeps and motorcycles and dune buggies rolling around, and you realize that this was before the days of CGI, they actually had to do all that at the same time, for real. These days nobody would do a shot that complicated, they'd leave it up to the computer nerds to rig later.
Even more than in the first one director George Miller has created this whole world with a different way of living, a different culture. The villains have a bizarre lifestyle based around S&M and sports gear they must've scavenged from a stripmall somewhere, maybe there was a Big 5 sporting goods store next to a Castle Superstore or a Lover's Package that they found after the nuclear war. There are alot of mowhawks involved too.
The leader is Lord Humongous, a muscleman who wears a goalie mask and never takes it off. The back of his head is weird and mostly bald and this is before Jason put on the hockey mask in part 3. So I guess that answers my question about whether or not Jason goes to movies. Lord Humongous also inspired many a 1980s professional wrestling tag team, and he travels with male sex slaves chained to the front of his vehicle, which could be popular with rappers before long, mark my words. And yet Humongous is a well spoken guy. He has a hype man who introduces him as "the ayatollah of rock 'n rolla", then Humongous holds a microphone and makes a speech trying to convince the oil refinery clan to surrender. And I am almost positive that it is word for word the same speech Bush made when he told Sadaam to "disarm." Except Bush was wearing pants. Arguably.
On the good guy side there are some great characters too. There's "gyro pilot" played by Bruce Spence, the weird pilot of the little helicopter that Max tries to steal from and then they take turns taking each other hostage. This guy wears a long coat but no pants. In fairness, it is the desert. My favorite moment with him is when he watches Max take a shotgun shell off of a dead body and put it in his gun. So he realizes that Max has been threatening him with an unloaded gun. "All this time!" he says. "That's dishonest. Low!"
But if I had to choose a favorite character in this movie it might be that ferocious little bastard "feral child." Nobody likes child sidekicks but this kid is the Michael Jordan of child sidekicks. He can't be as annoying as most because he doesn't talk. He can't even have an emotional moment where Max hurts his feelings and realizes he's wrong and has to apologize to him and give him a pep talk. This kid just howls and growls. But he's a bad little fucker, he climbs on the back of the truck to help Max, he can do a flip, and he's a master of the bladed boomerang. One of my favorite parts is when the hype man tries to catch the kid's boomerang and it cuts his fingers off. Then everybody on his own side laughs at him.
So you've got this great world and characters and a perfectly simple story, like a good western. It all comes out of Max wandering around scavenging. To save himself from Max, the gyro pilot tells him about the oil refinery, says he could steal from it. Max stakes the place out and witnesses Humongus's gang attacking and raping a couple coming from the refinery. The woman is killed but Max rescues the man, and you think he's getting involved because of the way this attack mirrors what happened to his wife. But no, he helps the guy back to the refinery hoping they will give him gas as a reward. Purely selfish. But he ends up stuck in the middle of this tribe's war with Lord Humongus and ends up helping them.
By helping them, I mean driving a truck in a spectacular 15 minutes chase. He drives this rig at top speed, chased by all these guys shooting at him with guns and arrows, trying to climb on the back, while his guys shoot from on top of the truck or from other vehicles. All kinds of good shit happens, for example the gyro pilot drops a snake on a guy causing him to shoot his own driver. There are explosions, crashes, motorcycles sending their drivers flipping through the air in ways you never thought could be done without cables. Don't get me wrong, I like a good CGI spectacle, but this is so much better because you know they're really doing this stuff. I don't think there are even any models used. It's all stuntmen becoming great artists by not becoming roadkill. These people risked their lives in the name of kicking ass. And they'd do it again.
It's a winning formula: the story is simple, the action is complex. But you always know what's happening. You might be plowing down the highway at 150 mph, but you see the geography (including from the gyro POV so you can see the whole layout of where all the vehicles are).
Of all the great moments in this great movie, the most satisfying may be at the end when Max and the gyro pilot, having survived the ordeal and learning that what they thought was going on was not really what was going on, they just look at each other and smile. And these are two guys who have not exactly been best friends – they've tried to attack each other with knives and snakes, Max has put the pilot in chains, and wouldn't give him any leftovers from the can of dog food he ate. (Those went to his trusty dog, "Dog.") But now they've fought this battle together and they are buddies enough that they can smile at each other. But don't go thinking they'll become desert life partners, the pilot has a girlfriend and he never sees Max again. Still, it was some good times they will always remember.
I watched THE ROAD WARRIOR with somebody who'd never seen it (!) and who asked why they are fighting over gas and not food or water. After all, we see Max eating dog food and I don't think we ever see water. I never quite thought of it that way but it makes me realize another way this movie is great. Because ain't that the truth? That's how fucked the world is. They are fighting over this commodity that in reality is kind of a luxury. Max needs gas because he likes to driver around the highways in his Intercepter. The Humongous gang needs gas because they like to ride around in their dune buggies and on their motorcycles. Many Americans need gas because they have SUVs. But none of these are essential to life.
The most responsible gas (or "juice") users seem to be the oil refinery tribe. They don't seem to be nomads, they're not wasting the stuff driving around doing donuts and wheelies. I think they want the fuel to power more areas and rebuild civilization. They want it for mankind. Even still, it's kind of cool to have a Utopian collective who dress in white but their thing is pumping gas, not organic farming. In the future even hippies are part of the oil industry.
TRIVIAL ASIDE WITH HEAVY SPOILER: It's pretty amazing that the feral child turns out to also be the narrator. That little fucker went from speaking in grunts and wolf howls to being so eloquent he was a leader and narrator. There are plenty of us who grew up speaking good English but would never speak well enough to be a narrator. But this guy went from grunts to narrator. I think it is a tremendous accomplishment and I'm very proud of the little guy. I'm sure his adoptive wolf parents must feel the same, wherever they are.
Anyway, point is ROAD WARRIOR is one of the best ever. Come for the badass anti-hero and some of the greatest car stunts of all time, stay for the flawless and imaginative movie. A must-see.