TRUE ROMANCE is an entertaining, uniquely textured crime movie, a celebration of youthful love, kitsch, Asian exploitation cinema, and great character actors. At the time it seemed like a new feel, especially coming from Tony Scott. Now it's more notable as a record of young, undisciplined Quentin Tarantino manning the word processor. (Roger Avary was hired to restructure the original non-linear story and write an ending where the hero doesn't die – yeah, that sounds like young QT all right.)

This was Tarantino's first completed script, and the first one he sold. Scott read both TRUE ROMANCE and RESERVOIR DOGS and could've done either one, but Tarantino wisely told him to take this one and then used the money to get started making RD's himself. That was the more intimate one, but TRUE ROMANCE seems more personal. Clarence Worley (Christian Slater) seems to be the movie version of Tarantino: a shy nerd who works at a comic book store, goes to a Sonny Chiba triple feature alone on his birthday, has a speech about Elvis he uses to hit on girls (it gets the same awkward reaction both times he uses it), connects with a woman on the basis of liking the same singers, loves to talk about movies he feels are under-appreciated, has a friend who's trying to become an actor in L.A. whose walls are covered with vintage movie posters (Tarantino on the commentary track says he doesn't like this because they would be too expensive for the character to own and seem like random titles he wouldn't be into)… but this is a movie, so instead of just working and writing Clarence Tarantino accidentally steals a suitcase of cocaine, tries to sell it, finds himself mixed up with dangerous gangsters, foul-mouthed cops, a Mexican standoff, still finding opportunities to list the cast of THE MACK or compare his driving style to BULLITT.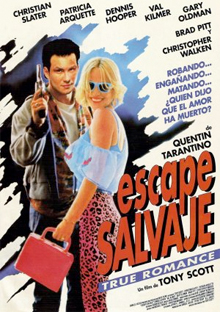 Clarence is a character out of his time. He obsesses with music, movies, comic books, cars and clothes from previous generations. Tarantino was seen as this cutting edge new voice, but he was trying to spread his love for old stuff. About the only semi-new reference in the movie is when A BETTER TOMORROW II is playing on a TV – it was 6 years old by then, but a pretty new discovery for Americans and not even filmed when Tarantino wrote the first draft.
It's an interesting comparison to NATURAL BORN KILLERS, written around the same time. I think at least in the finished film it's a much more convincing portrayal of two dumb kids infatuated with each other. Maybe that all comes down to Patricia Arquette's performance as Alabama. The way she looks at him when he shows her Spider-man #1, maybe she really had a crush on him. They're so much like kids in love with being in love, always giggling and making out inappropriately and spontaneously fucking in a phone booth. They would be annoying to be around (poor Dick Ritchie), but it's kind of sweet.
The sincerity and cluelessness is summed up by Alabama writing Clarence a note that says "You're so cool" right in the middle of a tense drug deal. Her mind is other places.
It's as media-saturated as NBK, but of course it's kind of an autobiographical obsession with pop culture, not a criticism. It's a celebration of people talking about THE STREET FIGHTER, the King (who's so important to Clarence that he appears to him in visions two times during the movie), Burt Reynolds, Sergeant Fury and the Howling Commandos. When Alabama dreams of traveling Clarence's response is, "I've been in America my whole life, always wanted to know what TV looked like in other countries." That's a joke, but I don't think it's a judgment, or at least not a heavy-handed one.
I never really thought about it in previous viewings, but this time I felt like there was kind of a built-in critique of Clarence. Maybe it's not conscious, maybe it is, maybe it's Scott's spin on the script, I don't know. But Clarence, for all his fun and love for Alabama, does get them into this mess because of a dumb macho attitude. There's no reason for him to go confront her pimp, Drexl (Gary Oldman, LEON). She even tells him not to. If they just leave town he's not gonna come after her, and she doesn't seem concerned about having left behind "her things" – what, some clothes, a toothbrush?
Clarence was okay with her being a call girl, but once he pictures that she had a pimp (a woman-beater, but he hasn't done anything to her), it just drills into his ego and male possessiveness for some reason, and he decides he has to go insult the guy, which leads to having to kill him and another guy who looks like Doctor Dre from Yo! MTV Raps, and to accidentally stealing the mafia's coke. He got her into this mess, and then he's not there when James Gandolfini shows up at the hotel room to beat the shit out of her.
Right after Gandolfini punches her hard in the face it cuts to Clarence in his purple Cadillac, wearing his Elvis shades, going to get his fucking burgers, smiling about how awesome he is. It's a brilliant cut because it could mean "Oh no, he has no idea she's in trouble," but I read it as "Clarence, you stupid fucking bastard. She's taking that beating for you!" While this is happening it's not so cute that Clarence approaches a total stranger at a burger stand to share his love for Newsweek's cover story on Elvis.
For her part, Alabama does refuse to give up the location of the cocaine. There's no good reason to do this. They're not in deep with some other party that's gonna kill them for not having the drugs. They're not in some kind of debt where they need the money from selling the drugs. They don't even have some dream they're trying to achieve using the money. And for all she knows Gandolfini will let her go if she gives him what he wants (although in retrospect probly not). I think Tarantino's reason why she won't tell him where the coke is is in the title of the movie. Clarence and Alabama are in this together and she's not gonna fuck it up while her husband's out buying fast food. The family is depending on her.
The face-off in the hotel room is one of many classic scenes in the movie, and the most brutal one. You're so afraid of what he's gonna do to her, and she obviously understands the trouble she's in, but she jokes around and plays dumb. And he plays like he thinks it's charming while you wait for the other "Stuck in the Middle With You" shoe to drop. When the time for stalling runs out she takes it like a man, then like a Final Girl. It starts to really seem like he's gonna kill her and the movie's gonna turn into Clarence's revenge. But she's desperate and resourceful and by the skin of her teeth and some very painful techniques she survives the encounter.
And when Clarence finds her and keeps telling her he's sorry I figure he now realizes that there's no time for the Newsweek discussions with strangers.
It's endlessly entertaining because it's like a parade of great characters, scenes and performances:
* Dennis Hopper as Clarence's dad. We get the hint that he fucked up their family, he was an alcoholic, he's sober and now he's humbly accepted his penance as a security guard living alone in a trailer, hasn't heard from his son in 3 years. When he tells Clarence to slow the fuck down he sort of speaks for the audience. I really like this guy, and when his trailer is invaded by mobsters he doesn't give up his son (except by having the address pinned to his refrigerator, but he didn't know what was gonna happen). The one thing is, even if he's just trying to appeal to the racism of the Sicilian, he sure has no problem throwing that n-word out there along with the idea that it would be horrible to be descended from the Moors.
* And of course that's one of the great scenes, the showdown between character actors. One little moment I love is when dad finishes telling his story about Clarence visiting and James Gandolfini looks to Walken, smiling, waiting to see what he's gonna do. We haven't been told this yet, but he's an expert in lying and tells. Gandolfini is excited to hear from Walken whether that was a lie or not.
There are other great exchanged glances in the scene too. As Hopper is going through his history lesson Walken keeps looking around at his thugs, smiling like "Are you hearing this guy? Can you believe this?" Pretending to have a sense of humor about it.
* Michael Rapaport as Dick Ritchie, whose purpose is to know a guy from acting class who is the assistant to a big movie producer who might want to buy some cocaine. Like Arquette as Alabama, Rapaport as Dick has a very convincing dedication to Clarence. When Dick first answers the phone to hear "Hello baaaaaay-beh!" he says "Clarence? Is that you?" and sounds genuinely thrilled. So excited to hear from his buddy again. The poor guy.
* Brad Pitt as Floyd, Dick's stoner roommate. He only has a few minutes of screen time, sitting on a couch smoking weed from a bear-shaped honey container, watching TV, always hilarious. The Judi-Dench-in-SHAKESPEARE-IN-LOVE of pothead characters.
* Saul Rubinek (DEATH WISH V) as the perfectly caricatured obnoxious Hollywood producer Lee Donowitz. He loves coke, talks on his cell phone while driving (more unusual in '93), yells at people in traffic, but at times is almost likable. I love when his bodyguard is correctly angry that Clarence brought a gun to the meeting. Clarence says he'll put it on the table if he wants, Lee thinks about it for a second and decides, "No, that won't be necessary" and then scolds the bodyguard to "be nice." Maybe his most human characteristic is his disdain for his ass-kissing assistant…
* …Bronson Pinchot as Elliot Blitzer. Such a perfectly written and acted douchebag weenie. When Clarence first meets him at an amusement park to discuss the deal he's nervous about the whole thing, timid, and throws up on himself after going on a rollercoaster. But after he talks to his boss and knows the meeting is set up and it's kinda out of his hands he suddenly starts acting large and in charge, telling everybody to shut up and making a speech: "here's how it's gonna work." Then he gets busted for possession and intimidated into giving up his boss and wearing a wire, and he becomes way more of a coward than even before, to the point where he tries to appeal to the cops to let him go during a Mexican standoff. Like getting permission to leave class to go to the nurse. It's such a cowardly act that Lee gets outraged and kicks off the bloodbath.
While the script feels Tarantino through-and-almost-through, Tony Scott's directorial style is very different than his. The camerawork is slicker and more showy. The pace is probly faster. The music is more Hollywood. I don't think Tarantino would've ever used an Aerosmith song, or the shitty MORTAL KOMBAT type electronical music that plays at Drexl's house (what white pimp who thinks he's Jamaican turns on music like that while watching THE MACK?) On the other hand it shares Tarantino's knack for getting great performances from great non-headlining actors. It also shares some of his stable of actors: Chris Penn, Christopher Walken, Samuel L. Jackson.
I always heard that Tarantino had written this out of sequence, like PULP FICTION, and I didn't see how that could improve it. But listening to Tarantino's commentary track and hearing how it would've worked – you don't know what happened at Drexl's place until you hear Walken telling his version of it to Hopper – it does sound cool. Luckily it works fine as it is. And the original, bummer ending, included in rough form as a deleted scene, doesn't work as well. Tarantino admits that although he was against it it does work better for Tony Scott's version of the story. I do like that it has her acknowledging that Clarence's greed got them into the whole mess, and being angry at him for it, then loving him anyway.
Trivial trivia: There's a longer version of the Sonny Chiba triple feature scene where the movie ends and an usher comes in with a scary German Shepherd on a leash and yells at everybody to get out. That usher is a very young Jack Black. Would've been one of his first movies.
Speaking of TRUE ROMANCE dog trivia, I would like to note that Hopper's character has a dog named Rommel, which was also the name of the dog in GARFIELD: A TAIL OF TWO KITTIES: RISE OF GARFIELD.
There's another deleted scene that probly would've worked well if it had been left in – before Clarence, Alabama and Dick go inside for the drug deal Clarence suddenly stops and warns them that this is the last chance to back out. We know that Elliot is wearing a wire and the cops are nearby and therefore backing out would be the right decision. Out of the blue Clarence decides that it's not worth the risk. Alabama supports him. Dick seems relieved. They turn around to leave.
Then, as fast as he had decided to back out, Clarence whips back around, backing out from backing out. Nah, he would never forgive himself if he didn't try it. It's a funny scene but I guess doesn't have the same impact without the original ending. (although if they'd backed out they would've saved poor Dick's life, plus Lee Donowitz and his bodyguards, who didn't really deserve to die. And some cops, who are just doing their jobs and not doing anything wrong.)
I don't like TRUE ROMANCE as much as the movies Tarantino has directed, but I like it a whole hell of alot. I've seen it several times over the years and it only gets better.