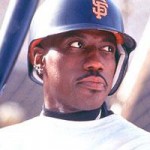 I decided a long time ago to stop reviewing prison movies. People always ask me what I thought of this prison movie or that. They recommended ANIMAL FACTORY and that was a real good one, but I don't want people to take me more seriously about prison than they would other film writers like the guy from Entertainment Weekly or the guy from People Magazine and etc. Plus, why would I want to sit around and watch movies about a place like that anyway.
I made an exception for UNDISPUTED though because I been looking forward to this ever since I saw the trailer before BLADE II. The BLADE pictures made me love Wesley Snipes and I try to see any movie he does now, even if it looks like some asinine remake of ROCKY, but in prison.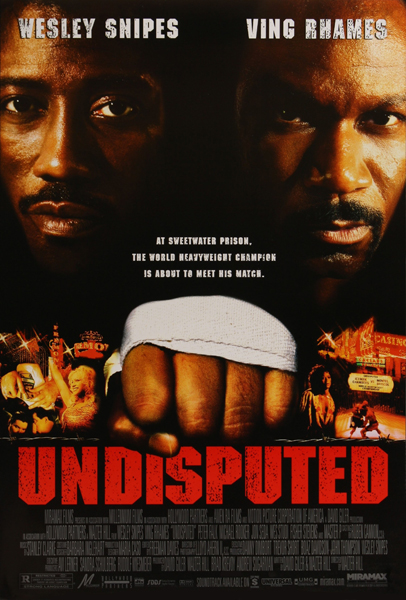 Turns out it's not a ROCKY ripoff, but it is asinine. The premise is that Wesley's character Munro Hutchence is the undefeated champion boxer in a high security prison called Sweetwater. Then the real heavyweight champion of the world, George "Iceman" Chambers (played by Ving Rhames) ends up at Sweetwater because he either did or didn't do exactly what Mike Tyson either did or didn't do. Like Forrest Gump, it's left blank, you get to decide for yourself whether he did it or not, based on your own prejudices. Anyway Peter Falk, as an old time mafioso who apparently is some kind of boxing purist, sets up a match between the two, Wesley wins because he's the good guy, the end. Not to give anything away.
The director is Walter Hill, who used to be pretty good. Even some of his bad movies like Bruce's LAST MAN STANDING (a remake of either YOJIMBO or FIST FULL OF DOLLARS, I'm not sure) are good looking and semi-interesting. But this one is real uncinematic, it has a made for TV feel. It has lots of tired stylistic devices, like those annoying white flashes accompanied by whooshing sound effects, or those "computerized" titles that tell the names of the characters and what they're in for as they appear. Like you care what the guy's name is. Or lots of cutting to phoney TV interviews and news reports about Iceman. Look! Video! In the middle of a movie! How interesting and unique. Is it a commentary on the media and shit? Yeah, that must be what it is. And there are flashbacks of boxing matches that are in black and white even though they're supposed to be from 5 or 10 years ago.
The movie takes place in a fantasy world prison, where all the screws get along with the inmates and all the inmates get along with each other, except for Iceman, and they all rally behind Munro as their hero and leader. Now believe me this is ridiculous. It's like a high school where everybody gets along and nobody gets picked on, it just doesn't happen. They do got a couple nazis in there but they look like hollywood stuntmen, not cons. And they got one Mexican (a guy from HOMICIDE, faking a Speedy Gonzalez accent) and of course your usual American Indian dude. There's one in every prison movie.
Anyway the other thing is there are only 3 screws and two of them are on vacation. The last one is Henry Portrait of a Serial Killer, who is not as evil as he usually is in movies. Sure he's kind of an asshole but he loves boxing and he lets them have a boxing ring with barb wire around the top and lets all the inmates watch as they have secret matches. He even rings the bell himself. They have a fancy setup, they even got a rapper who performs the national anthem and another dude who does play by play commentary, even though the matches aren't televised or allowed to be taped. When the match isn't going on, the cons seem to be able to go wherever they want, whenever they want. Iceman can even have his manager from the outside hang out with him.
I don't care that the world is phoney, because I think it's supposed to be. Walter Hill did THE WARRIORS after all, maybe he's some kind of pioneer in gritty urban fantasy pictures. But it's not much more interesting than the real world. In fact it's pretty boring. All I could figure was it must be a metaphor for something, but I'm not sure what. My best guess is it's a sports thing. On the outside Iceman is treated as a god because of his brutality. But put him in a room full of killers and rapists, and you'll find that, uh, he doesn't fit in, and he's an asshole? I don't know. It definitely means something, I guess.
The story is so simplistic it makes you almost wish screenwriters would start reading that one book again, the one that tells you the exact formula to follow and what pages the plot twists go on. Basically Iceman comes in, there are some scuffles, then there is a long boxing match, the end. Although Wesley is the hero he's not in the movie too much. He does great with what little he has, coming off as tough but shy as he sits silently in a painter's cap building models out of toothpicks. And he looks very convincing and in good shape as a boxer. But that's pretty much all he does is those two things: toothpicks, boxing.
The boxing match is not very dramatic. Iceman is winning for a long time. Oh no it looks like Munro is gonna lose. Wait a minute, Munro is winning now. Oh my god he's coming back. There is alot of punching involved. Now he won, holy shit. What an exciting match. There is only one pretty good line in the movie where the commentator says, "If I knew I'd have to come to prison to see a match like this, I'd've committed a crime a long time ago." But the match really isn't that good, though.
The only other positive thing I have to say is that one of the characters says "shitbird" at one point, and since Whistler said that in BLADE II that makes two Wesley Snipes movies in a row with the word "shitbird" in it. Good job Wesley. Other than the shitbird factor though I'm sad to say I really don't think anybody should bother seeing this movie. Sorry.