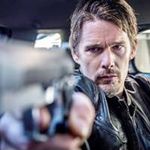 24 HOURS TO LIVE is a new VOD movie (theatrical in L.A. and New York starting December 1) that could be described as Ethan Hawke's JOHN WICK. Not that it's a very similar story, or a martial arts movie, but it has action beyond the modern standards, takes place in a world of elite killers, and has some un-self-conscious absurdity in its basic premise that's grounded in very effective, heartfelt emotions. I guess this means they don't consider Hawke and Rutger Hauer big enough names to sell an action movie in wide release these days, but it doesn't at all feel like DTV. Both quality and production value-wise it's completely legit, and I liked it better than many of the Jason Statham, Gerard Butler and Liam Neeson pictures I've paid to see on the big screen.
In classic international co-production fashion it begins with an Interpol agent, Lin (Xu Qing, FLASH POINT), under attack by militants in South Africa while transporting a whistleblower (Tyrone Keogh, BLAST, STARSHIP TROOPERS 3) to testify to the U.N. It's meat and potatoes machine-guns-rocket-launchers-and-jeeps type action that immediately shows you the movie means business. Heads are popping, bodies are bouncing off windshields and rolling under tires. (read the rest of this shit…)
VERN has been reviewing movies since 1999 and is the author of the books SEAGALOGY: A STUDY OF THE ASS-KICKING FILMS OF STEVEN SEAGAL, YIPPEE KI-YAY MOVIEGOER!: WRITINGS ON BRUCE WILLIS, BADASS CINEMA AND OTHER IMPORTANT TOPICS and NIKETOWN: A NOVEL. His horror-action novel WORM ON A HOOK will arrive later this year.