POLTERGEIST III is not a very good movie, but I will go out on a limb and say that it's a decent try, considering the circumstances. They only have Heather O'Rourke and Zelda Rubinstein returning, not the rest of the family. But at least they found a way to mix it up in location and filmatic style.
The director is Gary Sherman (VICE SQUAD). He co-wrote it with Brian Taggert (VISITING HOURS). IMDb also says that Steve Feke (WHEN A STRANGER CALLS, MAC & ME) worked on it uncredited. In this installment Carol Anne has gone to live with her mom's sister (Nancy Allen), who is newly married to Tom Skerritt, who also has a pouty teenage daughter (Lara Flynn Boyle). They all live in a fancy new skyscraper in Chicago, which Skerritt is the bigshot manager of.

In the tradition of GREMLINS 2, the building is having all kinds of problems that are attributed to being new but that we have a hunch are actually caused by ghosts 'n shit. Everybody keeps complaining that the building is cold, and in fact the boiler room gets frozen over with icicles. A crack goes all the way up the mirrored walls of each floor. Also the mirrors are broken in a more profound way – they seem to reflect things that don't exist. Or at least, not on this side. For example we keep seeing that evil Reverend Kane (now played by a guy named Nathan Davis, because original actor Julian Beck died during part 2, but they generously gave him an "originally played by" credit at the end, I don't think I've seen that before).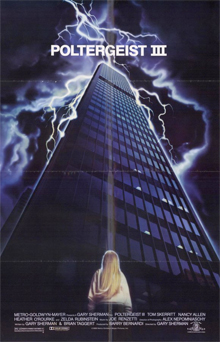 This being a 1988 horror part 3 it was required by law that there be some teenagers in it who want to party. So there's a whole subplot about Boyle leaving Carol Anne alone while she tries to sneak her friends into the pool after hours. This sounds like it would be the worst part of the movie, but somehow I found myself in suspense about her plan to sneak past the cameras and feed old footage into the security monitor, like it's a heist movie. The irresponsibility of her leaving 11 year old Carol Anne alone is cleverly excused by having her not plan to go to the party until Carol Anne convinces her to. It's the first time when they seem to care about each other.
I actually didn't recognize Boyle and kept wondering who she was, because I thought she was pretty likable once she gets away from the family and with her friends. And Skerritt is his usual no-bullshit nice quiet mustache guy type of character, you gotta like him.
Unfortunately there are a couple other characters that are hatable and not in a way where I felt it contributed to the film. There's a hideous little girl from Carol Anne's school and car pool who just exists to make stupid insults to people. And there's a dickhead psychologist at the school (Richard Fire) who openly hates Carol Anne and believes that the reason people (including himself) witness supernatural phenomenon in her presence is because she's really manipulative and creates some kind of mass hypnosis. It might work if the guy played him as just misguided, instead he's just a douchey asshole. He even tells his wife to "keep dinner on a low flame" when he leaves to, in his mind, complain to Carol Anne's uncle about prank phone calls. (In fact he's going to be justifiably thrown down an elevator shaft by teenage ghosts.) That would be a great after credits scene, she's still in the kitchen stirring the spaghetti sauce to keep it warm for Mr. Wonderful when he gets home.
I'm sorry to report that generally-lovable-except-in-CARRIE Nancy Allen has to play kind of a bitch in this one. I think it's supposed to be ghostly shenanigans, but it's pretty jarring when she calls her niece a "little brat" and just wants to leave without rescuing her because she's a pain in the ass and she never should've told her sister she'd take care of her.
What I thought was smart about the movie was the change of setting. We've already done the suburban-utopia-invaded-by-the-unknown thing twice, so changing to the drastically different urban apartment living was clever. And the use of mirror walls throughout the building makes for some good mirror-theming – the bad luck of broken mirrors, the creepiness of reflections that don't match up, the scene where you realize some characters are not themselves because the writing ontheir clothes is backwards.
And this was probly by necessity if they couldn't get Craig T. Nelson or Jobeth Williams back, but it works out that the movie kind of plays off of the family theme of the original. That was all about the family coming together to support each other. In this one the family is broken apart – little girl away from her parents and home, her aunt doesn't like her, half-cousin doesn't like aunt… but they also come together as a family.
(Do you think it's creepy that she talks about her parents and that "I even miss my brother!" but doesn't mention the older sister? The actress from part 1 was murdered so they just don't mention the existence of a sister in either of the sequels.)
Remember how I complained about the show-offy composited effects in the original taking me out of the movie? Well, for this one they completely avoided that. Apparently it was all done live on set except for a corny fake lightning shot at the very end. Sherman himself designed the effects which involve lots of mirror trickery and what not. Of course there are more corpse dummies and makeup effects and stuff, I always enjoy that. The highlight is Boyle tearing out of a shriveled up Zelda Rubinstein dummy.
One major missed opportunity: there's a big deal made about Allen organizing an art exhibit in the building. The show involves a bunch of creepy looking ragged human-shaped sculptures, so you keep waiting for them to come to life in the climax. Nope – just a shot early on where one of them turns its head in the mirror reflection.
Not really a missed opportunity, but kind of weird: Carol Anne has a Speak 'N Spell that she keeps using. It seemed like this was gonna be the thing she communicates to the other side with, the replacement for the toy phone that was the replacement for the TV. But it doesn't happen. Maybe they were smart enough to not want to be formulaic, or maybe they thought it was too similar to E.T.
LIFE SPOILER. The biggest problem with the movie to me is that it's one of these ones that's tainted by tragedy. Heather O'Rourke looks really different because her cheeks are all puffy, and I kept wondering if this was related to the sickness that killed her shortly after filming. So I read about it, and sure enough they believed it was a symptom of Krohn's Disease, which they had incorrectly diagnosed her with, and that led to her dying from complications of what she actually had. It's a bummer to keep thinking about that while watching a movie where the spirits are calling this poor little girl to the light.
Also, it's hard to miss that you never see Carol Anne's face in the final scene. Apparently they wanted to reshoot the ending, but then she died so they had to work around it. Poor Skerritt and Allen had to do reshoots a month after the girl died, some with a body double. Must not have been fun.