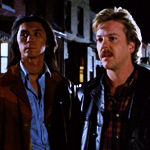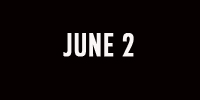 Maybe I'm out of touch, but I had never heard of RENEGADES. At first I assumed it was a western. It does reunite YOUNG GUNS stars Kiefer Sutherland and Lou Diamond Phillips (the original Woody & Wesley), but it's a contemporary buddy/cop movie set in Philadelphia. And it's as solid as you'd hope for from director Jack Sholder, following up ALONE IN THE DARK (1982), A NIGHTMARE ON ELM STREET 2: FREDDY'S REVENGE (1985) and THE HIDDEN (1987).
Sutherland (STAND BY ME) plays Buster McHenry, who is one of those guys who goes into a little diner and is on a first name basis with the old man behind the counter. You know the type. Like Dirty Harry, he happens to see a traffic stop turn into a hostage situation from the window while having some night time coffee. Like Riggs, he goes out and performs a crazy stunt, pretending to be a drunk guy wandering in the situation so he can take one guy's gun, shoot two others, make one surrender. Then he slaps the commanding officer and spends a night in the drunk tank for it. He's actually a cop but he's on vacation, doing a private undercover case with the knowledge (but not official sanction) of his boss/mentor/dead dad's friend Lieutenant Finch (Bill Smitrovich, BAND OF THE HAND). (read the rest of this shit…)
VERN has been reviewing movies since 1999 and is the author of the books SEAGALOGY: A STUDY OF THE ASS-KICKING FILMS OF STEVEN SEAGAL, YIPPEE KI-YAY MOVIEGOER!: WRITINGS ON BRUCE WILLIS, BADASS CINEMA AND OTHER IMPORTANT TOPICS and NIKETOWN: A NOVEL. His horror-action novel WORM ON A HOOK will arrive later this year.