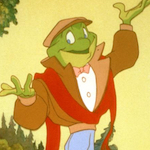 Although the weird blockbusters like ALIEN 3 and BATMAN RETURNS were a defining feature of summer '92, it's hard to overstate how much weird animation popped up in this little window between Disney reinvigorating the animated feature and anybody else figuring out how to get in on the action in a reasonable way. Earlier I reviewed the well-meaning environmental fantasy FERNGULLY: THE LAST RAINFOREST and mentioned Don Bluth's bizarre Elvis-rooster movie ROCK-A-DOODLE. Now I need to bring up two July releases that I skipped over because I'd previously reviewed them: COOL WORLD (co-starring Brad Pitt of JOHNNY SUEDE fame) and BEBE'S KIDS (written and produced by BOOMERANG's Reginald Hudlin). Both were rated PG-13, which was very unusual for the time… and I guess would be now too, huh? BEBE'S KIDS is groundbreaking as an animated feature from a Black director and about a Black family. It's also kind of cool that it's adapted from a standup routine. And Tone Loc got more to do (voicing a fucked up baby) than he did in FERNGULLY (where he was a lizard).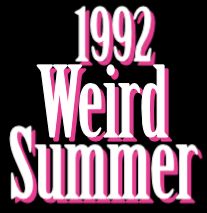 I really want to direct you to my review of COOL WORLD if you haven't read it, though, because this is a real headscratcher of a movie from indie/adult animation pioneer Ralph Bakshi, working with Paramount and making all kinds of concessions that might've turned it even weirder. Back then I liked it (or wanted to like it) enough that I saw it twice in the theater, then when I watched it five years ago to write that review I decided to retire from watching COOL WORLD. But in any study of the weirdness of summer '92 it must be acknowledged.
Now let's move on to two more distinctly befuddling animated features released, unsurprisingly, in August, the month of misfit movies. LITTLE NEMO: ADVENTURES IN SLUMBERLAND (onscreen title: just LITTLE NEMO) is a long-in-the-works Japanese-American co-production. It was a 1989 release in Japan, but we got it on August 21st, 1992.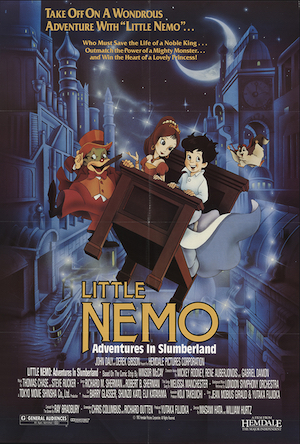 The opening credits for this thing are incredible because you see a screenwriting credit for Chris Columbus, and then story by Jean Moebius Giraud (also designer), and then "concept for screen" by Ray Bradbury. Disney legends Frank Thomas & Oliver Johnston are on a list of story consultants along with CHINATOWN writer Robert Towne. The songs are by the Sherman Brothers (MARY POPPINS). Other names I recognized include DARK CRYSTAL designer Brian Froud under "design development" and indie animator and scholar John Canemaker as "visual image development." Some bigger names are not in the credits, but were part of the history of the project: Japanese producer Yutaka Fujioka of TMS (the studio behind AKIRA) wanted to collaborate with George Lucas, but he turned it down and suggested his partner Gary Kurtz, who did work on the movie for years before leaving. Japanese animation legends Hayao Miyazaki and Isao Takahata worked on many concepts and treatments, but their ideas were rejected. Wikipedia says that Moebius coming aboard, seeing Miyazaki's drawings and wondering why they weren't using them was what led to their friendship. (But it also says LAPUTA, NAUSICAA and PRINCESS MONONOKE all came out of rejected LITTLE NEMO ideas, which sounds far-fetched to me.)
Fujioka dreamed of an anime film with full animation (more drawings per second than were standard in Japan) to cross over to American audiences, and he got the rights to Winsor McCay's Little Nemo comic strip in the late '70s. Then he hired team after team to try to crack it, so by the time it reached fruition more than a decade later it was very impressive on a technical level and a total mess as a story.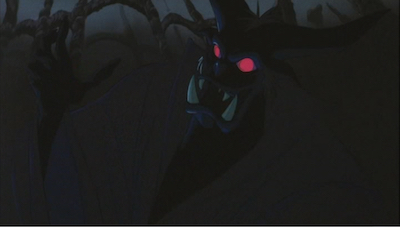 The plot is simple: in his dreams, when this kid Nemo (Gabriel Damon, THE LAND BEFORE TIME, TEQUILA SUNRISE) falls asleep he flies his bed over the city, then over a post-apocalyptic city and into a magical land, still in his pajamas. He meets a princess (who makes fun of him for being in his "underwear") and various other fantasy characters, is given a magic key and goes and opens the door that he's specifically told not to open with it, then has to use a magic scepter to save the kingdom or some shit, because there's a very cool VENOM-type black slime thing that I believe turns into the Chernabog-esque "Nightmare King," etc. Meanwhile at home he's sad because his dad is too busy to take him to the circus tomorrow.
It's one of these stories that resembles THE WIZARD OF OZ or ALICE IN WONDERLAND without working as well – a blank character wandering through an aimless series of meeting a different person in a cape or crown or the occasional creature and being explained another piece of nonsense about a place or object or creature he has to go to next. Nemo has little memorable personality other than being sexist at the beginning and not wanting to play with girls. I also find it a little annoying that he's so comfortable with everyone treating him as the most important person in the world, but I guess that's the convention of these stories. Anyway he doesn't have an interesting goal to achieve and he frequently drifts out of the dreams anyway so there's very little direction or stakes until the end and it's hard to give a shit what's going on.
I guess to be fair he wakes up with the magic scepter in his bed, proving the dream world is real and in my opinion proving that it follows Freddy rules – if he's killed in his dream he dies for real. (The opening scene where his bed is chased by a train really did remind me of a Freddy nightmare.)
There's a phenomenon in many of the '80s and '90s off brand animated features, I'm gonna call it cartoon brain. It's where they get the big idea that they have to do the thing that's done in the other cartoons even though it just doesn't make sense here and is gonna be more embarrassing than entertaining. An example of cartoon brain in LITTLE NEMO is that they're trying to establish this divide between the fantastical dream world and the normal waking world that Nemo comes from, and yet they decided that in the real world he should have a lovable flying squirrel friend. At first he talks to the squirrel in a tree but then he walks around in the house with it on his shoulder and lets it sleep in his bed and his parents don't react at all so I guess they're used to it. The squirrel's name is Icarus, because of flying. He wears a little pilot helmet, also because of flying. And he makes little squeaks and sometimes says words Scooby-Doo style, because of cartoon brain.
It's a stupid character no matter how you cut it, but just leave him out of the opening and put him in the dream world – problem solved, you silly-billies. But you didn't have the discipline.
Another odd thing based in cartooning conventions is when you see Nemo's troublemaking sort-of friend flip (voice of Mickey Rooney) and think holy shit – some kind of blackface type character? But then you realize his skin is green and he's supposed to be a clown. And I think that might be what it always was even in the comic strip, but I guess it just shows when you try to make something really old timey you might run into some issues with the things about old times that sucked. (See also: FORBIDDEN ZONE.)
An undeniably good thing about the movie though is that it has very smooth, full animation, lushly painted backgrounds and some really cool looking sequences, most of them when he's flying the bed, or when they create the famous image from the comic strip where the legs of the bed grown very high like stilts and it walks around.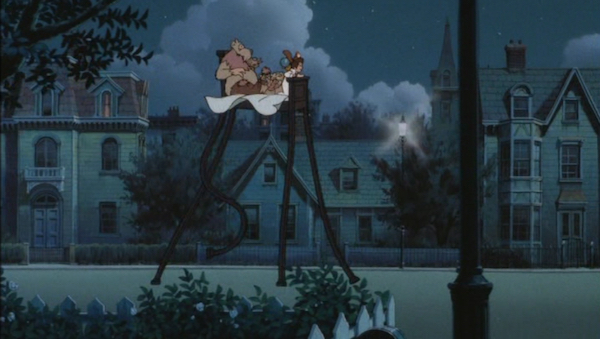 I assume they must've done some kind of rotoscoping for the bed, because it looks very three dimensional. I think this is a little early for computer assisted animation to look that organic.
Though most of the character designs avoid typical anime styles, they're not particularly appealing to me. But there are definitely background characters and settings that remind me of Moebius' style or of McCay's style. And I like that they occasionally mimic the side view framing of McCay's strip.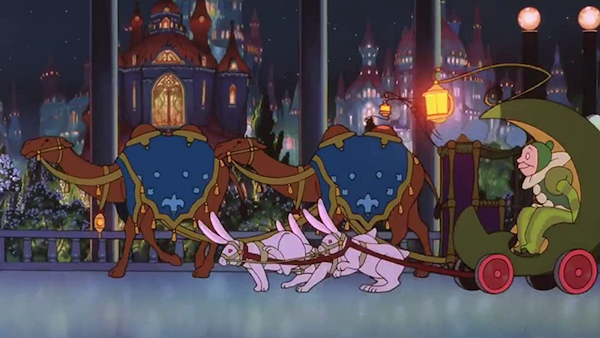 I can't really say if McKay would've been disappointed in how they adapted his surreal comic strip adventures to feature length. But he was one of the early pioneers of animation (he was the guy who did Gertie the Dinosaur) and he died in 1934, so I'm pretty sure he would've been impressed by how far it took the art form of moving drawings. Give it that, at least.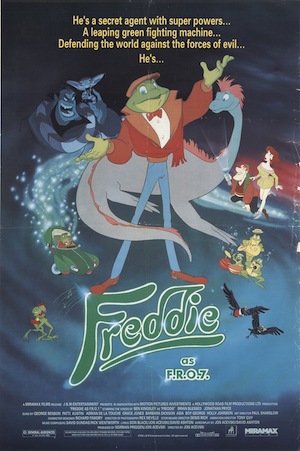 Then on August 28th Miramax released the British production FREDDIE AS F.R.O.7. Let me try to set the scene here. The movie opens with a painting of the Eiffel Tower, and then text appears over it saying "AN AMAZING FANTASY OF A NEW KIND." Oh, okay, they put the trailer at the beginning of the tape for some reason, I thought.
No. This is the actual movie. It just wants to declare its delusional intentions up front, I guess. As the camera pans across the painting, and the title fades in, gentle keyboard chords support George Benson singing "When you're being chased by dragons, and you're back's against the wall / I will pull you from the fire, and catch you when you fall…" Soon he'll be joined by Patti Austin. This totally serious sounding adult contemporary ballad (think, like, "Almost Paradise" or something like that) reappears later in the movie, always feeling comically out of place.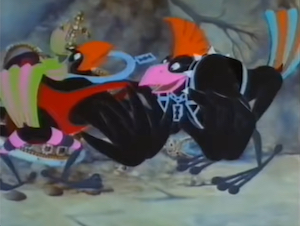 The animation on this one is smooth and I at least respect that some of the human character designs are decent and not your usual faux-Disney. Occasionally there are artistic touches like some ghostly chalk animation representing the history of Britain. Examples of cartoon brain: the villain is an evil queen who becomes a snake. The humanoid frog hero, despite living in a normal London of humans, drives a car that has a frog face on it (with lipstick) and seems to be alive. And hey, wouldn't it be fun if there were punk rocker crows? They have feather mohawks.
But mostly this one suffers from a much graver infliction, which I'm gonna call cartoon financer brain. This is where some guy somehow gets a bunch of money to make an animated movie and clearly has no understanding of how to tell a story or what is a non-asinine idea for a story but thinks because it's for kids that for sure his dumb idea is good enough. I mean just hire the drawing people, that do the drawings, it should be fine, right? We're gonna get all the greatest songwriters and celebrity voices. The kids love these things – the cartoons, you know, with the songs and the animals. Love 'em! We're gonna sell dolls too. This is gonna be great.
The worst case of cartoon financer brain of all time has got to be FOODFIGHT!* – nothing will ever top the madness of "ROGER RABBIT, but instead of cartoon characters it's food and cleaning product mascots" – but FREDDIE is still a pretty funny example. Producer/writer/director/lyricist Jon Acevski (no other credits) literally adapted it from the bedtime stories he told his kid about a favorite stuffed frog doll having spy adventures. So it starts as a fairy tale (narrated by James Earl Jones in the American version) about a prince being turned into a frog, and he meets the Loch Ness monster and she tells him if he ever needs her to whistle. Then he enjoys jazz but doesn't fit in with frogs because he wears boxer shorts and has "powers of mind, dreams and visions" according to a song sung by Ben Kingsley (who voices Freddie with an exaggerated French accent) and he grows into upright human size so "he went out into the world to fight evil wherever it was," meaning he's a secret agent (I guess?) so he wears a tux under Frog and Toad type clothes.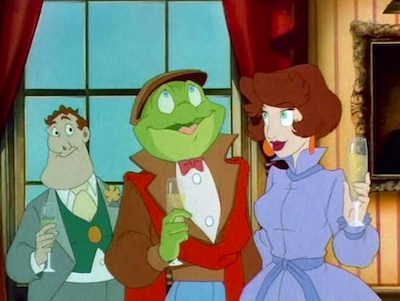 Freddie is "called to London" to help when Big Ben and other landmarks start disappearing. Turns out an evil guy is shrinking them and holding them hostage. Freddie is teamed with a karate expert named Daffers (Jenny Agutter, CHILD'S PLAY 2) but she's hot so the bad guy El Supremo (Brian Blessed, ROBIN HOOD: PRINCE OF THIEVES) puts her in a cage and in a dress. But they both work together to save the day at the end when Freddie tricks Supremo into standing over Big Ben and Daffers pulls the switch to turn it giant and it really seems like the plan is to ram Big Ben up his ass. Unfortunately he just gets the back of his pants hooked to the minute hand.
In the classic pathetically-trying-to-do-what-Disney-does-without-having-a-fucking-clue-how-they-do-it tradition, FREDDIE has a series of inane musical numbers, including one by Grace Jones as the evil snake. Nessie sings "Just a wee song in your honor, Freddie" called "Shy Girl" by Barbara Dickson, plus there's an Asia song and a Boy George song called "Fear Not The Sword, My Son." There's also a pretty funny end credits theme song by Holly Johnson of Frankie Goes to Hollywood, which causes the last words of the movie to be, "F.R.O.7 / gonna change your Hell right into Heaven."

In the U.S. video market FREDDIE AS F.R.O.7 was only ever released on VHS, retitled FREDDIE THE FROG. According to Wikipedia, even though the video was released by Shapiro-Glickenhaus it's a censored version that knocked it down from a PG to a G rating by cutting double entendres and "racially sensitive elements" (images of Klansmen and Nazis during a song where the Grace Jones snake delights in how much she loves evil). So maybe the cobbled together shittiness of the movie I watched is not reflective of what people saw in '92, but I glanced through the alternate version on Youtube and it didn't seem that different.
Thankfully Wikipedia's reports of the original being 20 minutes longer seem to be bullshit. That would be a fuckin nightmare. Like far too many of these August 1992 releases, FREDDIE AS F.R.O.7 was a challenge to get through. But I did it. For queen and country, or whatever. (Queen Elizabeth is a character in it, by the way.)

Of the four Weird Animation movies discussed here, I think only BEBE'S KIDS wasn't a flop – I've seen different reports of how much it made, but it seems to have been more than its low budget, and I would bet it did better than the others on video, too.
COOL WORLD made only half of its $28 million budget back in theaters. Bakshi hasn't directed a movie since.
LITTLE NEMO cost about $35 million and only made $10 million in Japan (destroyed by Miyazaki's own KIKI'S DELIVERY SERVICE) and $1 million in the U.S. Producer Fujioka left the animation industry and TMS started doing for-hire animation for American TV shows (though at least it was well regarded shows like Tiny Toon Adventures, Animaniacs and Batman: The Animated Series).
FREDDIE AS F.R.O.7 was such a flop that it was considered to be the lowest grossing animated feature of all time until August 2009 when it was beat out by two movies, THE TEN COMMANDMENTS (also starring Kingsley) and DELGO. Understandably the producers decided not to do their planned (and set up in the movie) sequel FREDDIE GOES TO WASHINGTON, and by that time I gotta assume Acevski's son was too old for the franchise to return to its original medium of bed time stories. So that one's just gonna have to remain one of the great what-ifs, like Jodorowsky's DUNE or what if I had peanut butter and jelly for lunch today instead of a bagel and cream cheese. We'll never know.
*though for the record this DVD has an unskippable trailer for a DTV movie called WOBOTS CHRISTMAS, featuring computer animation even uglier than FOODFIGHT!
This entry was posted on Tuesday, September 27th, 2022 at 7:17 am and is filed under
Cartoons and Shit
,
Reviews
. You can follow any responses to this entry through the
RSS 2.0
feed. You can skip to the end and leave a response. Pinging is currently not allowed.